Father's Day is this Sunday! And while most of us associate Father's Day with grilling on the barbecue, I think of granola.
You see, my own dad loves granola.  So much so that at dessert time, he'll pass on cookies and ice-cream and opt for a big bowl of granola instead.  And if my dad is ever caught having a "midnight snack," it's granola.
My mom and dad both always encouraged me to make — rather than buy — gifts for them.  Now that I'm a mom, I encourage the same.  Nothing's sweeter than one of my boys' hand-made-with-love gifts!
So this year I'm making this subtly sweet, spiced, super crunchy granola for my amazing father with a lotta love!  This homemade granola recipe is delicious! It's a breakfast, an on-the-go snack, or if you're my dad . . . a dessert!
Have an incredibly Happy Father's Day!  Love!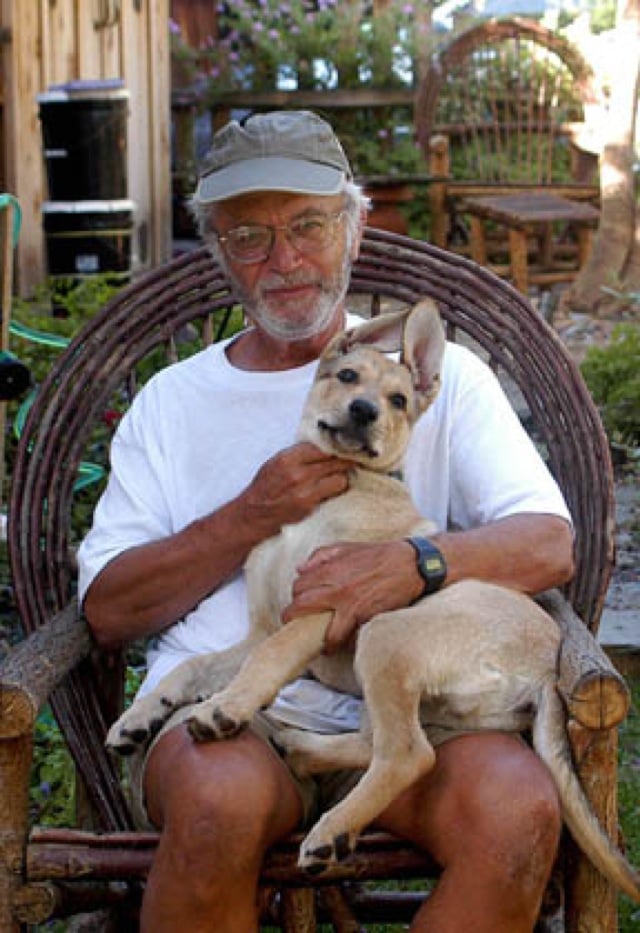 My dad! And Eliza!
The other best dad in the world!
Recipe
Makes about 9 cups
Prep Time: 15 minutes
Cooking Time: 1 hour
4-2/3 cups Old Fashioned oats
1-1/3 cup sunflower seeds
1-2/3 cup sliced almonds
1 cup roughly chopped jumbo raisins
2 tablespoons cocoa powder
1 tablespoon ground cinnamon
1-1/4 teaspoon salt
1 teaspoon cardamom
1/2 teaspoon ground ginger
1 tablespoon vanilla extract
1 cup unsweetened applesauce
1 cup honey
Preheat oven to 325 degrees.
In a large mixing bowl, combine all of the ingredients. Spread the mixture evenly onto two  baking sheets, and bake in the preheated oven until it's a lovely golden brown color.  This should take about 1 hour, but set the timer for 30 minutes to stir it half-way through cooking process.  Let the granola cool on the baking sheet and store in an airtight container.
Notes:
For a gluten-free version of this granola, make sure your package of oats says "gluten-free!"  Even though oats do not contain gluten, they are often grown near wheat fields and it's possible for cross-contamination to occur. Gluten-free oats are available at Whole Foods.
You might also like my Honey Roasted Chai Granola.
Friday Flowers will be back next Friday!  Father's Day took precedence!