Father's Day Granola!  Yep!  This Apple Spiced Granola recipe was my dad's Father's Day gift.  It's packed with warming spices, almonds, raisins, and the sweet flavor of apple.
Father's Day is this Sunday! And while most of us associate Father's Day with grilling on the barbecue, I think of a Father's Day granola.
You see, my own dad loves granola — especially this Apple Spiced Granola Recipe. So much so that at dessert time, he'll pass on cookies and ice-cream and opt for a big bowl of it instead.
And if my dad is ever caught having a "midnight snack," it's granola.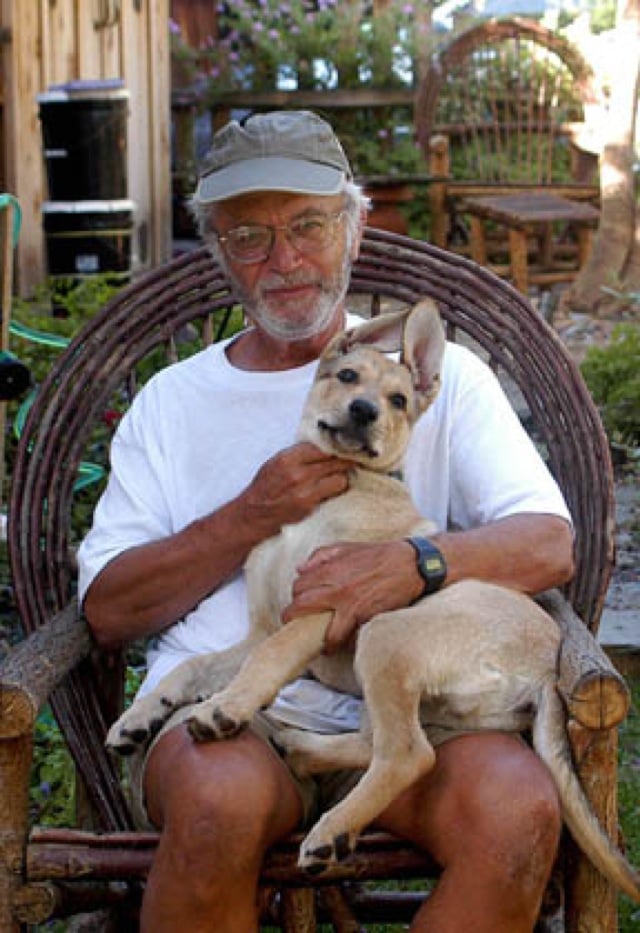 My dad! And his puppy Eliza!
My mom and dad both always encouraged me to make — rather than buy — gifts for them.  Now that I'm a mom, I encourage the same of my kids.  Nothing's sweeter than one of my boys' hand-made-with-love gifts!  Know what I mean?
Which is exactly why I decided on making this Apple Spiced Granola recipe.
This granola is a subtly sweet, spiced, super crunchy granola for my amazing father, and of course, the most important ingredient: love!  This homemade granola recipe is delicious! It's could be breakfast, an on-the-go snack, dessert, or if you're my dad . . . a midnight snack!
I wish everyone an incredibly Happy Father's Day!  Love!
The other best dad in the world. My husband with our two boys.
You might also like my Honey Roasted Chai Granola.
For a gluten-free version of this granola, make sure your package of oats says "gluten-free!"  Even though oats do not contain gluten, they are often grown near wheat fields and it's possible for cross-contamination to occur. Gluten-free oats are available at here.
I hope you give this Apple Spiced Granola recipe a go — you can call it Father's Day granola, or not.
Friday Flowers will be back next Friday!  Father's Day took precedence!
Father's Day Apple Spiced Granola
Total Time
1
hour
15
minutes
Ingredients
4 2/3

cup

old fashioned oats

1 1/3

cup

sunflower seeds

1 2/3

cup

sliced almonds

1

cup

jumbo raisins

roughly chopped

2

tablespoons

cocoa powder

1

tablespoon

ground cinnamon

1 1/4

teaspoon

salt

1

teaspoon

ground cardamom

1/2

teaspoon

ground ginger

1

tablespoon

pure vanilla extract

1

cup

applesauce

sweetened

1

cup

honey
Instructions
In a large mixing bowl, combine all of the ingredients.

Spread the mixture evenly onto two baking sheets, and bake in the preheated oven until it's a lovely golden brown color. This should take about 1 hour, but set the timer for 30 minutes to stir it half-way through cooking process.

Let the granola cool on the baking sheet and store in an airtight container.