I can't get enough of avocados in the summertime!  I absolutely love them — on their own, in salads, avocado fries, and of course, in a guacamole recipe!
The key to making fantastic guacamole is starting with fantastic avocados! And I have a new avocado find I'm excited to tell you about!  Paradise Grove Avocados!  My-oh-my, do they grow absolutely delicious, beautiful Hass avocados!  They're thin-skinned, with great flavor and a wonderfully creamy, super smooth texture.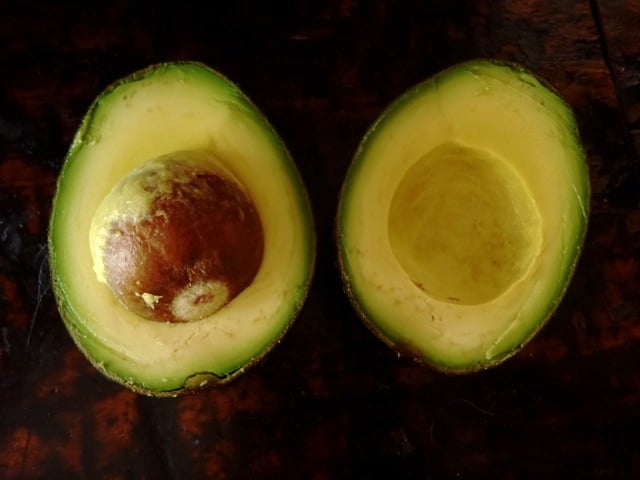 I felt like it was my birthday the day mine arrived.  It was wrapped like a jewel!
I love eating a perfect avocado simply on a fork with a bit of sea salt.  Yum!
And here's something interesting. . . see the darker green color along the edge?  That's the part that comes into contact with the skin.  It contains more nutrients than any other part of the fruit.  Make sure you get all that good stuff!
Please remember that the fat in avocados is the good kind!  It's good for you!  Avocados are also full of antioxidants and offer numerous other health benefits.
I say have an avocado a day!
When I created this recipe I had just been given a beautiful bag of Melissa's Key limes from Adventures With Nancy Rose.  (Thank you!) I couldn't resist using them!  I love their sweet and tangy flavor!
Here's my step-by-step guide on How To Cut An Avocado!
Key Lime Grilled Corn Guacamole Recipe
Ingredients
1

ear fresh corn

Olive oil

1

medium-large ripe avocado

1

tablespoon

finely chopped brown onion

1

tablespoon

finely chopped fresh cilantro

Juice of 3 Key limes

Garlic salt

sea salt, and cayenne pepper to taste (Her'es How to Season to Taste)
Instructions
Preheat a stove-top grill or a BBQ. Rub a bit of olive oil on the corn and season it with salt and pepper. Place it on the grill once it's hot. You should hear a sizzling sound -- if you don't, the grill isn't ready. Wait for the sizzle or your corn won't char! Only grill the corn long enough to mark it on all sides, a total of about 3 minutes.

Cut the avocado in half and remove the skin and pit. Then, in a small mixing bowl, use a fork to mash it to the consistency you prefer (I like it a bit chunky). Add the onion, cilantro and lime juice. Mix to blend and then season to taste with the garlic salt, cayenne, and a bit of sea salt if necessary.
Save