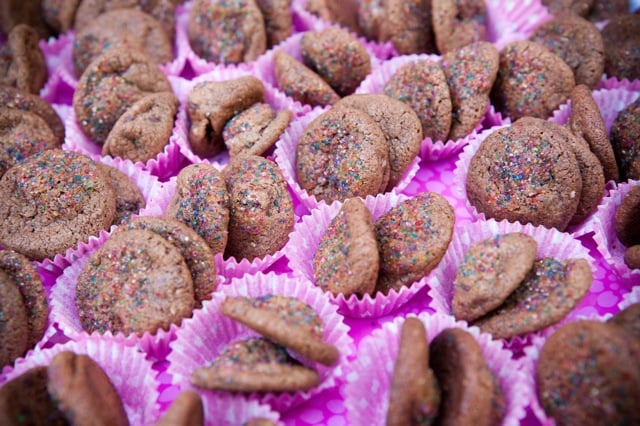 Well hello!  Did you make the Salted Caramel Chocolates yet, or are you waiting for the weekend?  I'm so happy that this dessert party is underway,  as I'm having super busy, fun-filled family week.  (I'll tell you all about it after the party!)
Imagine if you will, the most delicious chocolate cookie you've ever had.  Now imagine it with a kick of spice, soft, nutty overtones, and chunks of melting chocolate.
You want to try one, don't you?  You should!  This is a fairly quick and easy cookie recipe.
You could make cute mini-cookies, which are perfect for dessert parties with a variety of things to choose from, or larger cookies, say, to enjoy with your afternoon tea?
Hope your sweet tooth is holding out because I'll have some amazing Fresh Fruit Tartlettes  for you on Friday!
Remember the Vanilla Bean Custard we made last week?  Well, that's exactly where it's headed!
Can't wait to check in with you after the party!

Double Chocolate Almond Spice Cookies
Makes about 6 dozen
Ingredients
2-1/4 cups all-purpose flour
¾ cup almond meal
1 teaspoon baking soda
¾ teaspoon salt
2-1/2 teaspoons ground cinnamon
¾ teaspoon cayenne pepper
¾ cup cocoa powder
1-1/4 cups (2-1/2 sticks) unsalted butter, softened
1 cup granulated sugar
1 cup packed golden brown sugar
1 tablespoon vanilla
1 large egg
2 cups roughly chopped Mexican chocolate (I like Ibarra)
Instructions
Preheat the oven to 350 degrees and line two baking sheets with parchment paper.
In a medium bowl, combine the flour, almond meal, and baking soda, salt, cinnamon, and cayenne pepper. Sift in the cocoa powder and stir to blend. Set aside.
Use an electric mixer to cream the butter and sugars -- beat until the mixture becomes a bit light and fluffy, about 3 minutes. Add the vanilla, followed by the egg. Beat until well blended. Use a large mixing spoon to incorporate the dry ingredients, and mix only until combined. Then fold in the chocolate chunks.
Using a tablespoon or a tiny ice-cream scoop (I like 1-1/4-inch), to scoop the dough onto the parchment-lined baking sheets. The balls of dough should be at least 2 inches apart, about 12 per sheet. Bake for 8 to10 minutes. The cookies will look solidified along the edges and might appear a bit raw in the center. This is okay, as they will cook a bit more out of the oven and be perfect! Let them cool for a few minutes on the baking sheet and then transfer them to a cooling rack.
Top image:  Trish Alison Photography
You might also like these delicious treats:
My favorite childhood brownies
Gluten-Free Brownies With Coconut Flour
Dulce De Leche Chocolate Pretzel Cookies
Chocolate Chip Peanut Butter Fudge
Reese's Peanut Butter Cup Chocolate Rice Krispie Treats
Save
Save
Save