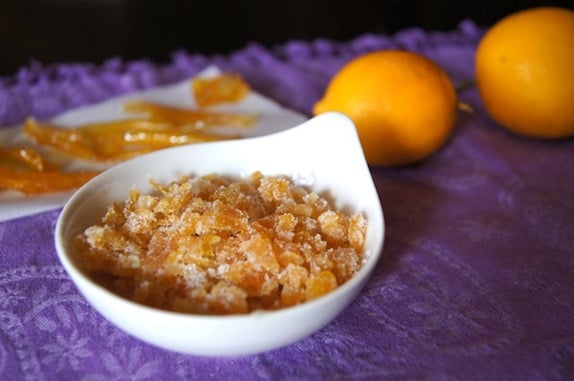 You never know when you might wish you had a jar of candied citrus peels in your pantry. Really!  They're a fantastic addition to cookies, muffins, cakes, and even your hot cup of tea!
It's the perfect, somewhat mindless weekend cooking project.  After just a few minutes of work, the peels simply hang out on the stove in a pot of water and sugar for a while.  You don't need to stir or even look their way if you don't want to! Watch TV, go outside and garden, take a brief nap, or cook something else (like my Smoky Chipotle Breakfast Nachos!)
I'm planning to use candied lemon peels in tomorrow's recipe, Coconut Lemon Muffins, which are the sweet part of the brunch menu we've been cooking up over here.
You can use this recipe with any citrus fruit! Here I use 4 medium-sized lemons — you can make adjustments based on the citrus you're using.  For example, if you're using limes, maybe use 6 or for grapefruit use 2.  Get it?

Recipe
Makes about 2/3 cup
Prep Time: 5 minutes
Cooking time: about 1-1/2 hours
Active Work Time: about 10 minutes
4 medium-sized lemons
About 1 cup water
About 3/4 cup granulated sugar
Granulated sugar or chocolate to coat candied peels (optional)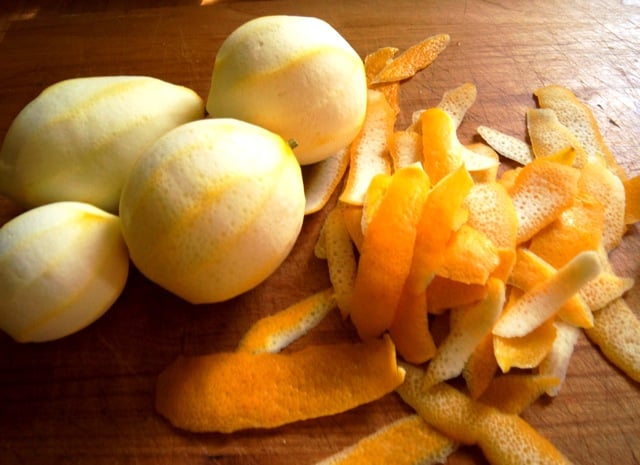 Remove the skin from lemons using a vegetable peeler, trying not to go too deep — you don't want too much of the white pith.
Place the peels in a small- to medium-sized saucepan and add enough water to cover the peels by about an inch.  Place over high heat and bring to a boil.  Immediately drain the peels and repeat this process one more time.
Return the peels to the pan, and this time add about 1 cup of water (just enough to cover the peels by about an inch again) and the sugar.  Return the pan to the stove and keep them at a low simmer for about 1-1/2 hours.  You'll notice the peels will become translucent and the liquid will be a very sweet lemon syrup.  The sugar preserves the natural flavor of the peels.
Let the peels cool in the syrup.  The candied citrus peels should be stored in the syrup, covered and refrigerated.  They should keep for about 3 weeks.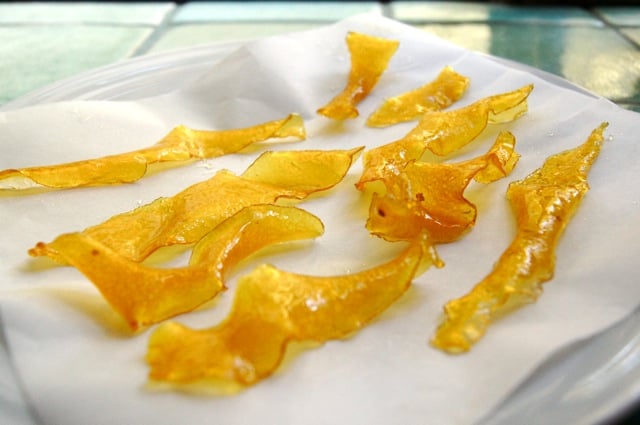 When you're ready to use them, drain them on a rack on top of a baking sheet for an hour or so to remove excess syrup.
Now you can finely chop the peels to use in recipes.  Or you can place them in a bowl with granulated sugar to coat them.  Or why not dip them in chocolate!?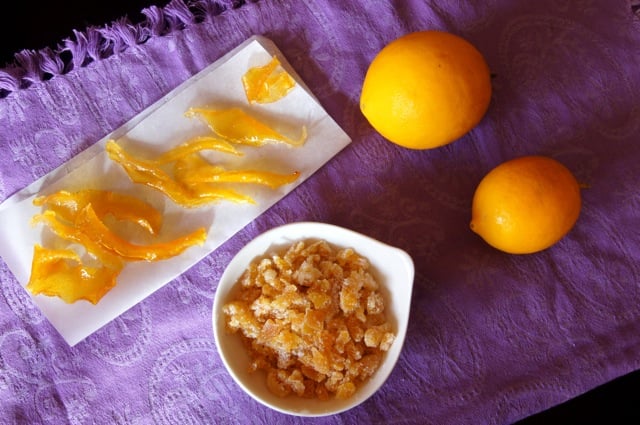 Notes:
If you have peels you saved from an orange you ate, say, you can follow the same process, but because there will be a lot more of the white pith (since I'm assuming you peeled the skin with your hands and not a peeler), repeat the initial boiling process at least 4 or 5 times.