With a nutty and subtly sweet flavor, these Hazelnut Brussels Sprouts with Brown Butter are out of this world!  And every Thanksgiving feast needs a brussels sprout side dish!
Brussels sprouts are delicious.  Don't try to tell me otherwise!
They are definitely the green vegetable that most kids love to hate.  And some adults, too. They sort of have a bad reputation, but let me tell you, these delicious beauties don't deserve it.
Especially here in this recipe where they are covered in a light hazelnut brown butter.
I had you at "brown butter," right?  The brown butter alone is reason to make these Hazelnut Brussels Sprouts.
They're crispy and sweet on the outside, as they caramelize beautifully, while they remain nice and soft inside. This is achieved from the cooking process of first steaming the brussels sprouts and then placing them under the broiler briefly.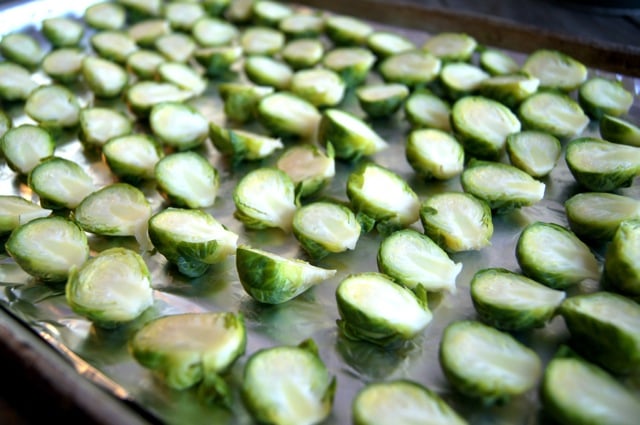 The brown butter has a lovely nutty flavor which only enhances the natural flavor of the roasted hazelnuts.
Even if you think turkey, stuffing, cranberries, or Apple-Sweet Potato Soup are the best part of Thanksgiving, I do think it's lovely to have something beautiful and green as part of the feast.
So why not have it be this brussels sprout side dish? Everyone that might have thought they didn't care for them, will change their minds.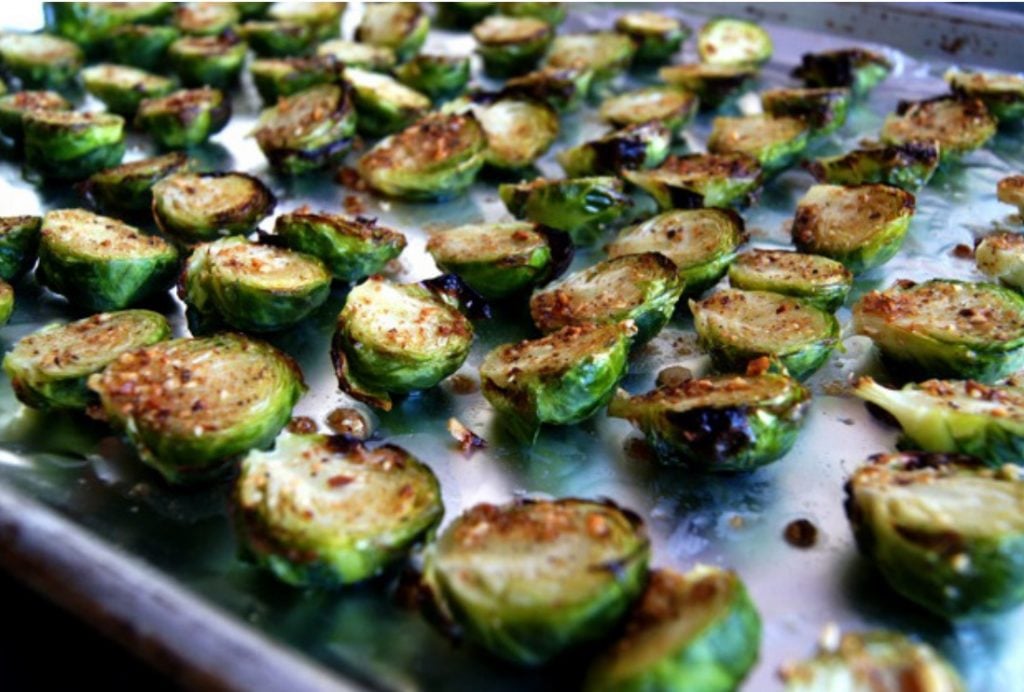 This is the quintessential, super yummy brussels sprouts side dish for Thanksgiving.  And they're quick and easy to prepare!
Enjoy!
Timeline for Hazelnut Brussels Sprouts with Brown Butter:
Up to 1 day and at least 20 minutes ahead of time: Steam the brussels sprouts.
Up to 30 minutes ahead of time: Cut the brussels sprouts, make the hazelnut brown butter sauce and broil.
If you steam the brussels sprouts the day before, store them in an air tight container in the refrigerator.
Hazelnut Brussels Sprouts with-Brown Butter
Ingredients
1

pound

brussels sprouts

3-1/2

tablespoons

unsalted butter

2

tablespoons

super finely chopped

blanched hazelnuts (here's how to blanch them)

1/2

teaspoon

lemon juice

Sea salt and freshly ground black pepper
Instructions
Line a baking sheet with foil and set aside.

Rinse the brussels sprouts and set them aside. Place a steamer rack in a pot with the water level just below it. Over high heat, bring the water to a boil and then add the brussels sprouts to the rack, sprinkle with salt, and cover.

Steam until the brussels sprouts are tender, about 5 minutes. (This is a standard method for steaming vegetables. Vegetables will vary in cooking times.)

Pour the brussels sprouts on a large plate to cool.

In a small sauté pan, melt the butter with the hazelnuts and lemon juice. Let it cook over low-medium heat just until it begins to brown, about 1 minute. Season to taste with salt and pepper, and set aside.

Turn on the broiler and adjust a rack so it sits just a few inches below the flame.

Cut the brussels spouts in half, lengthwise, placing them round-side down on the foil-lined baking sheet as you go. Use a teaspoon or a basting brush to coat each half with the hazelnut brown butter.

Place the baking sheet under the broiler until the brussels sprouts are sizzling and nicely browned, about 1 minute.

Remove from the oven and serve!
Save
Save
Save
Save