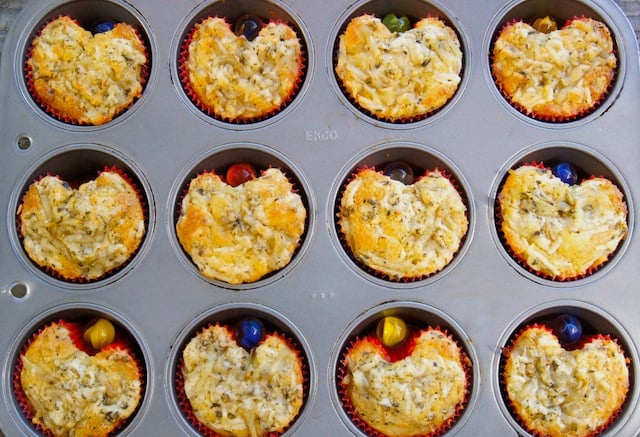 Who knew that my going to Campblogaway last May would lead to these super yummy Valentine's Day muffins?  Not me!  My blog was just about to launch, and it was my first opportunity to connect with the amazing food blogging community.
It was at Campblogaway that I had the pleasure of meeting Patti Londre, the camp's founder and the author of "Worth The Whisk" — and Don Odiorne of Idaho® Potatoes, one of the sponsors.
Do you see where I'm going with all of this?  Yep, a handful of food bloggers got together to create recipes using Idaho Potatoes for our loved ones!  Our recipes will be featured in newspapers throughout the U.S. during the month of February, which just happens to be Potato Lover's Month!
There I am in the middle (with the very long hair), taste testing!
While I was busy working on these scrumptuous Potato-Asiago Muffins with Herbs de Provence, Patti of Worth The Whisk was making comforting and delicious Western Shepherd's Pie, Erika of In Erika's Kitchen cooked up a beautiful Potato and Beet Galette, Nancy of A Communal Table designed a lovely Romesco Fingerling Potato Salad on a Bed of Greens and Ericka of Nibbles & Feasts whipped up a Cream of Potato and Poblano Soup that I simply could not stop eating and am still dreaming about!  Everything was divine!
Let's just have a Valentine's Day potato party this weekend, why don't we?
P.S. It's the Herbs de Provence that puts these muffins over the top!
Potato-Asiago Muffins with Herbs de Provence
Recipe
1/2 cup unsalted butter, melted
1-1/2 teaspoons dried Herbs de Provence
2/3 cup grated Asiago cheese
1/3 cup grated Idaho Yukon Gold potato, skin on
3/4 cup peeled, cooked, and mashed Idaho Yukon Gold potatoes
1/2 cup buttermilk
1 large egg
1/2 teaspoon sea salt
2 tablespoons granulated sugar
1 cup all-purpose flour
1-1/4 teaspoons baking soda
Preheat the oven to 375 degrees F, and line a muffin pan with paper cups. (To make heart shapes, you can use a marble, or a crumbled piece of foil, to place between the outside of the paper cup and the inside of each circle. Set aside.
To make the topping, in a small bowl, combine 3 tablespoons of the butter with 1/2 teaspoon of the herbs, 1/4 cup of the cheese, and the grated potato. Set aside.
In a medium-sized mixing bowl, combine the mashed potatoes with the buttermilk, egg, salt and sugar. Add the flour with the baking soda, and mix just until combined. Then fold in the remaining butter, herbs and cheese.
Fill each paper cup about 3/4 the way up with the batter, and divide the topping evenly, about a teaspoon on top of each one.
Bake in the preheated oven until golden brown, about 25 minutes.
http://cookingontheweekends.com/2012/02/potato-asiago-muffins-with-herbs-de-provence-idaho-potatoes-bloggers-true-love-for-valentine%e2%80%99s-day/
©2012 Cooking On The Weekends/BlazingBright, Inc.
How cool is it that you can use marbles or foil to make heart shaped muffins or cupcakes?! I wish I could say this awesome  idea was mine, but alas I discovered it here, and I think it's great!