Spicy Sriracha Spaghetti and Meatballs is bursting with both deep and fresh flavors, that will keep you coming back for more.  This super hearty and delicious meal is a fantastic choice for a cool night, but it works all year long!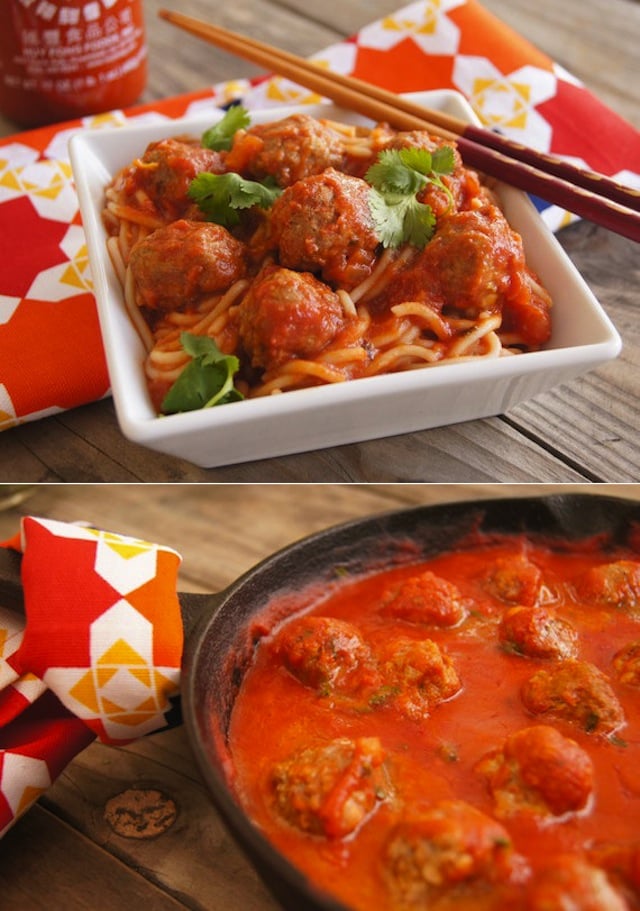 I've been all about sharing fresh-from-the-garden fruit and vegetable recipes this summer, which I love.
However, don't we all crave warm comfort foods year-round?
I certainly do!  After all, food is often more about one's mood, than the season!  Don't you think?
And guess what?!  These sweet, spicy, succulent meatballs are lovely with my Summer Zucchini-Peach Avocado Salad!
Are you thinking what I'm thinking? . . .
Yup!  A relaxing, casual, tasty dinner party the next couple of weekends!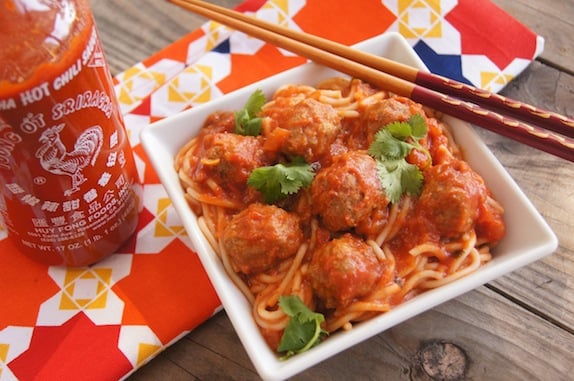 The salad and Spicy Siracha Spaghetti and Meatballs will delight your guests, for sure!  And tomorrow, I'll have a super refreshing and scrumptious Lychee Chocolate Chip Ice Cream Recipe for you!
That's all you'll need!  (A friend will offer to bring wine!)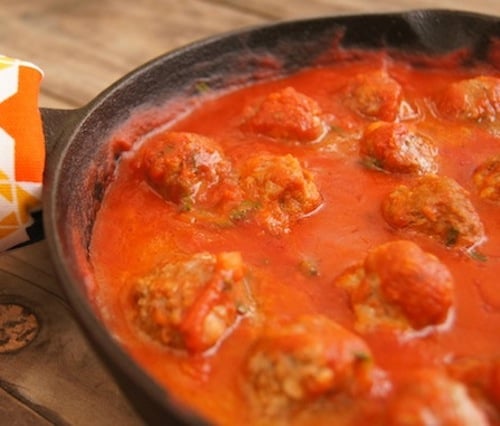 Enjoy!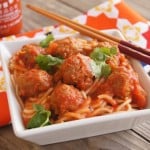 Spicy Sriracha Spaghetti and Meatballs Recipe
Ingredients
For the meatballs:
1-

pound

ground beef

I use organic, 15% fat

3

tablespoons

Sriracha sauce

2

tablespoons

low-fat or whole

plain yogurt

2

teaspoons

brown sugar

1

teaspoon

sea salt

1/4

cup

fine bread crumbs

1

egg
For the Sauce:
2

tablespoons

grapeseed oil

1

cup

finely chopped

brown onion

1

tablespoon

minced garlic

3

cups

tomato purée

3

tablespoons

Sriracha sauce

1

teaspoon

brown sugar

1

teaspoon

sea salt

2

tablespoons

roughly chopped

fresh cilantro

1-

pound

dry spaghetti
Instructions
For the meatballs:
In a medium mixing bowl, combine the beef, Sriracha, yogurt, brown sugar, salt, bread crumbs, and egg. With a spoon, or your hands, mix the ingredients only until they are evenly combined. (Do not over mix!) Use your hands or a cookie scoop to form the mixture into 1 to 2-inch balls and place them on a plate. Cover and set aside.
For the Sauce:
Over low-medium heat, in a large sauté pan, cook the onions in the oil until soft, about 4 minutes. Add the garlic and cook for another minute or so.

Stir in the tomato purée, Sriracha sauce, brown sugar, and salt.

Bring to a boil and then immediately reduce heat to low and simmer until the sauce thickens slightly, about fifteen minutes.

Then stir in the cilantro.

Add the prepared meatballs to the sauce, cover, and continue to simmer until the meatballs are cooked through, about 8 minutes. (About half way through the cooking process, remove the lid and gently move the meatballs around a bit.)

While the meatballs are cooking, cook pasta in a large pot of boiling salted water until it's aldente -- just tender but still firm to bite. Drain the pasta and then return it to the pot and drizzle it with olive oil. Cover and set aside.

When the meatballs are cooked, add them, along with the sauce, to pasta and toss to coat, taking care not to break the meatballs. (If you prefer, you can keep the meatballs and sauce separate and serve it over each portion of pasta.)
Recipe Notes
I use brown rice spaghetti and gluten-free bread crumbs to make a gluten-free version of this dish.
If you want a similar flavor profile, but would rather be outside grilling, you'll also love my
Grilled Spicy Sriracha Burger
!
Save
Save
Save
Save