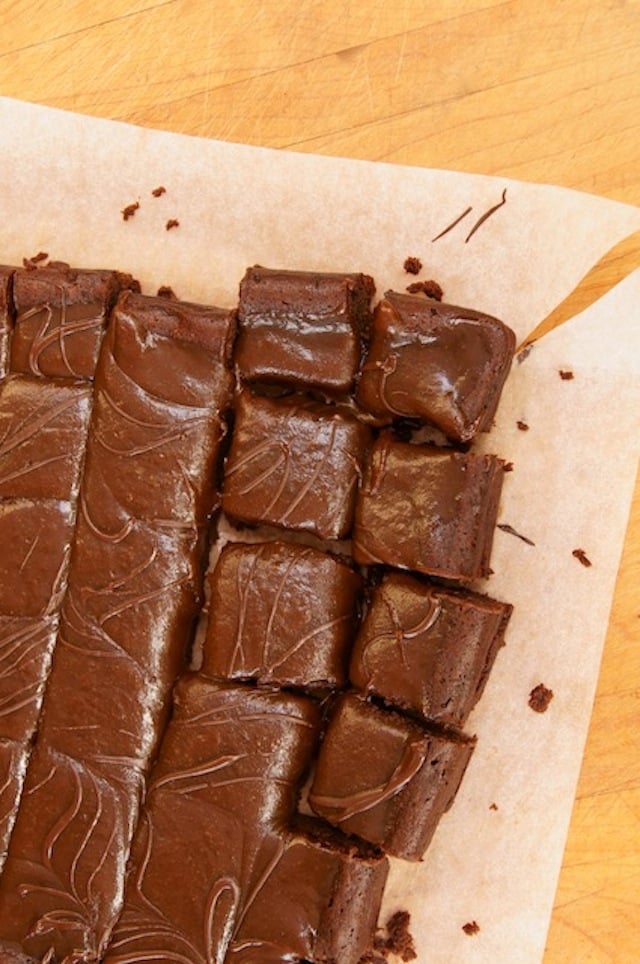 Without question, this is the richest, most decadent dessert I've ever created.
I can handle a lot of richness.  I can't relate when I hear someone say that something is so rich that they can only have one bite. In my world, one bite would never suffice!
Not only is this rich and decadent — it's also incredibly delicious, with the smoothest, creamiest texture imaginable.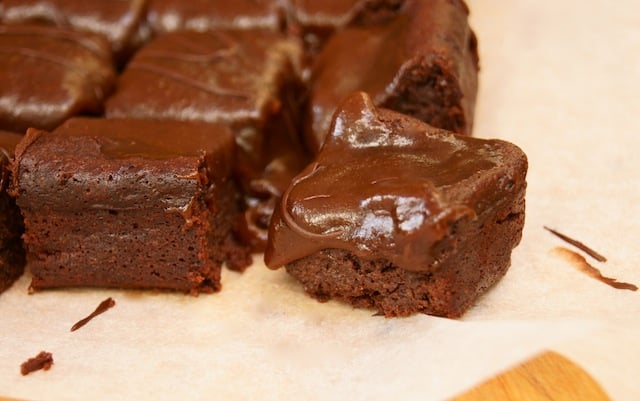 And I'm happy to say that after a few weeks without, Friday Flowers is back!
These had chocolate written all over them.  I know, strange. 😉
These Pelargonium Sidoides (AKA Geraniums ;-)), look every bit as rich and beautiful as the chocolate dessert.
This Chocolate-Espresso Caramel Brownie recipe is also wonderful because you can do a few different things with it . . .
You could do what I did and make unbelievable brownies covered in espresso caramel.
You could use the brownie portion of the recipe only — to make the best brownies on earth.
You could bake the brownie batter in a cake round and it's a cake!  (Glaze it with the caramel,

Ganache

, or simply dust it with powdered sugar.)
And finally, you could just make the caramel portion of the recipe, and pour it over ice cream, yogurt, and even your pancakes!
I drizzled a bit of melted chocolate over the top, and you can most certainly serve this with whipped cream and/or ice cream.
I'd suggest vanilla bean, and if you're really daring, and want to add rich to richer, McConnell's Turkish Coffee ice cream would be an excellent choice!
What's your tolerance for super rich desserts?  One bite, or more?  Please tell me in the comments – I want to know!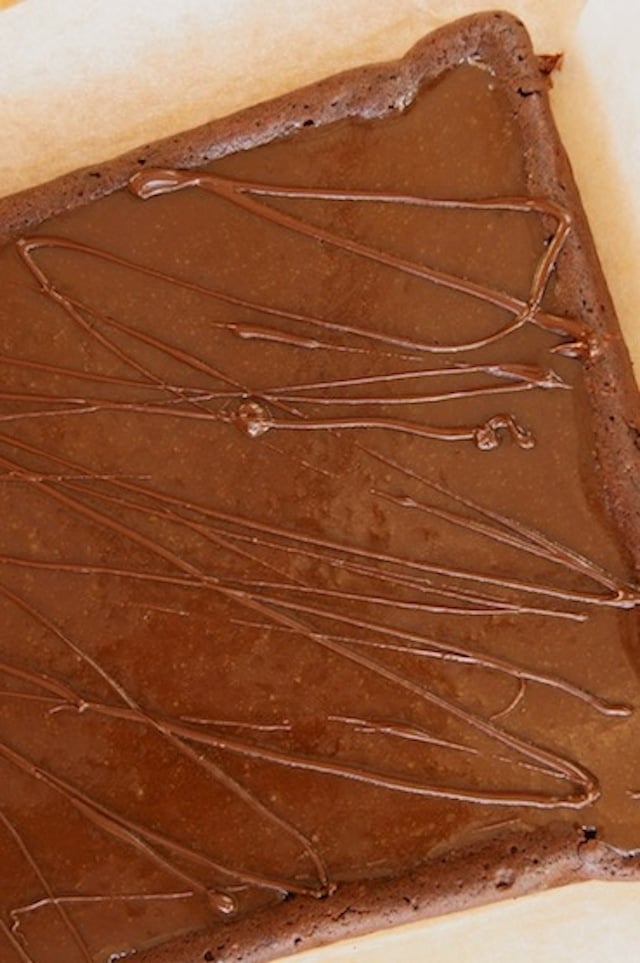 This is a gluten-free dessert.  And for me, it's the best kind of gluten-free dessert — one that's inherently gluten-free and uses no substitutions.  And one that my gluten-free son loves!  (Don't judge me for giving my 8-year old such a rich chocolaty-caffeinated dessert! ;-))
This is the perfect recipe to put on your list for when you need holiday treats next month!
This is not a sponsored post — I simply love Scharffen Berger chocolate and McConnell's Turkish Coffee ice cream is my favorite.
Flourless Chocolate-Espresso Caramel Brownies Recipe
Makes about 2 dozen brownies
Prep Time
1
hour
35
minutes
Ingredients
For the caramel:
1

cup

sugar

1/4

cup

water

1/4

cup

1/2 stick unsalted butter

1/4

cup

heavy cream

1

tablespoon

sour cream

1

tablespoon

instant espresso powder
For the brownies:
12-

ounces

roughly chopped semisweet chocolate

I love using Scharffen Berger

1

cup

2 sticks unsalted butter, cut into chunks

3-1/2

tablespoons

instant espresso powder

2

teaspoons

vanilla extract

1-1/8

cup

sugar

6

eggs
Instructions
For the caramel:
In a medium-sized saucepan, pour the water over the sugar and cook this mixture over medium heat, until the color is a dark amber. This should take about 10 to 15 minutes. Do not ever stir this mixture while it's cooking!

Once you've achieved the dark color, reduce the heat to low and carefully whisk in the butter, heavy cream, and sour cream. Stand back! When you add these ingredients, the mixture will likely hiss and bubble up. Continue to whisk until it's smooth. Then mix in the espresso powder, stir to blend, and remove from the heat. Let is sit at room temperature until you're ready to use it.
For the brownies:
Preheat oven to 375 degrees F.

Line an 8 X 8 X 3-inch baking pan with parchment paper. Use a wide enough, and long enough piece of parchment, so that it will cover the sides. Use scissors to cut a diagonal slit in each corner, so that the paper lies flat in all areas. 
Set aside.

Place the chocolate, butter, espresso and vanilla in a medium-sized saucepan over medium low heat. Stirring often, heat until the chocolate and butter are melted and completely blended.

Remove from heat and transfer the chocolate mixture to a large bowl and let it cool for at least 15 minutes or so.

Add the sugar and mix well. Then add the eggs one at a time, whisking well after each addition. 

Pour the batter into the prepared pan and bake in the preheated 375 degree F oven until cake has risen and the top and edges have formed a thin crust, about 25 minutes.

Let it cool in the pan until it's room temperature, at least 1 hour.

When cake has cooled, pour the caramel in the center of the top surface. The cake will likely have sunk a bit, everywhere except the edges. This allows the caramel to flow evenly over the top surface, stopping at the edges.

If it doesn't spread on its own as you're pouring, simply use a small spatula to very gently guide it. (You don't want the caramel to be too hot, or it might seep into the brownies too much, and if it's too cool, it won't spread -- so the key is making sure it's just warm enough to spread evenly.)

You could serve it now, but it's best to let it set for a couple of hours, and ideally overnight -- at room temperature. (Simply because it will be a bit messy if you don't wait.) You could speed it up in the refrigerator as well.
Recipe Notes
Please note that the prep time does not include letting the caramel set after you've added it to the brownies, should you choose to do so.

This caramel portion of the recipe can be made up to at least a week ahead of time. Keep it stored in the refrigerator and warm it to soften.
Save
Save