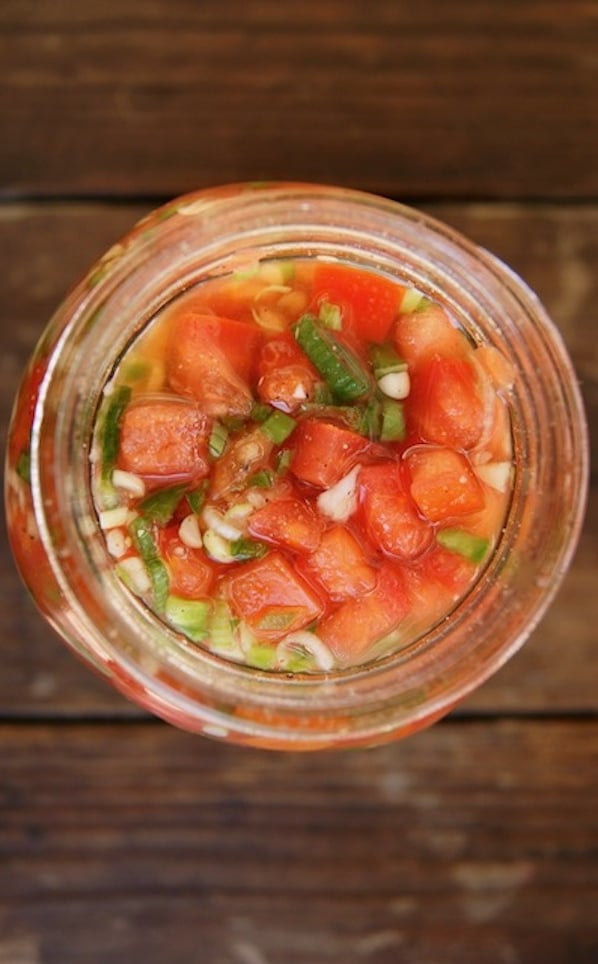 Trends in the culinary world change the same way they do in the fashion world, the design world, and I'm sure in a plethora of other "worlds."
One minute you're in a platform shoe, and the next minute you're shopping for flats.  One minute you're hanging out in a living room with shag carpet, and the next minute you're thinking about dark, shiny, hardwood floors.
And in the culinary world, about a minute ago it was all about sweet and salty, and now it's about tart, acidic and bitter — pickled foods.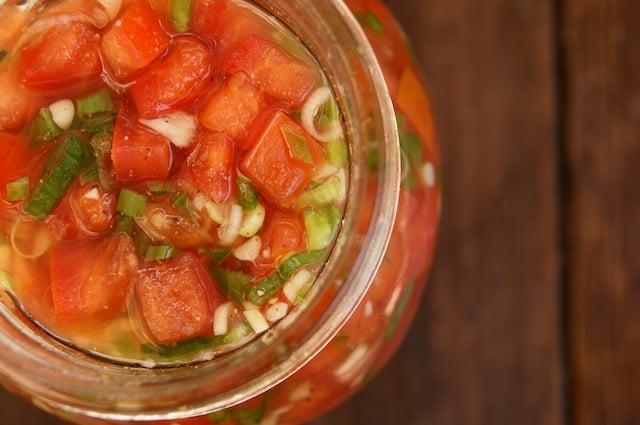 While pickling used to simply provide a way to keep fresh ingredients through the winter, these days it's sparking creativity in the kitchen in unique and exciting ways, and showing up on menus all around town.
This is with good reason — pickled foods can be delicious, and are especially fantastic when paired with savory and spicy flavors.  (In a couple of days these pickled tomatoes will become part of my recipe for Perfect Pulled Pork Tacos. Yum!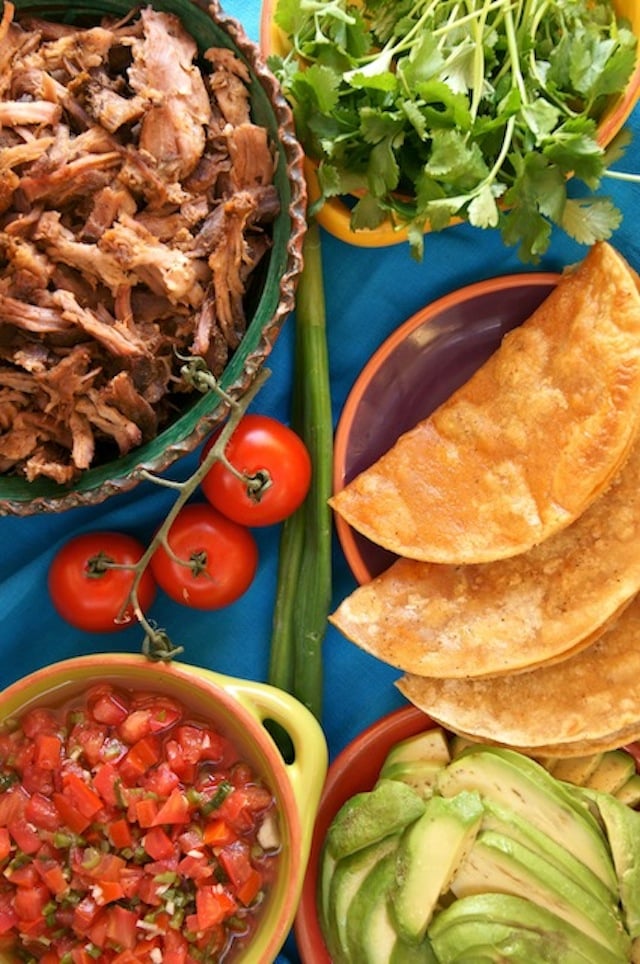 Sweet and salty will forever be a delicious combination!
I think new trends are fun and keep life interesting — however, wear what you like, design your house the way you like it, and by all means, always eat what you love!
Enjoy!

Pickled Tomatoes Recipe
Makes about 3-1/3 cups -- Please note that 4 hours of the prep time is marinating time.
Ingredients
2 pounds tomatoes, seeded and diced
2 very finely chopped, small to medium-sized jalapeños, seeds removed
2 finely chopped scallions
1-1/2 tablespoons minced garlic
1 cup white vinegar
3-1/2 tablespoons brown sugar
½ teaspoon sea salt
¼ cup extra virgin olive oil
1 teaspoon freshly ground black pepper
½ teaspoon ground cumin
¼ teaspoon ground mustard
¼ teaspoon cayenne pepper
Instructions
In a large mixing bowl, gently combine the tomatoes with the jalapeños, scallions, and garlic.
In a small saucepan, bring the vinegar to a boil.
Immediately reduce the heat to low, and add the sugar and salt. Heat only until the sugar and salt have dissolved, about 30 seconds.
Pour the mixture into a bowl to cool and set aside.
Add the oil to a small sauté or saucepan, and place it over medium heat. Once it's very hot, add the black pepper, cumin, mustard, and cayenne pepper, and stir until it's aromatic, 1 minute. Remove from the heat and stir this into the vinegar mixture.
Then pour all of this over the tomato mixture and stir to combine.
Refrigerate in an air-tight container for at least 4 hours and up to several days.
Save