Coffee and chocolate always equals love!
With Valentine's Day less than two weeks away, I've got chocolate on my mind.  (More than usual, that is.)
I'm combining chocolate with coffee, and well, that's love.
I could talk about how amazing this recipe is for quite a while, but you'll have to try it to find out for yourself, that this dessert might just be the creamiest, dreamiest bite of sweet, deliciousness ever!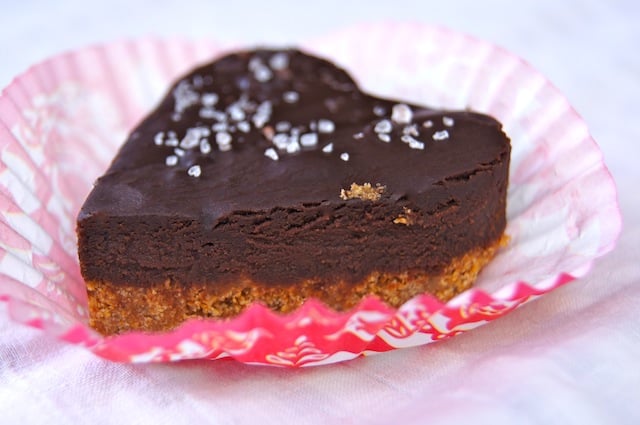 Valentine's Day or not, enjoy this amazing treat!
Mocha Truffle Bars
Makes 3 dozen small squares. Please note that almost all of the prep time is refrigeration time.
Prep Time
6
hours
20
minutes
Total Time
6
hours
20
minutes
Ingredients
12

whole graham crackers

whole, meaning 2 squares each

1

tablespoon

instant espresso powder

I like Medaglia d'Oro

1

tablespoon

cocoa powder

3

tablespoons

granulated sugar

½

cup

plus 2 tablespoons melted

unsalted butter

1

cup

finely chopped bittersweet chocolate

I like Scharffen Berger, 70%

1

cup

crushed chocolate covered espresso beans

I like Trader Joe's brand chocolate covered espresso beans

1¼

cups

heavy cream

1

teaspoon

vanilla

Fleur de Sel
Instructions
Line an approximately 8 X 8 X 2-inch baking pan with parchment paper. Use a piece of parchment that will cover the bottom and sides of the pan. Then cut slits at the corner seams to help it fit snugly. (This will help you lift the dessert out of the pan when it's done.) Set aside.

Add the finely chopped chocolate and the crushed chocolate covered espresso beans to a large mixing bowl, and set aside. (The best way to crush the espresso beans is to put them in a large, heavy-duty, zip-lock bag that's sealed tightly, and gently pound it with a meat mallet, or the bottom of a small sauté pan.)

Break up the graham crackers and add them to a food processor fitted with the blade attachment. Blend until you have a smooth mixture. (If you don't have a food processor, place the crackers in a heavy-duty zip-lock bag, remove all of the air and seal tightly. Then roll over the bag as many times as necessary with a rolling pin.)

Pour the ground crackers into a medium-sized mixing bow and stir in the espresso powder, cocoa powder, sugar and melted butter. Press this mixture into the parchment-lined pan and use a flat-bottomed metal spatula to firmly and evenly pack it down. Set aside.

Scald the cream with the vanilla.  Tiny bubbles will appear along the edges of the pan and it should be very, very hot, but not boiling.

Pour the cream over the chocolate.  Do not stir it yet – wait about 4 minutes and then, use a wooden spoon and gently stir to combine.  It will take a few minutes of mixing before you'll see it come together.

Pour the chocolate mixture over the prepared graham cracker "crust," and sprinkle the entire top surface lightly with Fleur de Sel.

Place the dessert in the refrigerator for at least 6 hours, and ideally overnight.

Sprinkle with a bit more of the Fleur de Sel, and then you can then cut the dessert into 36 small squares, or use a heart-shaped cookie cutter to make hearts for Valentine's Day. (If you make the hearts, be sure to save -- and eat -- the scraps!)
Recipe Notes
Of course you can make any size squares you like -- I only suggest small because they are quite rich, and for some people, one lovely bite is perfect. (For me, well I could eat several lovely bites!)
Save
Save