This stunning and delicious spring dish is packed with gorgeous colrs and healthy ingredients.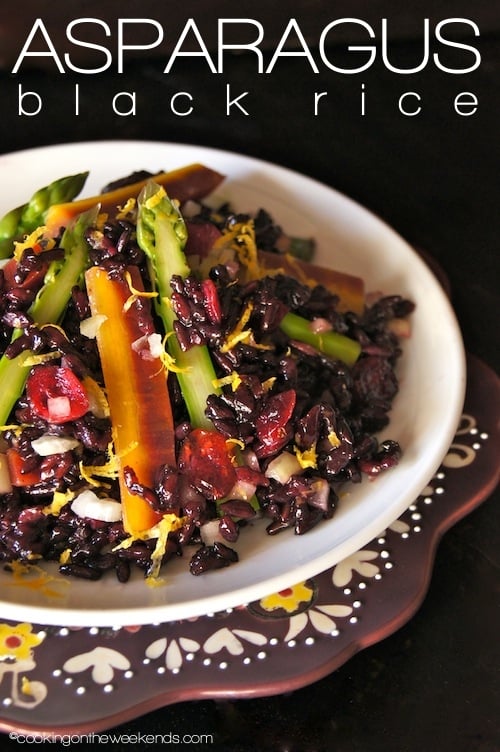 Sometimes selecting different foods to put together in a recipe, is like selecting different paint colors to put together in a house.
If you're not sure what I mean, follow my thought process in creating this recipe.
First, I was in Trader Joe's (not shopping for rice), when a bag of black rice caught my eye.  Then, knowing this black rice usually turns a deep purple when cooked, I immediately imagined how cool it would look against the bright green asparagus I'd picked up earlier at the Farmer's Market.  So I added it to my basket.  Next, I knew it needed orange. I went to grab carrots and to my delight, they had bags of carrots in a variety of colors. (The purple ones are so cool because they're golden-orange on the inside!)  I carried on, as if I were painting in my mind.  I wanted some strokes of red and remembered I had dried cranberries at home.  Perfect.  Finally, when I got home and saw my bowl of lemons, I knew the yellow was just the color I needed to brighten the big picture, if you will.
Make sense?
Do you ever stop and simply admire the beauty of the ingredients you're cooking with?  I do it all the time.
And as you likely know, I always pause to admire them.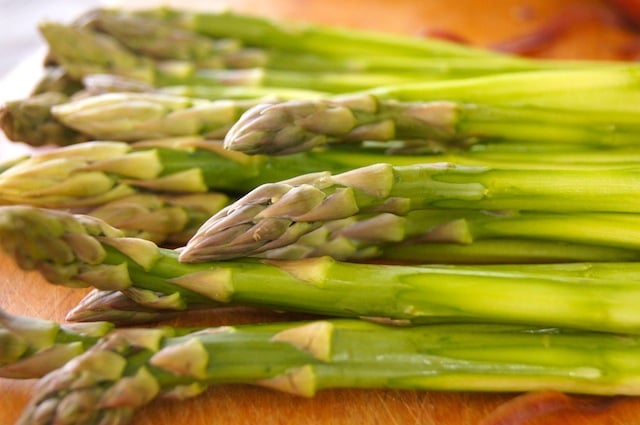 The day I made this, I was excited to see that my friend Gerry of Foodness Gracious had a similar response to seeing the black rice on the Trader Joe's shelf.
Check out his beautiful recipe for Moroccan Black Rice Salad with Burrata Cheese.
Enjoy every bite!

Lemon Black Rice Spring Salad Recipe
Ingredients
For the dressing
1½ tablespoons lemon zest (from about 3 small lemons)
⅓ cup fresh lemon juice (from about 3 small lemons)
1 teaspoon granulated sugar
½ teaspoon sea salt
¼ to ½ teaspoon freshly ground black pepper
⅓ cup extra virgin olive oil
For the salad
1½-pounds asparagus
½-pound carrots
3½ cups cooked black rice (about 1¼ cups uncooked -- follow the directions on the package)
½ cup very finely chopped brown onion
½ cup dried cranberries
Instructions
For the dressing
In a small bowl, mix the lemon zest with the lemon juice, sugar, salt and pepper. Then gradually whisk in the oil and set aside.
For the salad
Place two medium-sized bowls with ice water on your work space.
Cut the bottom few inches (the tough portion), off of the asparagus and discard. Then rinse and
peel them from just below the floret to the bottom, using a vegetable peeler. Place a steamer in a pot with the water level just below it.  Over high heat, bring the water to a boil and then add the asparagus to the rack and cover.  Steam just until tender, about 5 minutes.  Immediately add the steamed asparagus to one of the bowls of ice water and let it sit for a couple of minutes. Then remove, dry, and cut them into bite-sized pieces. Set aside.
Peel the carrots and trim the ends. Then cut them into bite-sized pieces. Using the same steamer pot, over high heat, bring the water to a boil and then add the carrots and cover.  Steam just until tender, about 8 minutes. Now immediately add the steamed carrots to the other bowl of ice water and let it sit for a couple of minutes. Remove, dry and set aside.
Making sure the cooked black rice is room temperature or cooler, add it to a large mixing bowl. Add the onion and drizzle almost all of the dressing over it and mix until the rice and onion are well coated.
Very gently fold in the onion, steamed asparagus and carrots and cranberries, and drizzle the remaining dressing on top.
Refrigerate until you're ready to serve.
Save