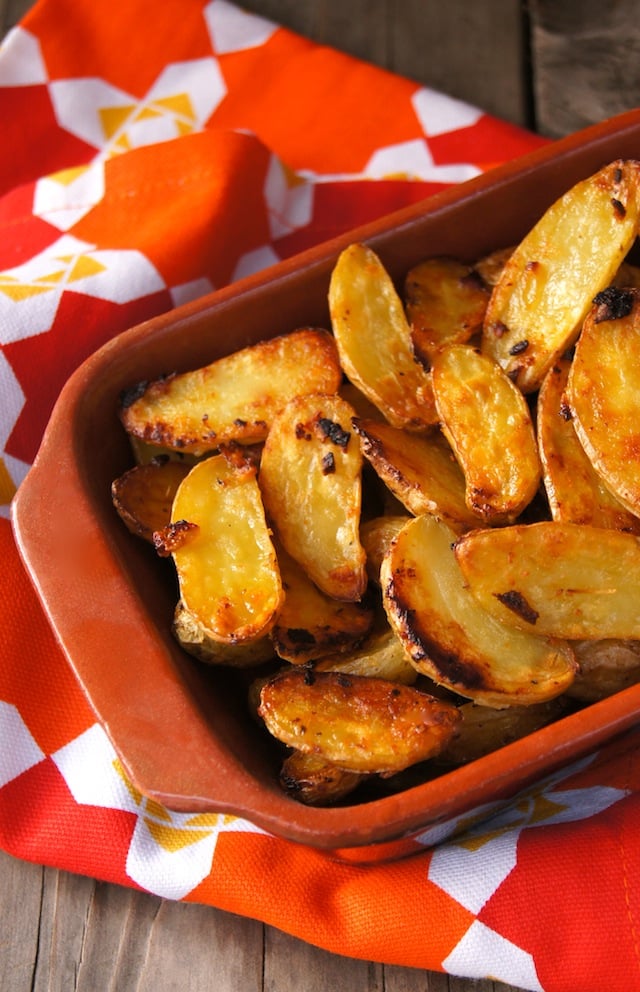 Sometimes I feel like I'm in a hurry all of the time.  Actually, I'll be honest, I am in a hurry all of the time.  I'm always trying to fit as many things as I can into one day, and wishing for more hours all the while.  I know I'm not alone, so let's do something different today.
Let's slow down!  And yes, I know, easier said than done, but if you try, I'll try.  Together we can do it.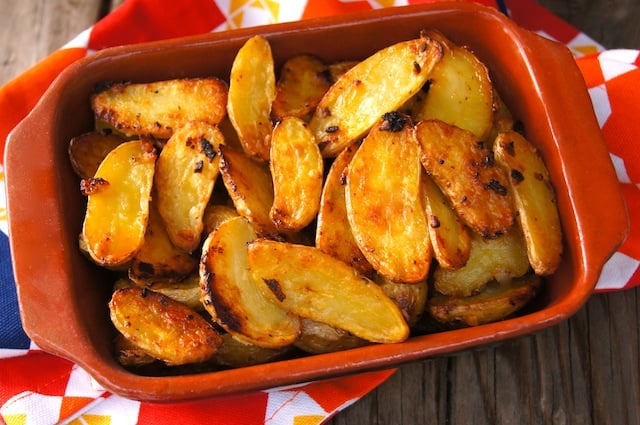 So while these potatoes are in the oven, please be patient.  Pour yourself a cup of coffee, and make it a good one.  And sit somewhere with a nice view of this beautiful day.  Enjoy the delicious aroma coming from the garlic and onions.  And when you eat the fruits of your labor, savor each and every bite.  It would be such  shame not to.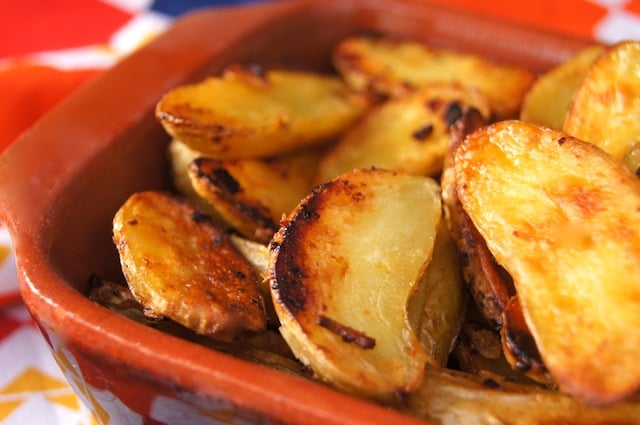 Creamy on the inside, crispy on the outside, and packed with flavor all over.  Why would anyone want to rush that eating experience?
In a word, scrumptious!
Garlic-Onion Crispy Fingerling Potato Recipe
Ingredients
1-pound Idaho Fingerling potatoes, washed and sliced in half, lengthwise
¼ cup olive oil
3 tablespoons dried, chopped onion
1 tablespoon minced garlic
½ teaspoon sea salt
Freshly ground black pepper
Instructions
Preheat the oven to 400 degrees F and line a baking sheet with foil.
Add the potatoes to the center of the foil. Drizzle them with the oil and sprinkle with the onion, garlic and salt. Use your hands to toss together until all of the potatoes are well coated.
Spread the potatoes out so they are in one even layer and then crack a bit of black pepper over them.
Add a second piece of foil very lightly on top. Fold the edges of the bottom piece over the edges of the top piece, being sure it puffs up a bit, like a bag. (In other words, do not place the top sheet of foil directly on the potatoes -- you want a good couple of inches of space between the potatoes and the top sheet.)
Place in the preheated 400 degree F oven and steam the potatoes for 15 minutes.
Remove the potatoes from the oven and turn the heat up to 500 degrees F.
Now remove the top sheet of foil -- very carefully because the steam that is released will be very hot.
Once the oven has heated to 500 degrees F, return the now uncovered potatoes. Roast them until the bottoms of them are golden brown, about 10 minutes. Gently flip them over and continue to roast until the other side is golden brown, about another 10 minutes.
Season with more salt if necessary.
(During the roasting process, some of the bits of onion and garlic will likely blacken on the foil. That's okay -- just discard it when the potatoes are done.)
Let them cool for about 5 minutes on the baking sheet before serving.