These super chewy chocolate chip cookies are absolutely scrumptious.  Chocolate in every bite and an unimaginably perfect texture, you won't be able to stop eating them!
I have a lovely friend, Joelle, who I met at the Tae Kwon Do studio, where both of our kids take classes.  We watch the class (when our kids are doing something cool, anyway), and talk about food.
Joelle told me last week she's been on a quest for a super chewy chocolate chip cookie recipe.
She described in great detail what she wanted in each bite (that's what us foodies do), using the word chewy over and over again.
How could I not try to create them for her?
I knew several things about making soft cookies — less butter, brown sugar, refrigerating the shaped batter for several hours, and shorter baking times.  (And surely there are more.)
Chewy though, now that's a different story.  While they had to be kept soft, something else had to be done to make them more dense, and therefor, more chewy.
I think I found the secret.   Egg yolks only — no whites!  (Save the egg whites for a yummy egg white frittata.) I think these cookies are pretty darn chewy — and of course, delicious.
Joelle will ultimately be the judge, so I will let you know what she thinks ASAP.
While I shooting these pictures, this happened.  It was too funny and cute for me to be upset, and not to share with you.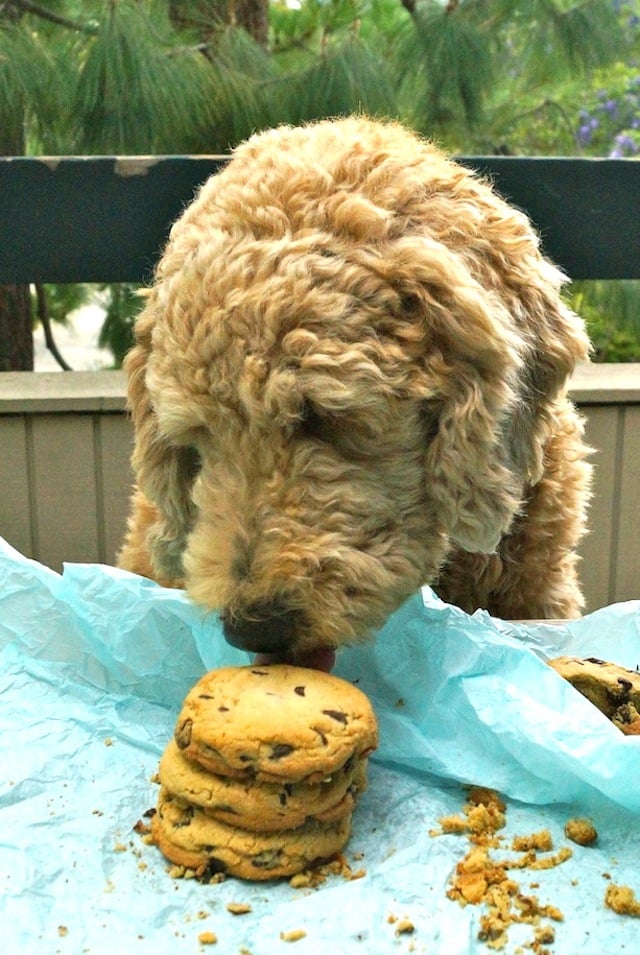 Sometimes fun things happen in my "studio."
Enjoy every last crumb!

Super Chewy Chocolate Chip Cookie Recipe
You can melt the butter if you'd like -- this can also sometimes help in creating a chewier cookie. (I found with this recipe, they were the same both ways.) Please note that almost all of the prep time is inactive, refrigeration time. Makes 2-dozen. Please note that the 12 hours in the prep time is refrigeration time.
Ingredients
¾ cup unsalted butter, softened to room temperature (see notes)
1 cup packed golden brown sugar (see notes)
1 teaspoon sea salt
2 teaspoons vanilla extract
3 egg yolks (from large to extra large eggs)
1¾ cups all-purpose flour
½ teaspoon baking soda
1¾ cups semisweet chocolate chips
Instructions
Line a baking sheet with parchment paper and set it aside.
In a large mixing bowl, combine the butter, sugar, salt and vanilla. Mix just until everything is evenly incorporated and it's smooth.
Add the egg yolks and continue to mix until they are completely blended into the butter mixture.
Add the flour with the baking soda and mix only until you no longer see dry spots.
Fold in the chocolate chips.
Use an ice cream scoop -- that's approximately ¼ cup -- to shape the batter into balls. (You can also use your hands.) Add them to the parchment-lined packing sheet as you go.
Gently use the palm of your hand to flatten them down slightly, by 40% or so.
Cover the baking sheet tightly with plastic wrap and refrigerate for at least 12 hours.
When you're ready to bake, preheat the oven to 350 degrees F, and adjust a rack to the center. Line another baking sheet with parchment and set it aside.
Remove the shaped cookie dough from the refrigerator and place about 6 of them on the new baking sheet -- they should have a couple of inches between them.
Bake just until the edges begin to turn golden brown,12 to 15 minutes.
Let them sit on the baking sheet for a few minutes, and then transfer them carefully to a backing rack to cool.
Notes
When you "pack" the brown sugar, use the back of a spoon and really press it down firmly.
Save
Save