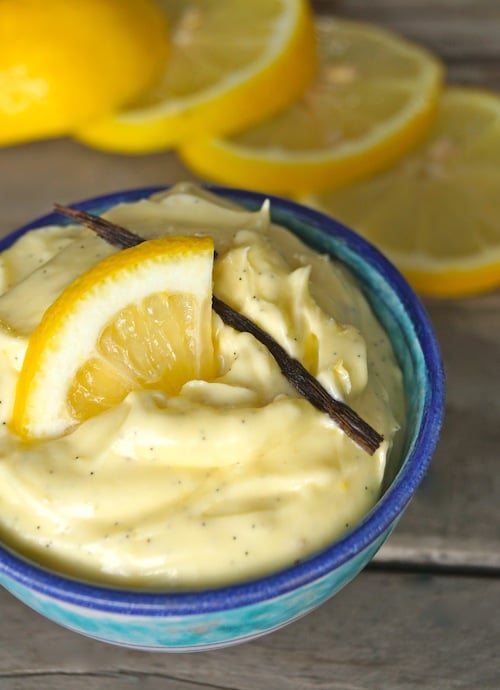 This, my friends, is simply luscious.  It's subtly sweet, lemony, and scented with the beautiful fragrance of vanilla.
If I were you I'd serve this at a casual brunch with warm scones, pastries or brioche.  Or I might even serve it at fun BBQ, melted over corn on the cob hot off the grill.  That's just me, though.  Do with it what you please. 🙂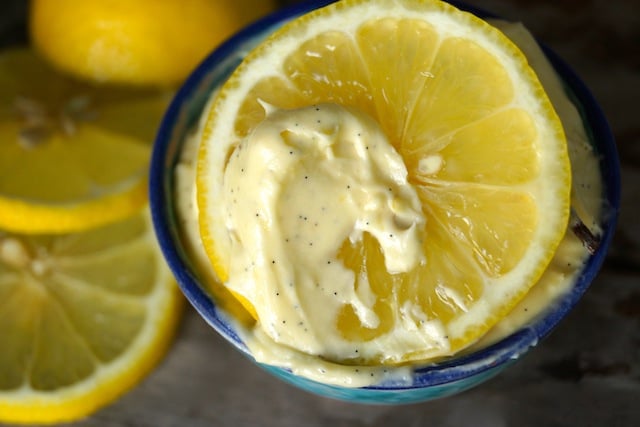 Whipped Meyer Lemon-Vanilla Butter Recipe
Please note that more than half of the prep time is inactive.
Ingredients
4-ounces unsalted butter (I use Kerrygold)
1 vanilla bean pod
Zest of 1 small Meyer lemon (see notes)
2 teaspoons fresh lemon juice
Pinch of salt and granulated sugar
Instructions
Melt the butter in a small sauce pan over low heat.
Use a paring knife to slice open the vanilla pod, lengthwise. With the back of the knife, scrape the vanilla beans directly into the saucepan with the melted butter. (Save the pod to make vanilla sugar.)
Add the lemon zest, lemon juice, pinch of salt and sugar and stir to blend.
Turn off the heat, cover, let the mixture sit for about 15 minutes, and then pour it into small, but deep, mixing bowl. (So that when you whip it, it all stays in the bowl.)
Place the bowl in the refrigerator just until the mixture begins to solidify, about 5 minutes.
Use an electric mixer with the whisk attachment, or a hand held whisk to whip the butter until it's smooth and light. This should take about 2 minutes with the electric mixer on high, and closer to five with the hand held whisk.
Serve while it's soft. (If you refrigerate it between uses, let it soften to room temperature before you serve it.)
Notes
Yes, you can use any lemon you'd like. :-)