This Shaved Melon Avocado Salad is every bit as tasty as it is pretty.  It's delicate flavors blend perfectly together to form a scrumptious dish!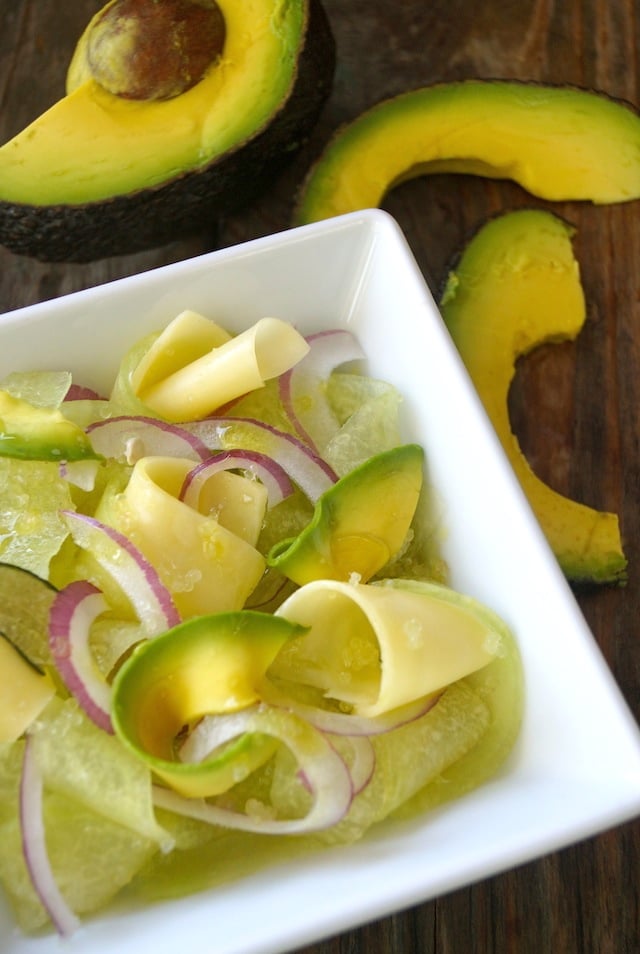 Some days I have more to say than others, and today is one of those days.  If you're not in the mood or you're rushed, please skip to the bottom for the recipe.  Otherwise, take your time and hang out with me for a bit.
In the La Tourangelle brochure, it says: "La Tourangelle artisan nut oils are handcrafted in our California mill in the spirit of the traditional oil-making method we developed 150 years ago in France."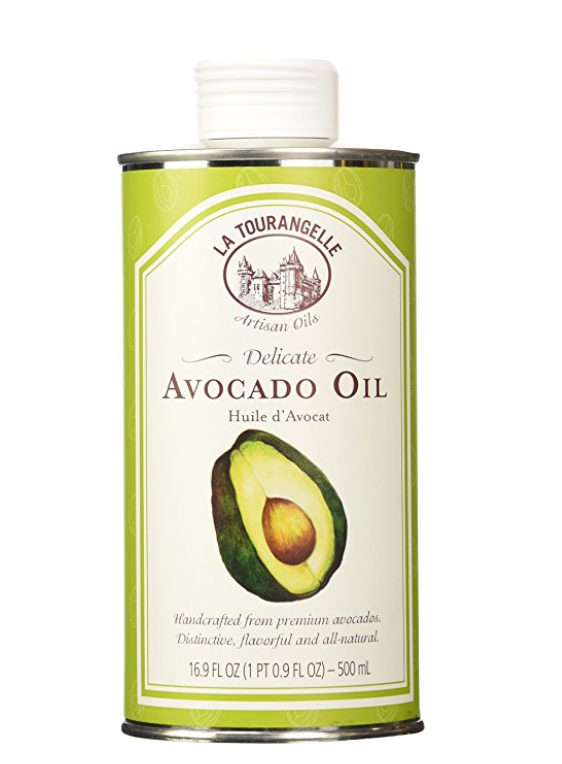 When a company like La Tourangelle approaches me about sampling one of their products, I know they've at the very least, skimmed Cooking On The Weekends, and have an idea of what I'm all about.
With a delicate, almost buttery flavor and a mouth feel that's amazingly smooth, La Tourangelle Avocado Oil is lovely.   It's fantastic in this salad recipe — especially with the bits of finger limes mixed into it.  Delicious!
(Remember when I introduced Finger limes?)
Not only is the avocado oil superb cold, but it's fantastic for grilling, sautéing and frying, as it has a very high smoking point.  (Avocado oil also has a few awesome cosmetic uses — you can check those out here, because well, we're cooking at Cooking On The Weekends, not washing hair!)La Tourangelle oils are Non-GMO certified, 100% natural, and the list of avocado oil health benefits is impressive.
And now I digress . . .
I get a lot of emails offering me products to taste, to recipe test with, and/or to promote — and they all fall into one of three categories.  Category one:  These are from people who clearly didn't spend a second on my site.  Category two:  These are from people who maybe a second on my site, but clearly pretend it's been much more.  And category three:  These are from people who've spent a good amount of time on my site, and understand what I write about.
True story:  Last week I was offered a product "to share with my readers," because the company felt it would be a "perfect fit."  They said that since they'd read my post for my Grilled Jalapeño-Pepper Jack Turkey Burgers, they thought I'd love it.  Really?!  Are you kidding me?
Drum roll please . . .  prostate vitamins.  Yep, you heard me, prostate vitamins!  Can you imagine such a product on this site?  Though with such an obvious correlation between the spicy, hearty burgers and the vitamins. . . Not!)  Um, hello Category Two.
So hearing from companies like La Tourangelle is refreshing — I greatly appreciate them.  And while I've obviously been promoting the heck out of them, this is in fact, not a sponsored post — and as always, I only share things with you here that I truly love.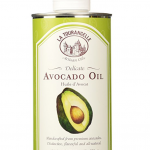 Shaved Melon-Avocado Salad Recipe
Servings
2
as an appetizer
Ingredients
about 4

1 to 2-inch thick slices of melon (I used Summer Kiss - delicious!)

about ¼ cup super thinly sliced red onion

about 2-ounces shaved hard cheese

I used Kerrygold Aged Cheddar -- Parmesan would be great, too

¼

medium-sized avocado

super thinly sliced

about 1½ tablespoons La Tourangelle Avocado Oil

2

small Finger limes

Sea salt
Instructions
Remove the skin from the melon slices and then holding them down on a clean, dry surface, use a vegetable peeler to "shave" them into super thin, ribbon-like slices. (You can also use a very sharp knife, if it's easier.) Add the melon to a medium-sized mixing bowl.

Add the onion, cheese and avocado slices.

Sprinkle with a bit of sea salt and serve. (It's quick and easy to toss every together in the mixing bowl, but for a very pretty, composed finish, you can arrange the ingredients, as you prepare them, directly onto the serving plates.
Save