From dark rich chocolate and a cocktail in a strawberry, to natural red velvet perfection and a sexy blood orange, there's a luscious Valentine's Day treat here for everyone.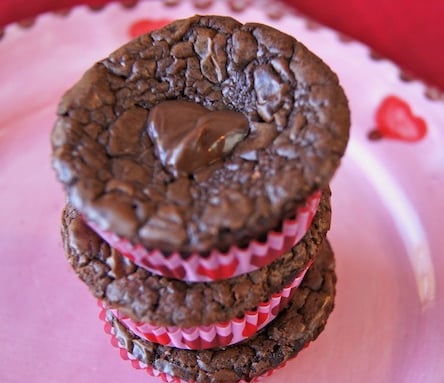 Nutella Brownies — Full of Heart

"You can't make everybody happy, you're not a jar of Nutella." (I love that quote!)  Get the recipe here.
The beauty of a blood orange is endless.  And it's sweet, delicious and sexy to boot.  Learn all about them here.
Red velvet like you've never had it before — totally natural, with rich flavors and a light, fluffy texture.  Get the recipe here.
Blood Orange-Champagne Crème Brûlée
http://cookingontheweekends.com/2014/02/valentines-day-dessert-recipe-blood-orange-champagne-creme-brulee/It's creamy, contains a bit of bubbly, and has a burst of red citrus — it screams Valentine's Day!  Get the recipe here.
The chocolate coating on these truffles is merely a carrying case for the Nutella.  Get the recipe here.
Spicy Mayan Chocolate Truffles
The timeless Mayan combination of chiles, spices, and chocolate has seduced food lovers for thousands of years.  It's true.  Get the recipe here.
Minty Lime Granita Strawberry Cups
A super sweet and refreshing edible cocktail — in a heart-shaped bright red strawberry, of course.  Get the recipe here.
This is a bite of fruity passion.  Truly.  Get the recipe here.
Double Chocolate-Double Espresso Cookies
I always say, chocolate + espresso = love. Get the recipe here.
Peanut Butter S'mores Meringue Pie
Oh, this pie.  OMG, this pie!  It's insane!  In the best way ever!  Get the recipe here.
"All you need is love. But a little chocolate now and then doesn't hurt." ― Charles M. Schulz
H A P P Y   V A L E N T I N E ' S   D A Y !
x   o   x   o
Valentina