A three-ingredient, super delicious, minty mousse with a perfect chocolate crust, is a divine no-bake St. Patrick's Day dessert!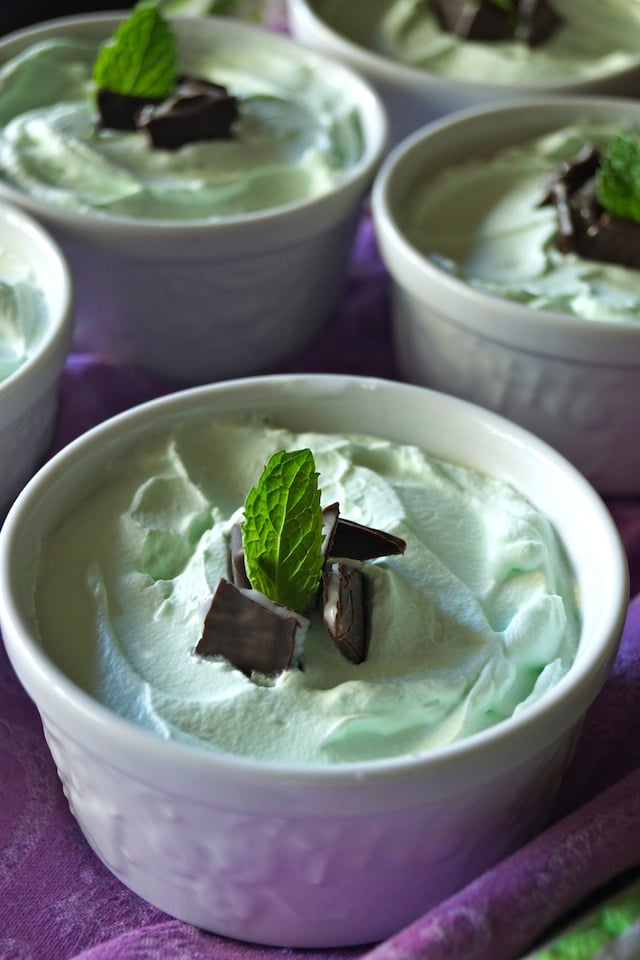 Growing up, my mom would often make Grasshopper pie for company, and like everything she made made, it was delicious and decadent.
My mom hasn't been able to cook for a while, as she hasn't been well for a few years, and now spends all of her time in bed.  While this of course makes me quite sad, today, as I've done on other occasions, I want to celebrate her passion for food.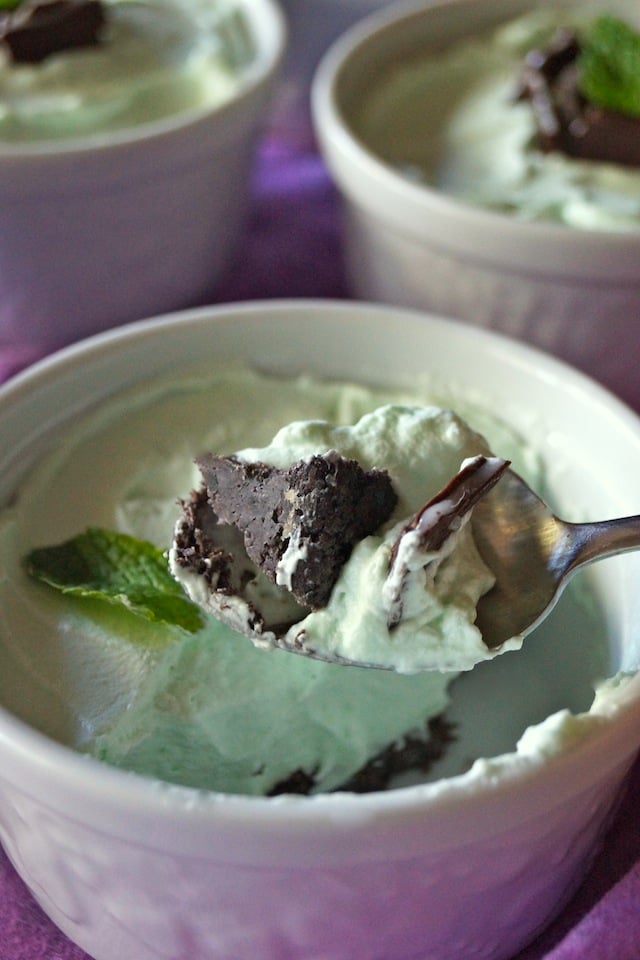 My mom was an absolutely amazing cook who rarely, if ever, followed a recipe. She created masterpieces from leftovers, and dishes often had many "secret ingredients."  Quite honestly, I'm not even sure she always knew what they were!
Her secret ingredients could've been anything from a tablespoon of a dipping sauce from her favorite Thai restaurant, to a mix of sauces she'd had in the freezer for a month.  One just never knew, but the results were always fabulous.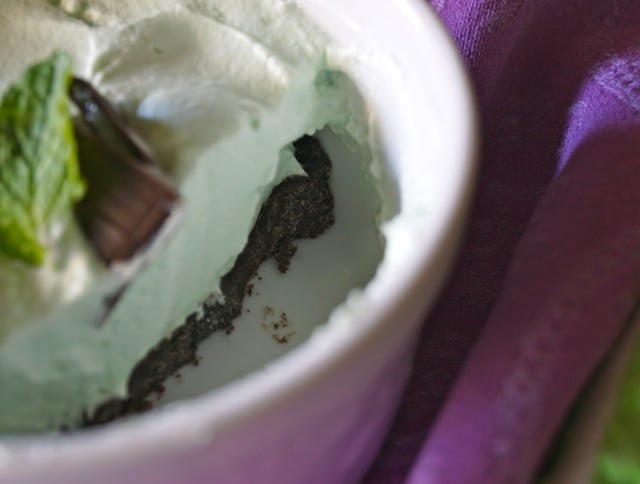 There are a handful of recipes on Cooking On The Weekends that my mom has inspired — Ginger Applesauce, Meyer Lemonade, Mexican Chocolate Crème Brûlée, just to name a few. This Grasshopper Mousse is inspired from the pie my mom used to make, and I'm happy to say that yesterday I brought her one of these beauties, and she loved it.  Seeing her passion for food still shine through is lovely.
It's no coincidence that I'm sharing this green tinted, pretty dessert just in time for Patrick's Day!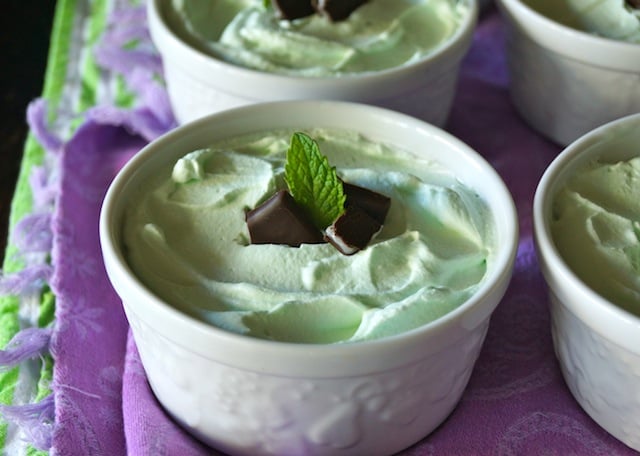 Enjoy!
Individual Grasshopper Mousse Pies Recipe
Please note that 1 hour of the prep time is inactive.
Prep Time
1
hour
20
minutes
Total Time
1
hour
20
minutes
Ingredients
8

6-ounce ramekins

20

Oreo cookies

3

tablespoons

unsalted butter

melted

2

cups

heavy cream

1/4

cup

green Crème de Menthe

1/4

cup

sweetened condensed milk

8

After Eight mints

8

fresh mint leaves
Instructions
Add the cookies to a food processor fitted with the blade attachment and process until they're a fine crumb. Pour this mixture into a medium-sized mixing bowl and add the melted butter. Mix until it's evenly blended.

Evenly divide the cookie crust mixture among the 8 ramekins, and gently press it onto the bottom surface. Set aside on a baking sheet (for easy transportation around the kitchen).

Pour the heavy cream into a large, deep mixing bowl and use an electric mixer to whisk on high speed until medium to stiff peaks form, about 1 minute. (Do not over whip!)

Use a large spatula to fold in the Crème de Menthe and sweetened condensed milk. Fold until everything is evenly blended.

Spoon this mixture into the ramekins, directly over the crust, evenly dividing it among them. Use a small spatula, or the bottom of a spoon, to smooth the surface of each mousse.

Cover with plastic wrap and refrigerate for at least 1 hour, and up to overnight.

Just before serving, beak up each of the After Eight mints into small pieces and garnish each one with them, and top them off with a mint leaf.
Save