Spreadable, perfectly ripe avocado with soft boiled eggs & garden tomatoes, makes this avocado toast above the rest! Delicious!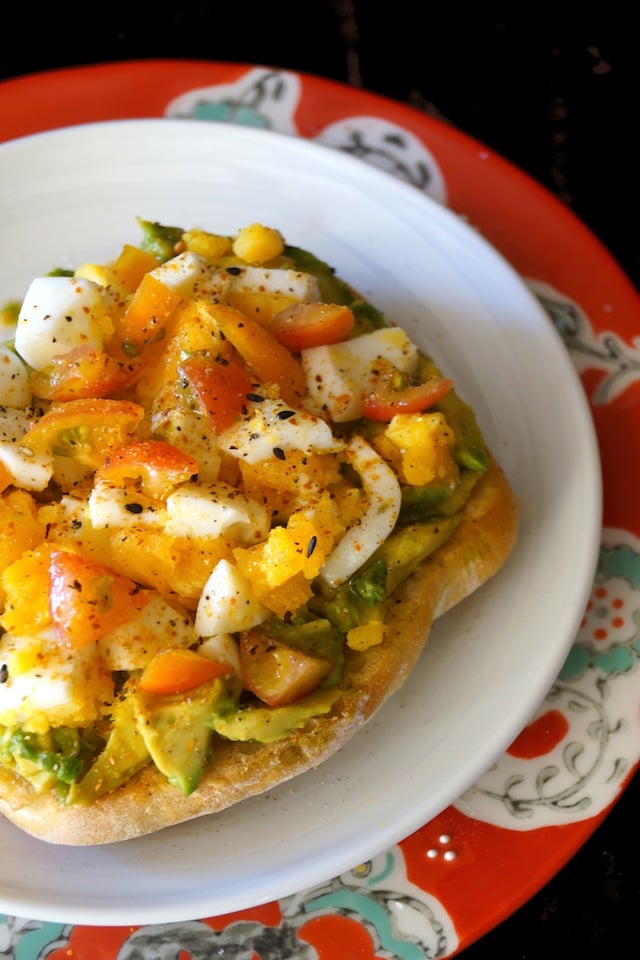 There's nothing as delicious as peak-of-their season avocados and tomatoes. Nothing!  
Okay, perhaps chocolate — but that's a whole other post. 😉
My 12-year-old son has taken an interest in gardening, thanks to his horticulture teacher. Well, really agriculture — plants and animals!  He's so fortunate to be at a public school with a farm!  Complete with chickens, goats and crops of all sorts!
I'm loving this new passion of his.
It was so fantastic to grab a few tomatoes for this recipe from his garden.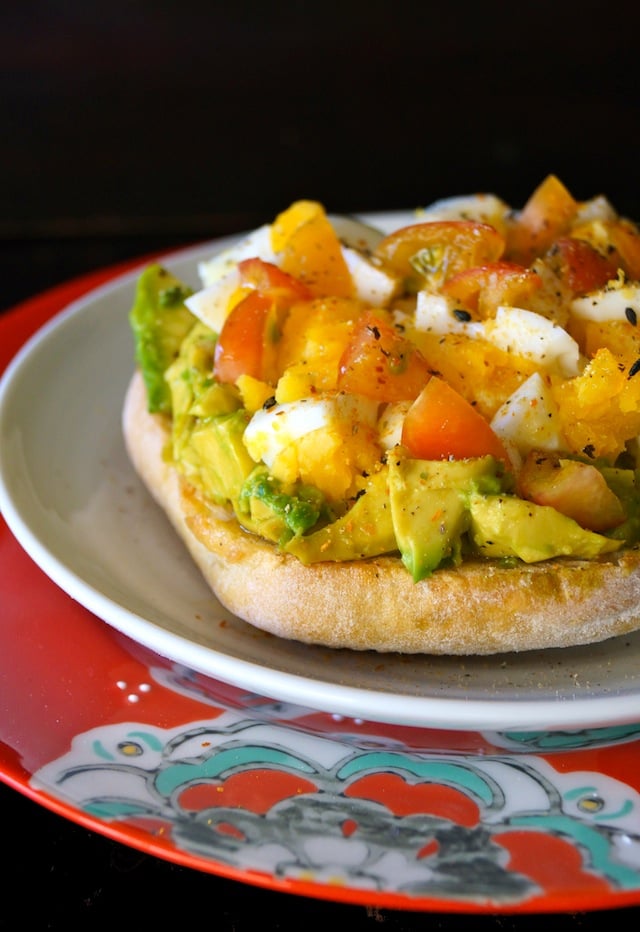 This is the most scrumptious breakfast, lunch or dinner!  From the perfectly seasoned avocados and tomatoes to the soft eggs and crisp toast — you won't know what hit you!
Avocado Soft Boiled Egg Toast Recipe
Please note that this is a recipe where the measurements don't have to be exact.
Ingredients
2

large eggs

2

large slices of rustic toast

like Ciabatta, toasted

1

large ripe avocado

roughly chopped or mashed

1

medium-sized tomato

roughly chopped

extra virgin olive oil for drizzling

sea salt and freshly ground black pepper

Togarashi or crushed red pepper flakes
Instructions
Fill a medium-sized bowl with ice water and set aside.

Place the eggs in a small sauce pot and add enough cold water to go an inch or so above them. Place over high heat and bring to a boil. Immediately turn off the heat, cover the pot, and let the eggs cook for 7 minutes. Use a slotted spoon to removed the eggs and place them in the ice water, and let them sit for a few minutes. Remove them from the water, and then peel the eggs and and roughly chop them, set aside.

Drizzle extra virgin olive oil over the toast slices and sprinkle with salt and pepper.

Divide the avocado among the two slices, followed by the tomato and egg.

Drizzle the top with a bit more extra virgin olive oil and then sprinkle with salt, pepper and either Togarashi or crushed red pepper.

Serve!
Save