Lovely.  There's simply no better way to describe Meyer Lemon-Thyme Spaghetti.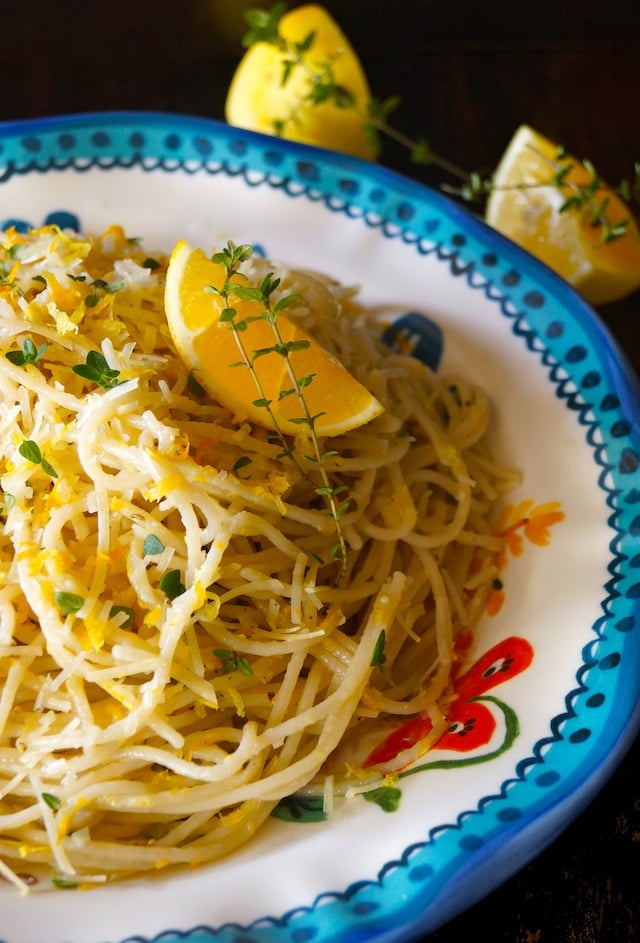 The little lemon tree that could.
When we moved into our house almost 8 years ago we transplanted a little Meyer lemon tree, which had not yet produced any lemons.
The next year we got two lemons, and every year since we've gotten about four.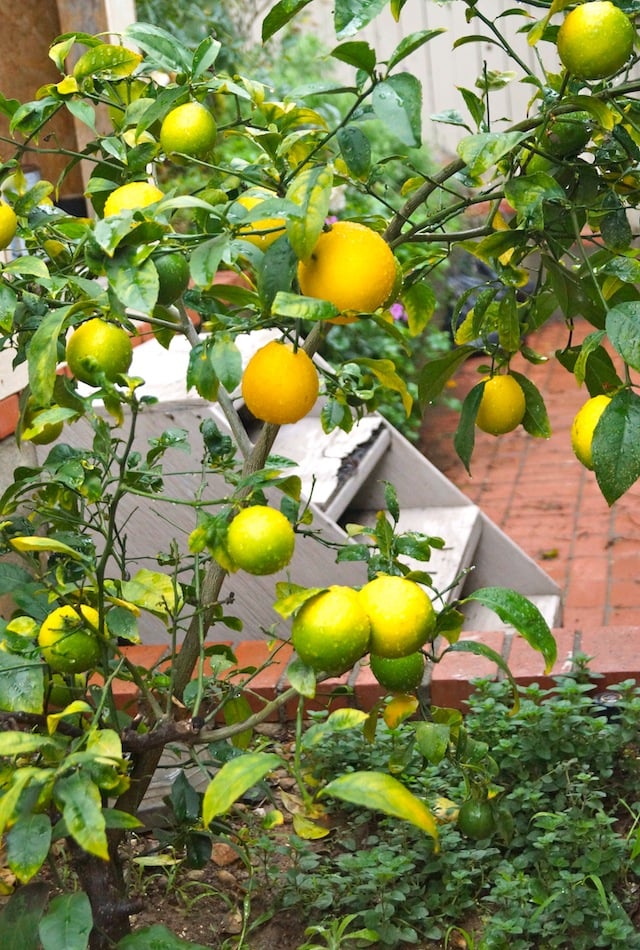 I don't think we did anything differently this year, but our little, sweet lemon tree has at least two dozen lemons hanging from it! It looks so happy!
Yep, I said it.  A tree can look happy. 😉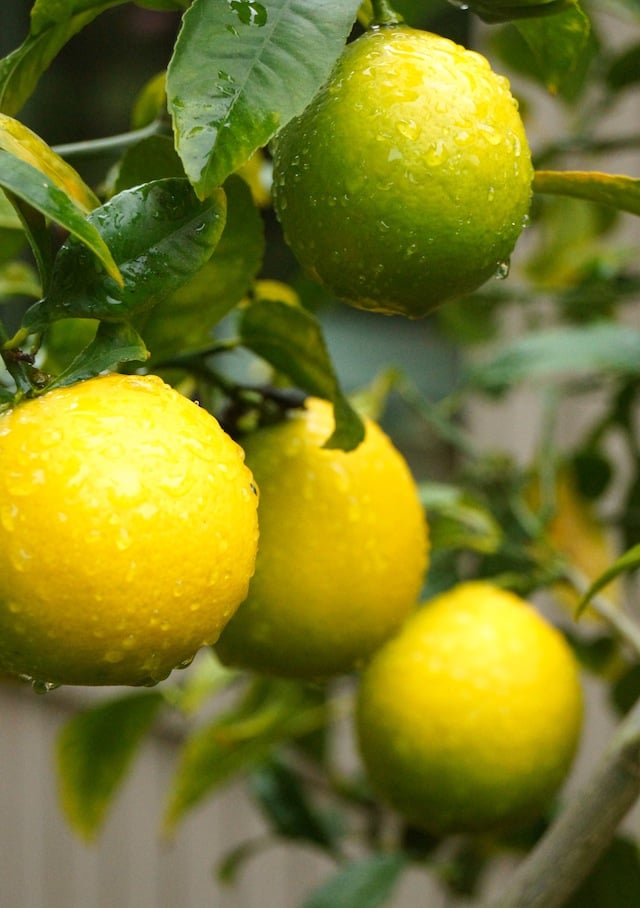 Meyer lemons are my favorites because of their thin skin, deeper yellow color, and slightly sweeter flavor.
Love them!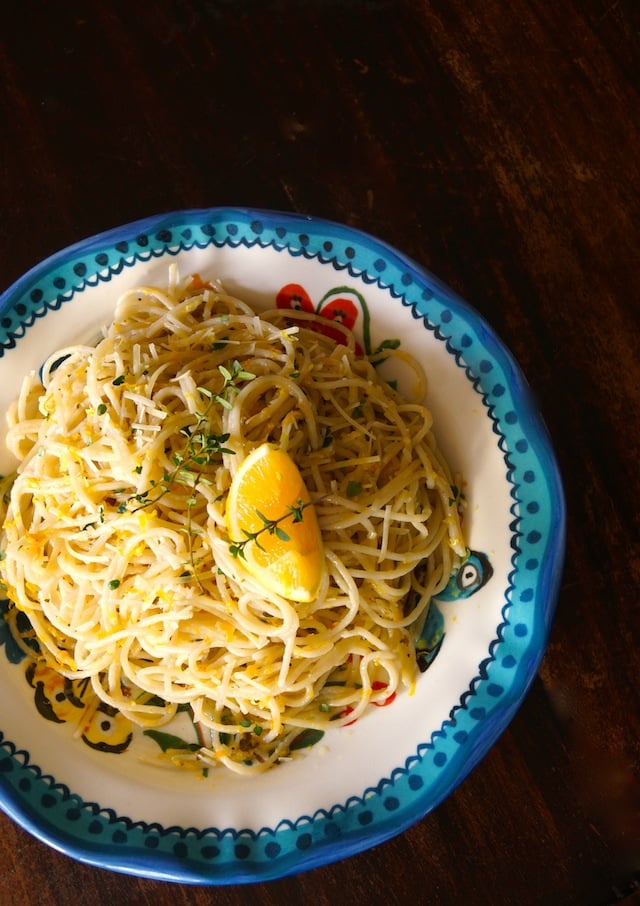 Here's the deal with this spaghetti . . .
Every single strand is covered with a luscious buttery lemon-thyme sauce.  You'll be left wanting more and you might just be caught licking your plate. 😉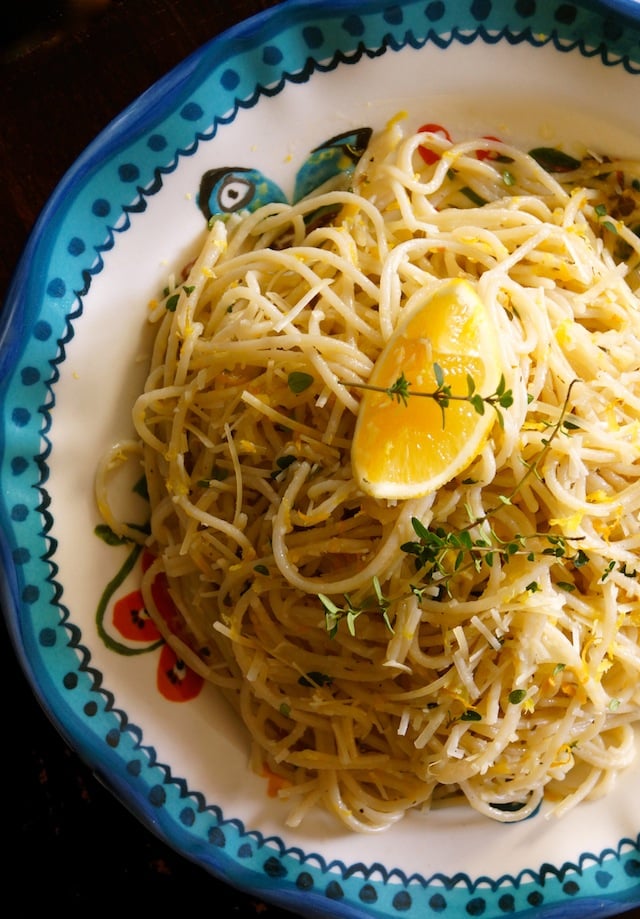 I love this on its own, and it would be fantastic served with chicken and a salad.  I recommend Smoky Paprika Lemon-Herb Chicken Under a Brick and Grapefruit-Avocado Salad.
Oh, and here are 20+ more lemon recipes for your eating (& viewing) pleasure.

Meyer Lemon-Thyme Spaghetti Recipe
Ingredients
8-ounces dry spaghetti
4 tablespoons unsalted butter
2 tablespoons extra virgin olive oil
1 tablespoon Meyer lemon zest (from about 1 to 2 lemons)
2 tablespoons Meyer lemon juice (from about 1 lemon)
2 teaspoons finely chopped, fresh thyme
about 4 tablespoons grated Parmesan cheese
sea salt and freshly ground black pepper
Instructions
Cook the pasta in a large pot of boiling, salted water until it's aldente. (Aldente means "to the tooth." The pasta should be tender, but with a bite to it.)
As soon as you put the pasta in the water, add the butter, oil, lemon zest, lemon juice and thyme to a large sauce, or sauté pan. Over low-medium heat, let the butter melt. Then mix and let it gently simmer until the pasta is done.
Drain the pasta and add it to the pan with the sauce.
Season generously to fast with salt and pepper. (Here's How to Season to Taste.)
Sprinkle with Parmesan and serve.
Notes
You can use gluten-free spaghetti if you'd like. I did for my son and he loved it.
Save