Sweet, tart and oh-so-chocolaty! Rich, creamy and oh-so dreamy!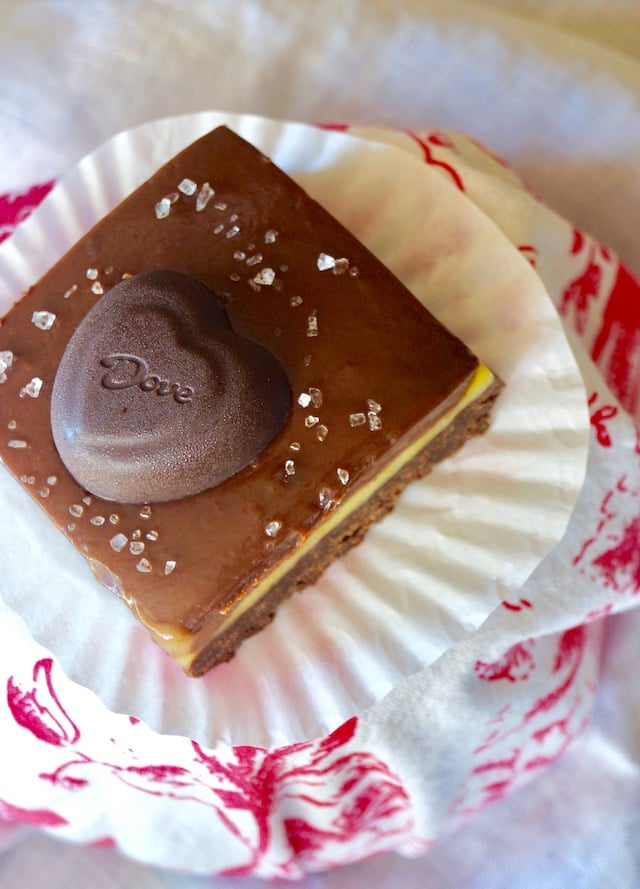 Valentine's Day is all about chocolate and passion, right?
I'm sure we can definitely agree on at least the chocolate!  Either way,  this passion fruit chocolate ganache dessert is perfect.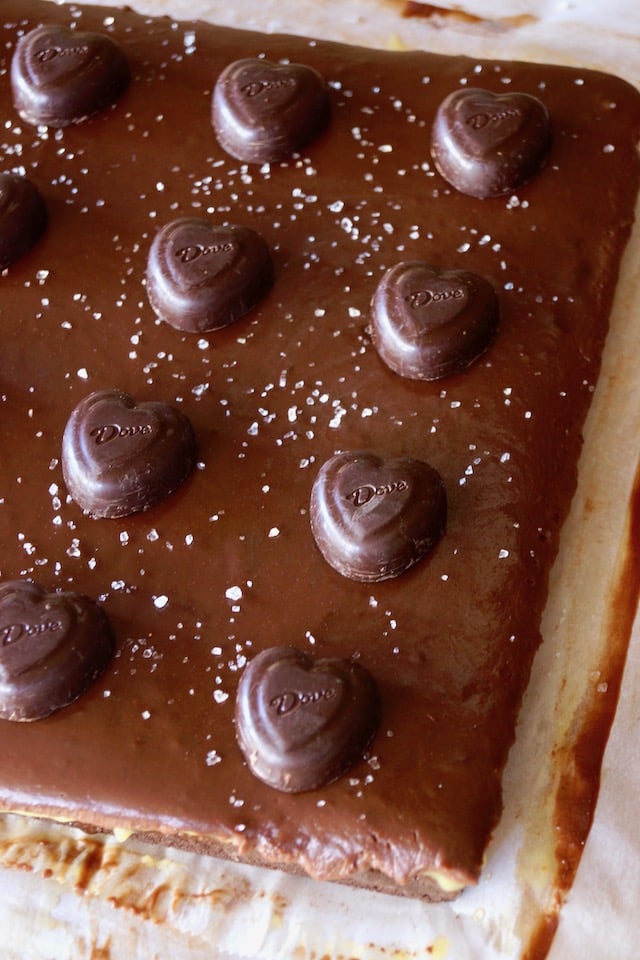 This dessert can be made into these bars, as a pie or tart.  You decide, depending on the presentation you're going for.  Any which way, it'll taste the same — which is absolutely divine!
The bottom layer is a crust made with crisp double chocolate chip cookies. You can use any crisp dark chocolate cookie you'd like.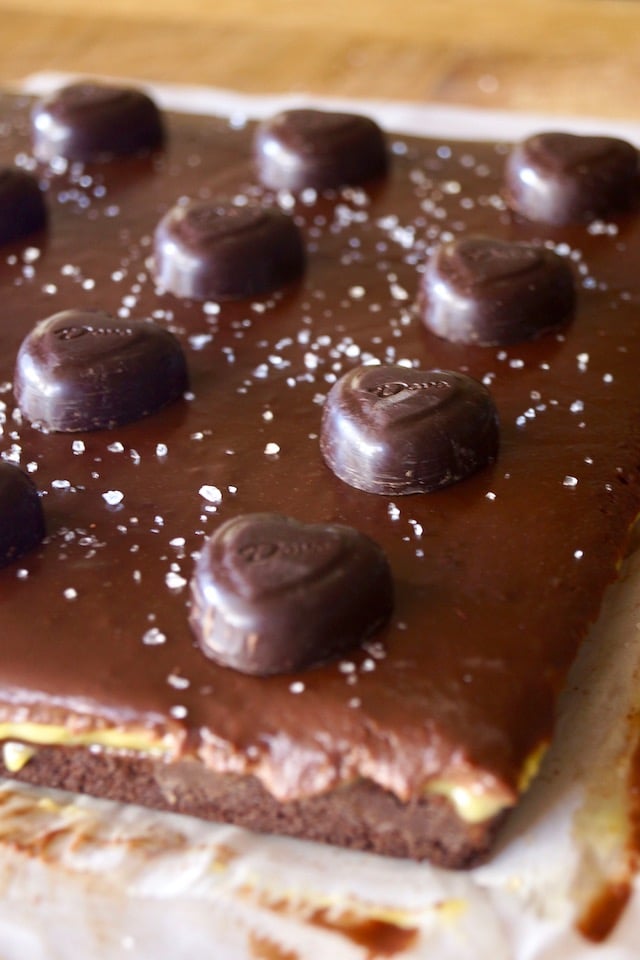 Next is a layer of passion fruit curd, which is out of this world.  It was all I could do not to eat all of it before it made its way into this dessert.
It's smooth and rich, sweet and tart.  Just lovely.
Here's a photographic guide on How to Cut, Eat and Juice Passion Fruit.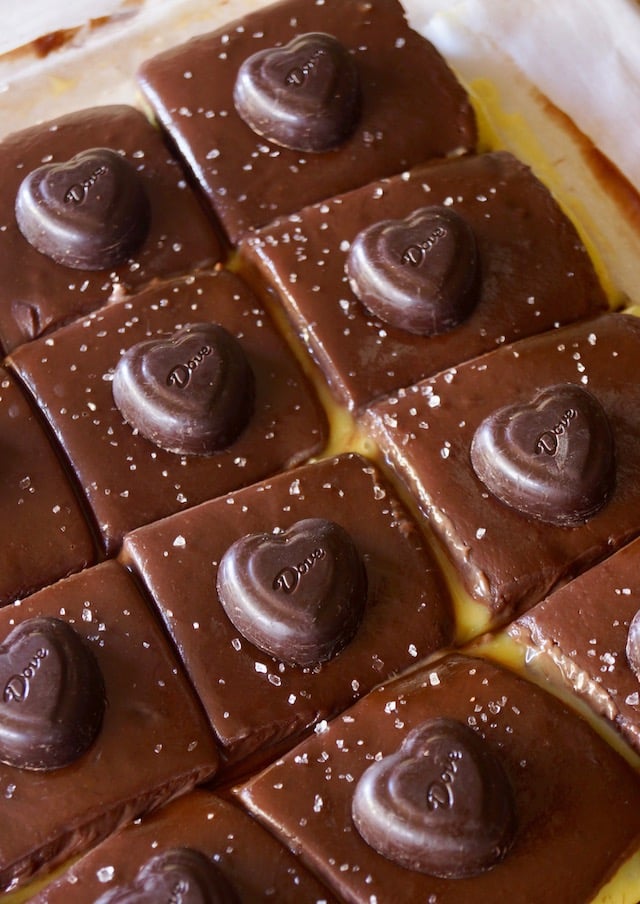 And to balance the sweet-tart flavor of the passion fruit is a layer of decadent, dark chocolate ganache.  (You can use semisweet or bittersweet.)
And since it's Valentine's Day — well, who wouldn't love a little more chocolate, in the form of a heart, no less?  I know, me too!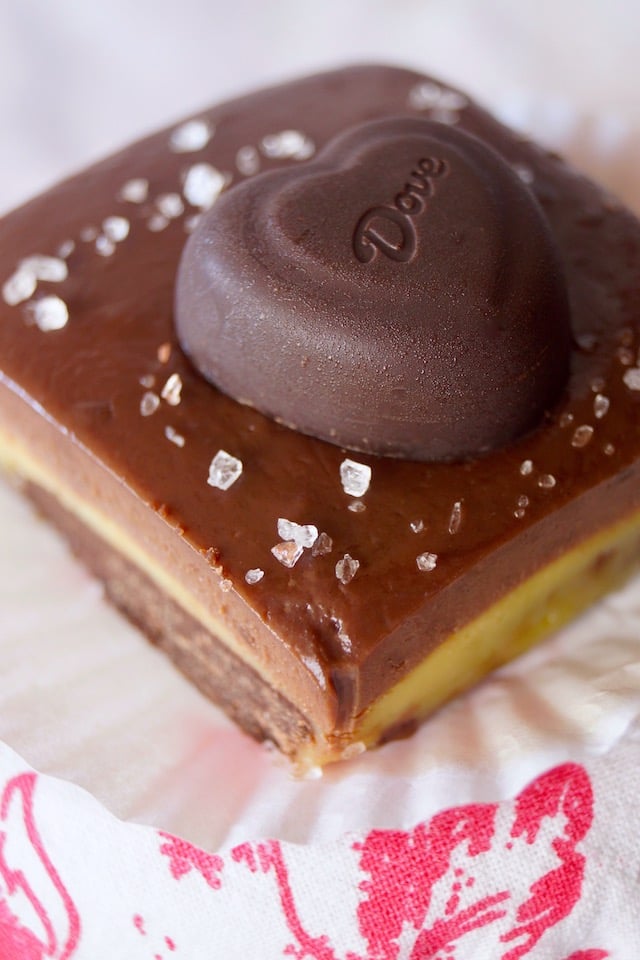 Passion Fruit Chocolate Ganache Bars
Please note that only 20 minutes of the prep time is active. The remaining 2 hours is the refrigeration time the dessert needs to set.
Ingredients
For the crust
10 ounces crisp dark chocolate cookies (I used these)
¼ cup unsalted butter, melted
For the passion fruit curd

3 tablespoons unsalted butter, softened
½ cup granulated sugar
½ cup passion fruit juice (from 8 to 10 passion fruits -- Here's How to Cut, Eat and Juice Passion Fruit)
4 whole large eggs
1 large egg yolk
For the ganache
1 cup finely chopped semisweet or bittersweet chocolate
1 cup heavy cream
1 teaspoon pure vanilla extract
coarse sea salt for sprinkling
16 chocolate Dove hearts if desired
Instructions
Line a square (8 X 8-inch) baking pan with parchment paper. (Use a large piece that will cover the sides and cut slits in each corner so that it will lay flat.). Set aside.
For the crust
Add the cookies to a food processor fitted with the blade attachment and pulse until smooth. Mix with the melted butter and then very firmly, press it into the prepared pan. Set aside.
For the passion fruit curd
In a heat proof bowl, combine the butter with the sugar and mix until blended. Then add the passion fruit juice, eggs and egg yolk. Use a whisk to blend until it's as smooth as possible. (It will likely have little lumps from the butter. That's okay!)
Place the bowl over a pot it fits snugly into, with a couple of inches of water in it. (Be sure the bottom of the bowl doesn't touch the water.) Turn the heat to medium and whisking often, cook until the mixture is thick — it should coat the back of a spoon when it's ready, about 15 minutes. Let it cool to room temperature and then pour it evenly over the crust. Refrigerate until it's set, about 1 hour.
For the ganache (Do this step as soon as you add the curd to the crust and begin refrigerating.)
Add the chocolate to a medium-sized mixing bowl and set aside. Add the cream and vanilla to a small saucepan and scald. When it's ready, it should be very hot, but not boiling, and tiny bubbles will appear along the edges of the surface. Pour this over the chocolate and let it sit for about 4 minutes. Then mix until thick and smooth. Let this cool completely at room temperature.
Once the layer of curd has solidified and the ganache is cool, evenly pour it on top and refrigerate until the ganache is set, at least 1 hour.
Sprinkle with the salt and if desired add 16 chocolate Dove hearts. Slice the dessert into bars, using the hearts as a guide. (The layer of curd will be a bit softer than the ganache — for easier slicing, you can place it in the freezer for about 10 minutes.)
Thank you
Melissa's Produce
for the beautiful passion fruits!