This main course, Chopped Chicken Apple Salad is full of sweet, savory and spicy flavors that will keep you coming back for more. The Jalapeño Vinaigrette puts it over-the-top!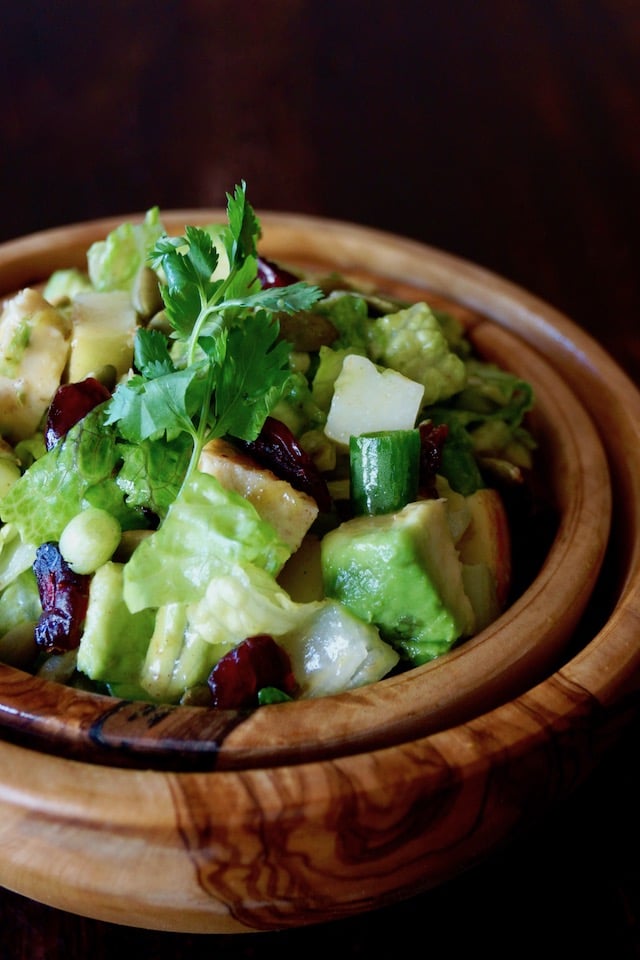 Don't think that just because this recipe doesn't include sautéed onions, that they didn't go in something else I made for dinner last night.  (A steak and mushroom dish, if you must know — recipe coming soon.)
Since my mom died on July 29th, not a day has gone by that I haven't sautéed onions.  I can't seem to help it. My bowl of onions on my kitchen counter is more full than ever before. If you missed it, here's why.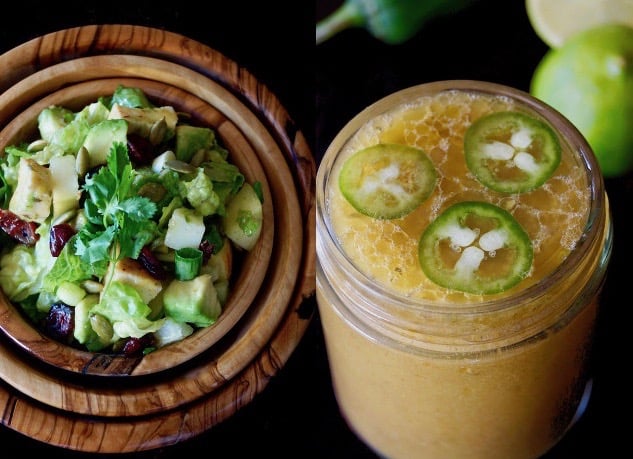 While this salad doesn't contain sautéed onions, it's absolutely packed with other wonderful flavors and textures.
You'll see that it's not completely onion-less either. 😉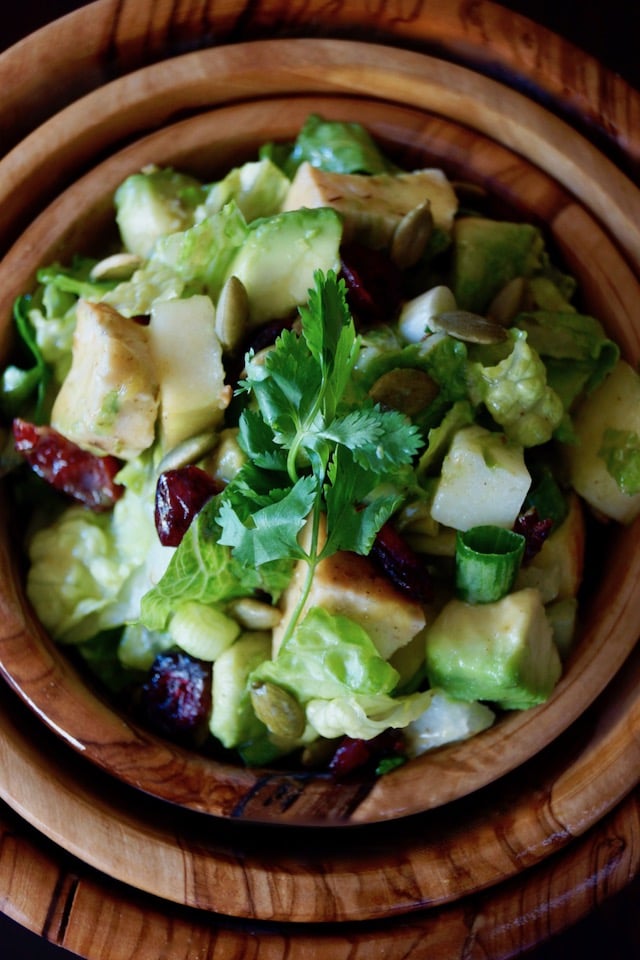 I made the Creamy Roasted Jalapeno Lime Vinaigrette before I'd decided what ingredients would go in the salad I'd toss it with.
Funny how my cooking mind works sometimes.  Seems almost backwards, but I decided what each element of the salad would be based on how it would taste with the vinaigrette.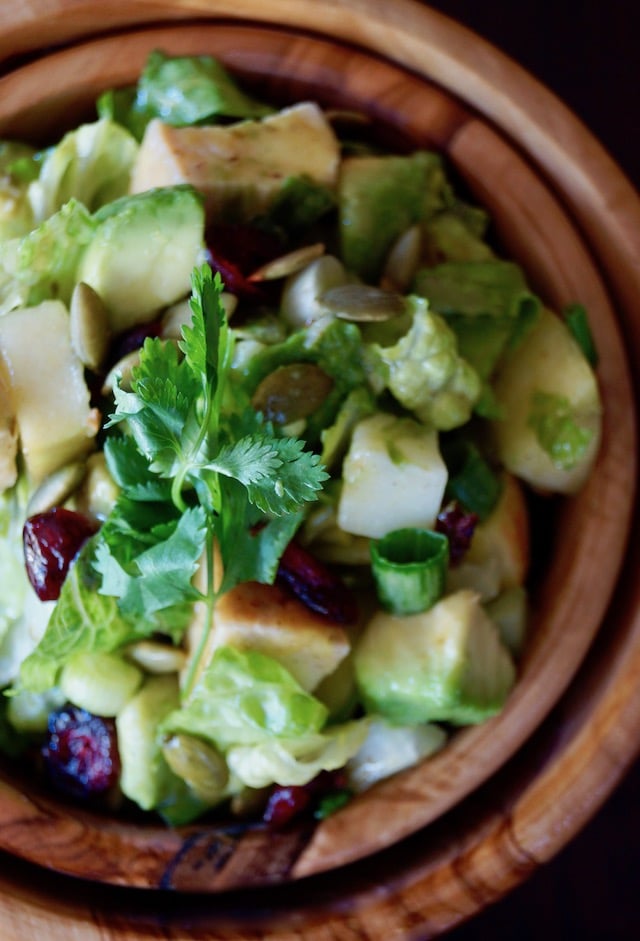 That method worked out perfectly because as it turns out, it's a fantastic blend of ingredients that I simply couldn't get enough of.
The sweet apples and dried cranberries with the creamy avocado, sautéed chicken and Manchego cheese will make you want this for lunch and dinner, and perhaps brunch, too.
This chopped chicken-apple salad is lovely enough to serve to guests and casual and easy enough for a quick week-night meal.
Enjoy!

Chopped Chicken-Apple Salad Recipe with Creamy Roasted Jalapeno-Lime Vinaigrette
Author:
Valentina Maria Kenney Wein
Ingredients
olive oil for the pan
3 boneless, skinless chicken breasts (about 1-pound), lightly pounded so they're an even width
3 heads Romaine lettuce, roughly chopped (about 8 cups)
2 apples —Fuji are my favorite, washed, dried and cut into bite-sized pieces (about 3 cups)
6-ounces Manchego cheese cut into small dice
1¼ cup finely chopped scallions (about 8)
1 cup roughly chopped packed cilantro, washed and dried
¾ cup pepitas
1 cup dried cranberries
sea salt and fresh ground black pepper
Instructions
Coat the bottom of a large sauté pan with olive oil and place it over medium heat. Once the oil is hot, season both sides of the chicken with salt and pepper and then place them in the pan. Sauté just until they're through, about 7 minutes, depending on the thickness. Flip them halfway through the cooking process. Set aside to cool.
In a very large mixing or serving bowl, toss the lettuce with the apples, Manchego, scallions, cilantro, pepitas, and cranberries.
Once the chicken has cooled to room temperature, slice it into bite-sized pieces and add it to the bowl.
Gently mix the salad with about 1 recipe of the Creamy Roasted Jalapeno Lime Vinaigrette. (You might use less than all of it — it's up to you.)
Save
Save
Save
Save
Save
Save
Save
Save
Save
Save
Save
Save
Save
Save
Save
Save