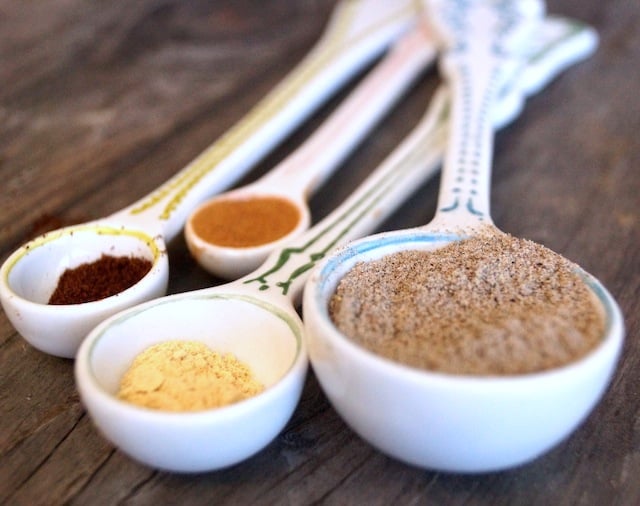 Welcome to the Weekend Special!
This is a special place to get my weekly recommended menus.  It's where each week I share a few recipes that together make a perfect meal for casual entertaining.
These menus are generally three courses, and full of comforting, seasonal dishes.  Each set of recipes is different – but always with casual, weekend fun in mind.
And in hopes of making your every gathering even more delightful, I also include a cooking timeline with each menu so you can easily plan your prep.
**If you subscribe to Cooking On The Weekends, you'll be the first to get the new Weekend Special each week.  To subscribe, just add your email to the red subscription box on this page. 
And all of them will be collected here, in case you miss any.
My idea is that you might plan the menus I'm sharing for the next weekend, or the next time you have friends or family over for dinner.
Enjoy!
---
Weekend Special Menu – November 6, 2017
Heirloom Apple Salad, Starring Pink Pearl Apples (Or any apples you'd like.) – Refreshing, crisp, pretty, sweet and savory, this salad has it all.
Braised Short Rib Stew with Creamy Gorgonzola Polenta and Swiss Chard – The most delicious, comforting and cozy meal for the fall and winter months.
Cranberry Crème Brûlée Recipe with Amaretto – Rich, creamy and full of delicious bites of fruit.
Menu Timeline
For the salad
-up to 4 days and at least 20 minutes ahead: Make the dressing and refrigerate. (Let it sit out at room temperature the day you're serving.
-up to 1 hour and at least 20 minutes ahead: Except for the dressing, assemble the salad and refrigerate. (Unless it's just a few minutes ahead, drizzle the apples lightly with lemon juice.)
-5 mintues ahead: Toss with the dressing.
For the stew
-up to 3 days and at least 3 hours ahead: Make the stew.  If you make it ahead, begin to warm it on low heat about 40 minutes before serving.
For the polenta
-about 30 minutes ahead: Make the polenta.
For the chard
-20 minutes ahead: Begin cooking the chard. (Keep it warm until you serve.)
For the Crème Brûlée
-up to 2 days and at least 4-1/2 hours ahead: make the Crème Brûlée up to the point it's refrigerating.
-about 10 minutes ahead: Brûlée!
---
Weekend Special – October 29, 2017
Spicy Poke Nachos – Delicious, fresh ahi Poke that's little sweet, a little spicy and sits atop the perfect gluten-free crunch.
Miso-Marinated Cod and Bok Choy-Pepper Stir-Fry – The fish is delicate, flaky, buttery, and will melt-in-your-mouth!
Individual Coffee Mud Pies with Espresso Chocolate Sauce – Smooth, creamy and rich chocolate, coffee and vanilla in every single bite.
Menu Timeline
For the nachos
-up to 2 hours ahead: Make the poke mixture and chips.
-5 minutes ahead: Assemble.
For the cod
-up to 6 hours and ideally 1 night ahead: make the marinade for the cod and start marinating it.
-5 minutes ahead: Remove from the marinade and broil.
For the bok choy and peppers:
-up to 2 hours and at least 30 minutes ahead: chop the vegetables.
-up to 30 and at least 5 minutes ahead: Sauté the vegetables. (Just reheat on the stove for about 30 seconds if you do it before 5 minutes ahead.)
For the mud pies
-up to 2 days ahead and at least 4 hours ahead: Make the mud pies up to the final freezing stage.
For the espresso chocolate sauce
-up to 2 days and at least 30 minutes ahead: Make the Espresso Chocolate Sauce.  (If it's more than 30 minutes ahead, put it in a microwave-safe serving pitcher, cover and refrigerate.  Then microwave when you're ready to serve.  If it's close to serving time, keep the pitcher out at room temperature.)
---
Save
Save
Save
Save
Save
Save
Save
Save
Save