We must celebrate potatoes before February is over.
It's not like we don't enjoy potatoes all the time, but you see, February is Potato Lovers' Month!
Potatoes are a quintessential ingredient in almost any comfort food dish.  And why wouldn't they be?  Pulled from the earth, they're warming, buttery, creamy, and hearty.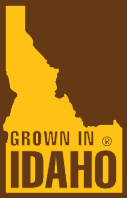 Puréed into a rich soup, pan fried into a crispy pancake, oven roasted into the perfect French fry, or smashed with melting herb butter — there's nothing I'd want more on a cold, winter evening.  (Well, other than a few Chai Chocolate Chunk Cookies, that is. ;-))
My favorite potatoes?  Any potato grown in Idaho, of course!
Click on each image below to get the recipe, and enjoy!
Oh, but wait . . . there's more!
I'm honored to have Idaho® Potato-Asiago Muffins with Herbs de Provence and
Individual Idaho® Potato Crusted Eggs Florentine with Prosciutto on the
Idaho Potato Commission site!
This is not a sponsored post.
Save
Save