I think anyone who cooks should know how to caramelize onions.  Not only is it super easy, but they are incredibly delicious and they can be used to greatly enhance hundreds of recipes.
We're creating an unbelievable, intensely rich, sweet flavored, caramel-colored, spreadable delicacy.
Some might say it's like gold.  And other might say it's like candy.  Either way, what everybody is trying to say is that they're super, super special!
We're going to learn how to caramelize onions!
Now, there are various levels of caramelization. You can caramelize onions is fifteen minutes, by browning the their surface quickly.  You can also use methods where you caramelize them in thirty minutes, of even five minutes! It can be done in the oven, on a grill or on stove. You get my point — there are many ways to do it, and different results can be reached with each one.
Today however, I'm going to share a method in which we'll learn how to caramelize onions wery, very slowly on the stove. . . drawing all of their natural sugars to their surface.
I love watching a pot full of bright white onions slowly switch to contain only a slim layer of deep caramel, cooked onions. It's a little like magic!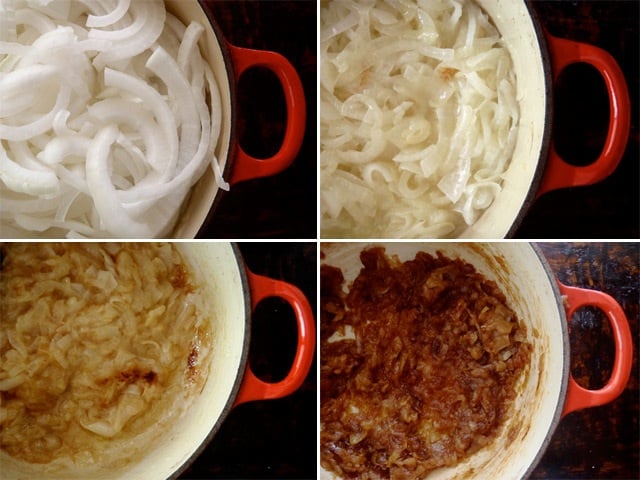 Although you can use olive oil, I love using clarified, unsalted butter to caramelize my onions.  In the recipe below, I'll explain a  simple, quick and easy way to do it.
There are many reasons I'm teaching you how to caramelize onions this way:
First and foremost, they're crazy good!
They become spreadable, making them perfect to add to sandwich or a pizza.
The onions are perfect to add to bite-sized hors d'oeuvres, soups and sauces, and perhaps — on occasion — to a spoon!
Enjoy every part of this caramelizing process.  Hopefully I've made how to caramelize onions easy and fun — and amazingly tasty!
Oh, and here are five awesome dinner recipes with caramelized onions.
Caramelized Onion Recipe
Makes about ¾ cup
Course:
Condiments, Sauces, Dressings and Vinaigrettes, Ingredient
Ingredients
3

tablespoons

unsalted butter

3

large brown onions

sa salt and freshly ground black pepper
Instructions
In a heavy-bottomed stew pan, melt the butter over low heat.

Using a metal spoon, remove the milk solids from the surface -- they will appear as a creamy colored foam. This is essentially a quick way to clarify the butter. (The milk solids are the part of the butter that has a low burning point, so removing them helps prevent burning the contents of the pot.)

Turn the heat to medium-high and add all of the onions. The caramelization process will take about 1-1/2 to 2 hours. During the first 15 minutes, stir the onions every few minutes (I like to use metal tongs at this early point).

Once the onions are soft, reduce the heat to medium-low and stir periodically. Every so often the bottom and sides of the pan will begin to brown. This is what you want! Use a wooden deglazing spatula to work that back into the onions. When the onions are done, they will be very soft, golden brown, and very sweet.
Save