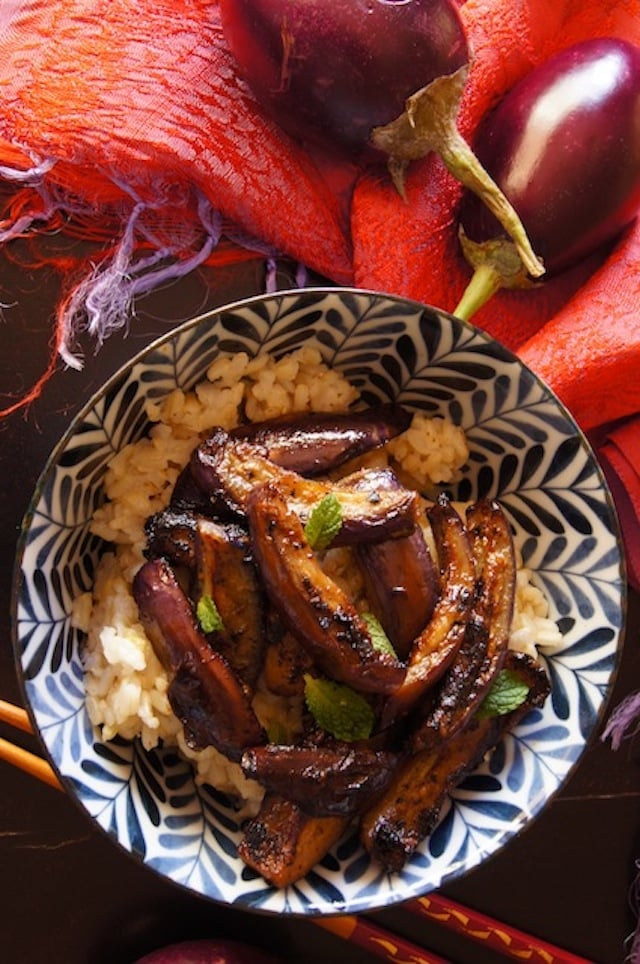 Do you know how eggplants got their name?
They're not eggs, after all!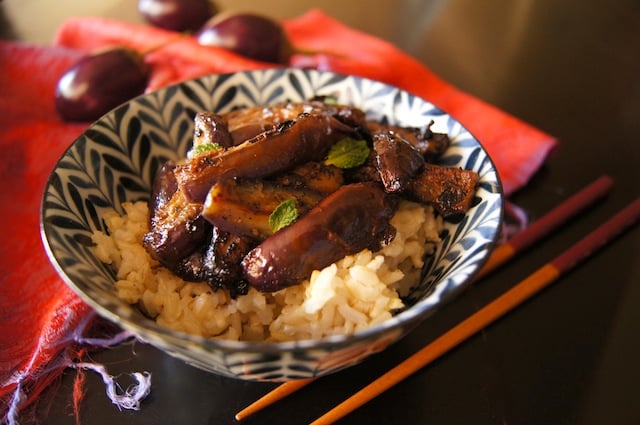 Turns out that small, Thai eggplants are a whitish, yellowish color and have the shape of a goose egg.
And because of these particular fruits, in the 18th century, the name eggplant was born.
(Yes, though eaten as a vegetable, technically eggplants are a fruit — a berry actually!)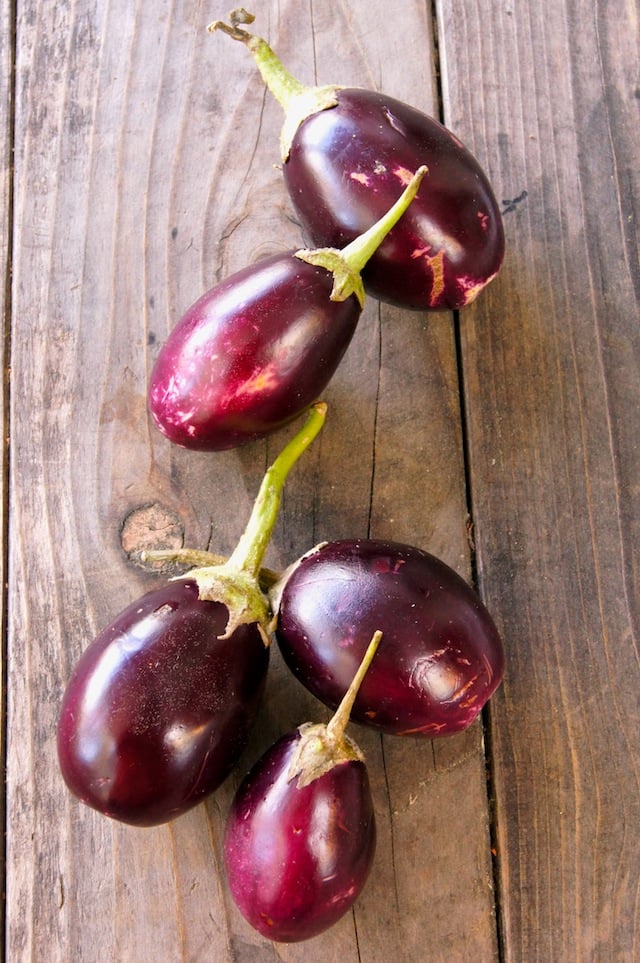 And yup, whether you're dark purple or burgundy, small and cute, long and thin, or big and round, you're still an eggplant!  No discrimination here!
I found these beauties in an Indian market and fell in love with them.  They were just so pretty — I had to buy a big bag of them.
And what I did with them . . . . oh my!  The Asian flavors in this recipe are so unbelievably scrumptious, especially when caramelized.
This recipe is truly an out-of-this-would eating experience.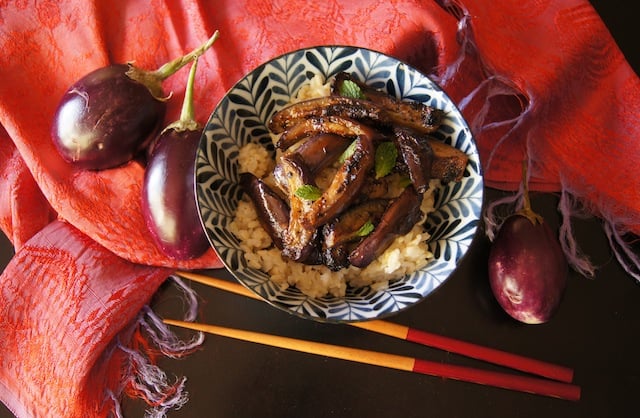 Here's what I'm thinking . . . .  call a few friends and invite them over this weekend.  Make this super yummy eggplant, a big pot of Curried Corn Stew, and some brown rice.
Ask one of your guests to bring wine and one to bring dessert.  There you have it, a dinner party in the works!
Friday Flowers will be back next week.
In the meantime, you can check out the gallery here.
Spicy Miso Glazed Eggplant Recipe
Ingredients
1/4

cup

light or white miso paste

Shiro-Miso

3

tablespoons

mirin

sweet Japanese rice wine

1

tablespoon

plus 1 teaspoon low-sodium soy sauce

2

teaspoons

chili paste

Sambal Oelek is perfect

1-1/2

teaspoons

finely minced garlic

1-1/2

teaspoons

finely grated ginger root

2

teaspoons

granulated sugar

1-1/2

pounds

eggplant

preferably Indian, Chinese or Japanese

grapeseed oil for the pan

1/2

cup

dry sherry

fresh mint leaves for garnish
Instructions
In a large mixing bowl, whisk the miso paste with the mirin, soy sauce, chili paste, garlic, ginger and sugar. Set aside.

Wash and dry the eggplant, and then cut it into sticks that are about 3-inches long and 1/2-inch wide. Add them to the marinade as you work, and once all the eggplant has been cut, mix gently to ensure all of it has been evenly coated with the marinade. (It's a thick marinade, so there shouldn't be to much excess at the bottom of the bowl.) Cover the bowl with plastic wrap and let it marinade for about 30 minutes.

Coat a large sauté pan with the oil and place it over medium-high heat. Once it's very hot, add the marinated eggplant. It should sizzle immediately -- if it doesn't, wait until the pan is hot enough! Brown the eggplant on all sides. This should take a couple of minutes. Then reduce the heat to medium low, and cook just until the eggplant is soft, about another 6 minutes. Deglaze the pan with the sherry and cook just until most of the liquid is absorbed, about 30 seconds or so.

Add a few mint leaves to the eggplant and serve over rice.
Recipe Notes
If you're not sure how much heat you want, don't add the chili paste to the marinade -- wait until you've finished sauteéing and season to taste with it then.
Timeline:
35 minutes ahead: Mix all of the ingredients together except the oil and mint, and marinate for at least 30 minutes.
10 minutes ahead: Sauté the marinated eggplant.
This can be made up to 1 day ahead of time.  Simply reheat it when you're ready to serve.
Save