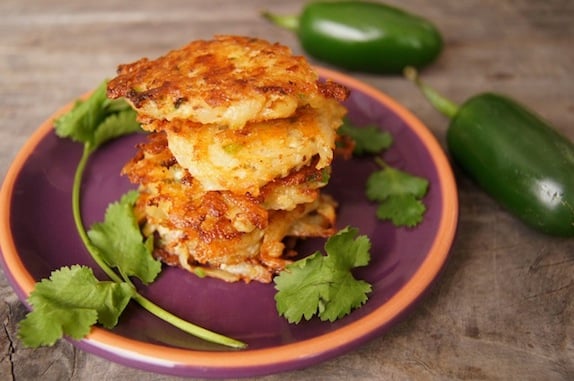 Last year at this time, Cooking On The Weekends wasn't born yet.
I had just read an article in the LA Times Food Section about Sarah Gim of TasteSpotting.  It said that Sarah would be speaking at Camp Blogaway — a two-day camp packed with back to back sessions about all of the different aspects of the food blogging world.
At the time I was busy writing recipes for a couple of online magazines, but a bell went off in my head.  I had to have my own food blog.  I had to go to this Camp Blogaway and learn how to do it!
I got one of the last spots at camp, didn't know a soul, didn't have a blog, and off I went.
Two weeks later, I launched Cooking On The Weekends!
This year I'm heading to camp where I'll see a ton of my new friends, meet new ones, learn a whole lot more, and I'll be "one of them," a bona fide food blogger!
And I'm thrilled to be representing The Idaho Potato Commission this year at Camp Blogaway!
Potato pancakes aren't just for Hanukkah, you know!  Try this recipe for Cinco de Mayo — these little potato pancakes have a delicious Mexican vibe and are packed with flavor!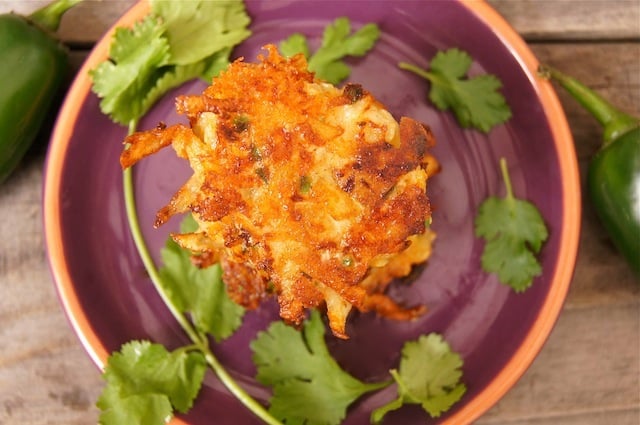 If you want more fantastic recipes using Idaho potatoes, check out their site.
Spicy Pepper Jack Potato Pancakes
Makes 1-1/2 dozen potato pancakes
Ingredients
1

cup

grated Idaho Russet Potatoes

approximately one, 3/4 pound potato

1/3

cup

grated onion

1/3

cup

grated Pepper Jack cheese

2

tablespoons

super finely chopped Jalapeño pepper

seeds removed

1/2

teaspoon

finely minced garlic

2

teaspoons

chipotle adobo sauce

see notes

1

teaspoon

sea salt

1

egg

Olive oil
Instructions
Use a food processor fitted with the grater attachment -- or a hand held grater -- to grate the potato and onion. (The former is much easier!) Then use your hands to squeeze as much liquid as possible out of the potatoes and onion. Potatoes have a very high water content, so you'll be surprised at the quantity of liquid; you can actually "wring out" the potatoes!

In a medium-sized mixing bowl, combine the potato and onion with the cheese, jalapeño, garlic, chipotle adobo sauce, salt and egg.

Generously coat a large sauté pan with olive olive oil, and place it over medium-high heat.

Once the pan is very hot, shape the potato mixture into approximately tablespoon-sized pancakes, placing them in the hot pan as you go. There should be at least an inch or so between them. Gently press each one to flatten slightly. Cook until they are golden brown, about 2 minutes per side.

Continue sautéing the pancakes using more of the oil if necessary.

Serve immediately!
Recipe Notes
Chipotles in adobo sauce are smoked jalapeño chiles that are canned in a sauce that typically contains tomato puree, paprika, salt, onions, oil, vinegar, garlic, bay leaves and oregano. For this recipe, just use the sauce, not the actual pepper.
Save
Save