This Easy Thai Curry Paste Recipe is bursting with fresh flavors and warm, rich spices.  You can whip this up inside of twenty minutes and use it in dozens of different recipes. Though it includes many ingredients, it truly is an easy curry paste recipe.
Let's be real.
We don't wake up feeling great every single day.
Today I woke up on the wrong side of the bed.  Well, actually that's not true, I woke up on my side of the bed — just way too late.
I won't bore you with the stress I felt for the following twenty-five minutes trying to make lunches, get my boys to school, etc.  However, somewhere between dropping my kids off and forcing myself to go on a quick trail run, I felt slightly better.
I began to cheer up partly because I'm so very excited to share this easy curry paste recipe with you.  Yes, you!  It makes me so happy to share my culinary adventures in the kitchen — I love that you're reading, cooking (I hope), and ideally eating my food!  It truly brings me great joy.
This Thai curry paste creates an absolutely glorious ingredient.  Curry powders and pastes are a blend of several, sometimes dozens, of ingredients.
This particular easy curry paste recipe contains many of the ingredients in a typical Thai curry paste, and I love it.  It develops dishes with deep, rich, incredibly delicious flavor.
I suggest making this over the weekend . . . or today!  You'll need it on hand because soon . . . we're going to embark on a journey into curry!  How do Curry French Fries sound?
I like how is sounds.  Get excited because there will be so many fun dishes to make with this recipe.
And now my friends, I really feel better.  Thank you!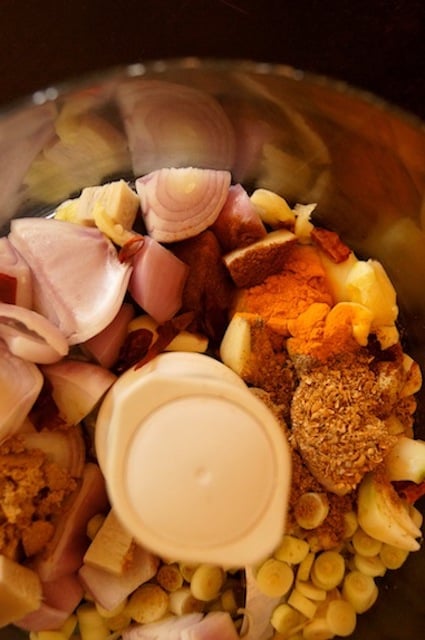 I love, love how beautiful and aromatic these ingredients are!
A few ideas for using Thai Curry Paste:
In sauces.
In stir-fries.
Sautéed with fish, poultry and meats.
I hope you enjoy making and trying out this Easy Thai Curry Paste Reicpe!
Friday Flowers will be back next week.  In the meantime, check out the pretty and tasty gallery.
Thai Curry Paste Recipe
Makes 1 cup
Ingredients
1

cup

roughly chopped shallots

1/3

cup

very thinly sliced lemongrass

(about 2 stalks)

1/4

cup

peeled, roughly chopped garlic cloves

(about 5 cloves)

3

tablespoons

peeled, roughly chopped ginger root

(about 2 inches of the root)

2-1/2

tablespoons

coconut milk

1-1/2

tablespoons

Thai fish sauce

2

teaspoons

light brown sugar

2

teaspoons

ground coriander seeds

1 to 2

small red Thai chile peppers

seeds removed - OR - 1-1/2 teaspoons dried crushed chiles

2

teaspoons

ground cumin

3/4

teaspoon

ground cardamon

1/2

teaspoon

cinnamon

1/2

teaspoon

ground turmeric

1/8

teaspoon

ground cloves
Instructions
Place all of the ingredients in a food processor fitted with the blade attachment and blend until it's as smooth as possible. This may take a few minutes, and it will not be completely smooth. It's a good idea to scrape down the sides of the food processor from time to time, to be sure everything gets incorporated.

Store in an airtight container in the refrigerator. It should keep for at least 2 months.
Recipe Notes
You can also use a blender to make this, but you might need a touch more of the fish sauce or coconut milk to help it purée.

If time permits, and you have, or can get whole spices -- toast and grind them yourself. This is a lovely thing to do.

As "spiced" as this paste is, it's not too spicy -- if you prefer more heat, go a bit heavier on the chiles!

There are red, green and yellow curry pastes -- I think this one is somewhere in between.
Save
Save