A little salty, a little sweet, this Shredded Brussels Sprouts Recipe with Cranberries and Prosciutto is the perfect brussels sprout Thanksgiving side dish!
When I was a kid, I remember going to my Nana and Papa's house for Thanksgiving dinner.  A buffet table was set up in front of the fireplace in their small, cozy living room.  We'd all fill our plates with my Nana's famous cranberry jello mold, and the usual Thanksgiving spread.  While there was nothing like this Shredded Brussels Sprouts Recipe with Cranberries Prosciutto or bacon wrapped turkey, I absolutely loved it.
After dinner my brother, cousin and I would put on a show that the family would watch.  Our shows were pretty ridiculous, which was what made them entertaining.
Eventually Thanksgiving dinner moved to my parents' house — my childhood home and where they still live.  My dad always had a roaring fire going, the table was set days ahead by my mom, with every detail perfect.
While the dog curled up in front of the fireplace, we'd all indulge in my dad's perfectly roasted turkey, my mom's delicious stuffing, and a plethora of yummy side dishes. After dinner we'd all joke  and laugh about the shows we use to put on.
This will be the fourth year my husband and I have hosted Thanksgiving.
I love it.  Everything about it.  I make my Smoky Paprika-Bacon Roasted Turkey.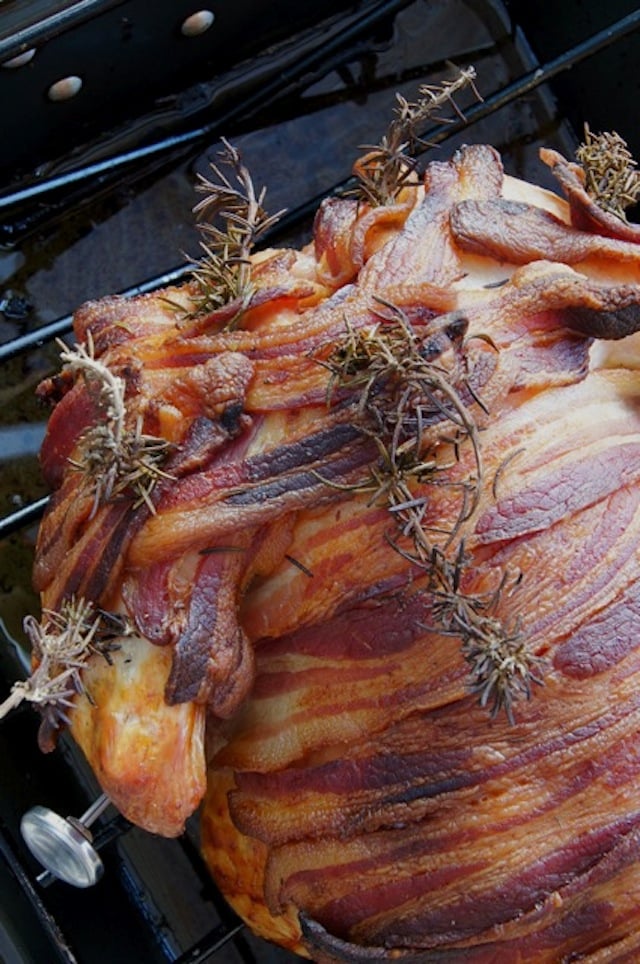 My mom brings her fantastic stuffing, my aunt makes my Nana's cranberry jello mold, and everyone else brings sides and desserts.
I start a fire that my dad or brother then tends to.  My two sons and their cousin do the show now.  It's incredibly entertaining — for the same reasons our shows were.  😉
Thanksgiving is my favorite holiday.
My Honey-Glazed Pears in Crispy Wontons for dessert began my celebration, and I'll be continuing all this week with beautiful Thanksgiving sides.
Can't get enough Brussels sprouts?  Here are a few more Brussels sprouts Thanksgiving side dish recipes:
Off we go.  Let's get the Shredded Brussels Sprouts Recipe with Cranberries and Prosciutto started.  After all, every holiday feast these days includes a brussels sprouts Thanksgiving side dish!
Enjoy!
Prosciutto Cranberry Brussels Sprouts Recipe
Ingredients
1

pound

Brussels spouts

washed and dried

2

tablespoons

olive oil

divided

3/4

cup

thinly sliced shallots

3/4

cup

thinly sliced prosciutto

about 2-1/2-ounces

1/4

cup

fresh orange juice

1/4

cup

dry white wine

3/4

cup

dried cranberries

1/2

teaspoon

sea salt

Freshly ground black pepper to taste
Instructions
Use a food processor fitted with the small to medium-sized grater attachment, and grate the Brussels sprouts. Set aside.


Coat the bottom of a large sauté pan with 1 tablespoon of the olive oil.

Over medium heat, add the prosciutto and cook just until it begins to brown, about 4 minutes.

Stir in the shallots and cook until they are soft, about 5 minutes.

Then add the grated Brussels sprouts and remaining 1 tablespoon of olive oil. Mix to combine and sauté until it's wilted and becoming golden brown, about 5 minutes.

Deglaze the pan with the orange juice and white wine. Use a wooden spatula to scrape off any bits of food that are browned and stuck to the bottom of the pan. Mix that back into the Brussels sprouts mixture. (It's delicious flavor!)

Once the liquid has cooked off, remove the pan from the heat and mix in the dried cranberries.

Season with the salt and pepper and serve warm.
Recipe Notes
Though I love doing everything from scratch when possible, to save time, you can find packaged, grated burssels sprouts at Trader Joe's.
And for a vegan or vegetarian version, simply omit the prosciutto.
Save
Save
Save
Save