It's the pretty celadon green casserole dish in these images that inspired this recipe.
Though this isn't typically how I create recipes, I love when it happens.  Normally I select the dish, pan, plates, etc.,  based on what I've cooked or want to cook.  Not the other way around.
My mother-in-law gave me this lovely baking dish over the holiday's.  Almost as soon as I unveiled it from the tissue paper in the box, I began thinking of what ingredients it was calling to be filled with.
The ingredients in my Chipotle-Potato Mexican Lasagna, of course!
This is far from a traditional lasagna.  There's nothing Italian about it, and rather than pasta, the layers are made with potatoes.  It's smoky, spicy, slightly sweet, and texture of the potatoes is amazing!
This recipe has a long ingredient and instruction list, plus notes –and I highly encourage you to go for it.  The delicious flavors and the comfort this dish brings, makes it worth every minute.  Just look at those layers.
And if you love cooking as much as I do, the process is as enjoyable as the finished dish.
If you loved my Smoky Chipotle Parmesan French Fries, you will truly adore this recipe, too!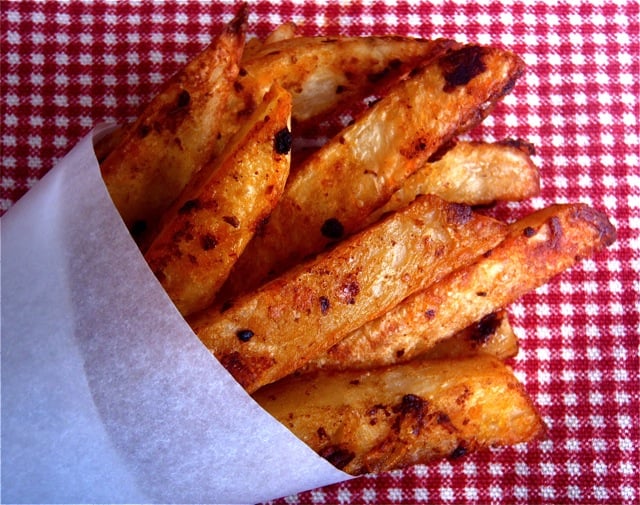 Do you remember them?
I know, hard to forget. 😉
Enjoy!
Chipotle-Potato Mexican Lasagna
Please read through the ingredient list, instructions, and recipe notes before you begin. This will help you greatly with this recipe!
Ingredients
2-1/2-

pounds

large Idaho Russet potatoes

Olive oil for the pan

2-1/2

cups

thinly sliced brown onion

4

medium-sized minced garlic cloves

about 1 tablespoon

5

tablespoons

finely chopped chipotle peppers in adobo sauce

1

teaspoon

ground cumin

1/2

teaspoon

ground

dried oregano

2

tablespoon

finely chopped

fresh oregano

4-1/2

cups

canned

diced tomatoes (one 28-ounce can, plus 1 cup)

1

tablespoon

agave nectar

5

finely chopped scallions

white and green portions

4

small

6-inch corn tortillas

3

large red

yellow and/or orange bell peppers -- roasted, peeled and thinly sliced (here's How to Roast and Peel a Pepper)

2-1/2

cups

grated sharp cheddar cheese

1-1/4

cup

grated pepper jack cheese

Sea salt and freshly ground black pepper to taste

read here to learn about seasoning to taste
Instructions
Place the potatoes (leaving them whole with the skin on!), in a large pot of water and bring to a boil. Reduce the heat and simmer just until the potatoes are tender enough to get a fork in easily, about 20 minutes. They should not be so tender that they fall off of the fork, as you want them slightly undercooked at this point.

Drain the potatoes and let them cool them enough to hold them. While they are still warm, use your hands to remove the skin -- it should come right off. Set aside.

Preheat the oven to 375 degrees F.

Coat the bottom of a large sauté pan with olive oil, and place it over medium heat. Add the onion and garlic, and stirring occasionally, cook until the onions are beginning to brown, about 10 minutes.

Add the chipotles, cumin, and dried and fresh oregano. Let this cook until it's very aromatic, about 2 minutes. NOTE: If don't want too much heat in this dish, remove some or all of the chipotle seeds. Also, I like to use just the adobo sauce for 2 of the 5 tablespoons.)

Add the tomato and stir to blend. Turn the heat to low and let the sauce simmer, uncovered, until it thickens a bit, about 20 minutes.

Mix in the agave and scallions, and season to taste with salt and pepper.

Now you can cut the potatoes. Slice them into approximately 1/8 to 1/4-inch discs.
The layering process:
Spread about 1 cup of the sauce to the bottom of a 9 X 13 X 2-inch baking dish.

Cut the round edges off of the tortillas and place them on top of the sauce, using the scraps to cover any open spaces.

Spoon another cup of the sauce on top, making sure it's evenly distributed. Then add about 1/2 cup of the peppers.

Mix the two cheeses together, and distribute about 3/4 cup over the peppers.

Add a layer of the potato slices now -- press them down gently as you go, and if there are any gaps, you can cut some of the slices into fourths to fill them in.

Repeat the previous layering process. Then once you finish adding the potatoes, add the remaining sauce, peppers and cheese. (Use a bit of extra cheese if you need to, to cover the top completely.)

Bake in the preheated 375 degree F oven until it's sizzling, about 40 minutes. If the top hasn't browned, place it under the broiler for just a moment or so.

This will be delicious anytime, but you should let it sit at room temperature for at least 2 hours for the best cutting results. And ideally, make it a day ahead and put it in the refrigerator. Then simply heat it in a 375 degree F oven for about 20 minutes before you're ready to serve.
Recipe Notes
Here's
How To Roast and Peel Peppers
. The perfect time to do it is while the potatoes are simmering, (or up to 3 days ahead of time).
If you'd prefer to save time, you can buy roasted and peeled peppers in a jar.
Exactly what are chipotle peppers in adobo sauce? Well, they're smoked jalapeño chiles that are canned in a sauce that typically contains tomato purée, paprika, salt, onions, oil, vinegar, garlic, bay leaves and oregano. You can find it in almost any market.
Save