This blueberry cookie is like a blueberry muffin and a chocolate chip cookie all in one!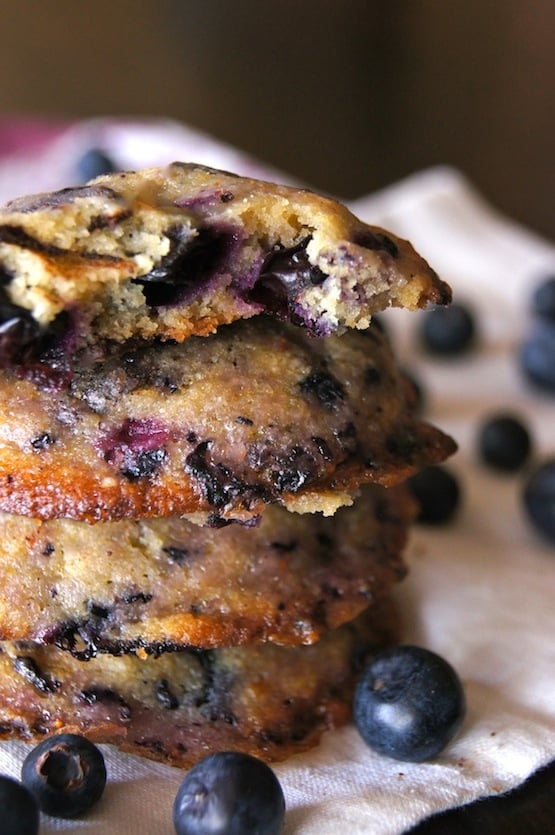 Thanks to the Blueberry Council and Erika of In Erika's Kitchen, ever since A Very Blueberry Thanksgiving, my mind has been filling up with new blueberry recipes.
Do you love blueberry muffins, (which are really blueberry cake if you ask me)?  And who doesn't adore a good chocolate chip cookie?  (I'm not sure we can be friends if you don't — so please, consider this is a rhetorical question!)  So what do you get when you combine these two treats?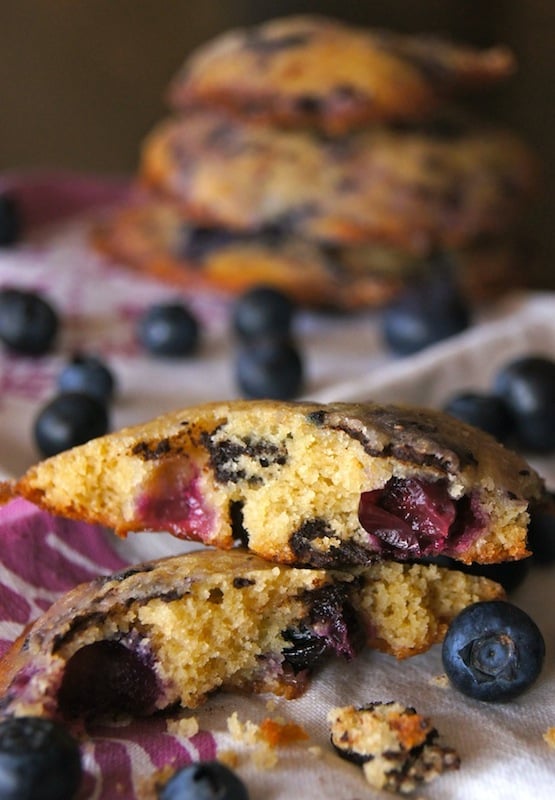 YoA cake-like cookie with crispy edges and pops of delicious, fresh blueberries and decadent, melting chocolate.
You might be looking at the images wondering where exactly the glaze is.  It's there —  in a very translucent coat over the top surface of each cookie.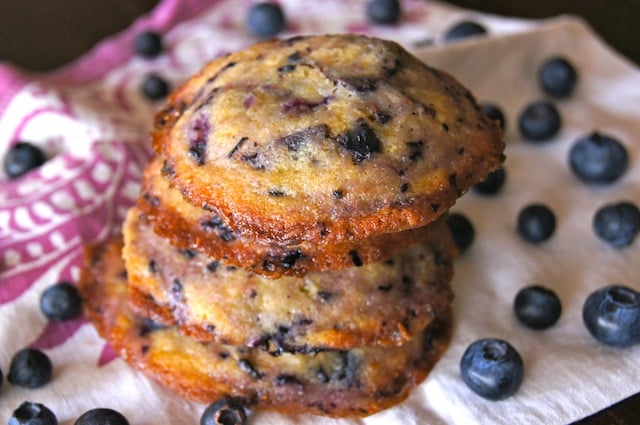 And while it might seem odd to treat this sort of cookie in this manner, it creates the most wonderful super thin "crust," that will keep you reaching for more and more cookies!
Sometimes it's all in the details!
Enjoy!
Glazed Blueberry Chocolate Chunk Cookie Recipe
Makes about 3-dozen
Ingredients
For the glaze:
3

tablespoons

granulated sugar

2

tablespoons

fresh blueberries

finely chopped into a pulp

2

teaspoons

all-purpose flour
For the cookies:
1

cup

2 sticks unsalted butter, softened

1

cup

packed golden brown sugar

1/3

cup

granulated sugar

1

teaspoon

sea salt

1

tablespoon

vanilla extract

2

eggs

2-1/4

cups

all-purpose flour

1/2

teaspoon

baking soda

1

cup

fresh blueberries

1-1/2

cups

semisweet chocolate chunks

or chips, if you prefer

About 1 teaspoon of coarse sea salt
Instructions
For the glaze:
In a small bowl, combine the sugar, blueberry pulp and flour. Mix until it's as smooth as possible. Set aside.
For the cookies:
Preheat the oven to 350 degrees F and line two baking sheets with parchment paper. Set aside.

In a large mixing bowl, combine the butter, both sugars, salt and vanilla. Mix until it's smooth.

Add the eggs and mix until it's as smooth as possible (it might look lumpy at this stage -- don't worry, as it will even out when you add the flour.)

Add the flour and baking soda and mix only until the flour is completely incorporated. (Do not mix any more than necessary.)

Gently fold in the blueberries and chocolate. Some of the blueberries will break as you fold them in -- that's okay.

Use a cookie scoop or tablespoon to shape the cookies into dollops (1 to 2 tablespoons each), about 2 inches apart, on the parchment-covered baking sheets.

Use a pastry brush to very lightly coat the surface of each dollop with the glaze. (If you don't have a pastry brush, you can use a teaspoon to drizzle it on top, and then spread it with the back of the spoon.)

Sprinkle each one with a bit of the coarse salt.

Bake in the preheated 350 degree F oven just until the cookies are golden along the edges, 10 to 12 minutes. They should still look doughy when you remove them from the oven -- they will firm up a bit as they cool.

Leave them on the baking sheet to cool for at least 15 minutes.
Recipe Notes
These cookies will not be perfectly symmetrical. For a slightly more defined shape, roll the dollops of dough between your hands before placing them on the baking sheet.
Save
Save