You know what I think is so bizarre?
White asparagus!
I know, your thinking, "fascinating, Valentina."  (And in a bored tone, no less.)  Well let me tell you, it is fascinating — or interesting, at the very least. 😉
You see white asparagus is grown while covered with mulch and dark plastic so that it never sees the sun.
Yes a vegetable that grows without ever being directly hit by sunlight.  So with no chance for photosynthesis to occur, it never turns green.   And I find this so ironic because we're talking about a very special, spring vegetable — and in my mind, spring is all about sunshine.  Bizarre, right?  (Or, maybe I'm bizarre?)
I can't wait for you to try this incredibly tender, delicious and elusive spring delicacy! With a slightly more delicate flavor than green asparagus, it's truly divine.
I think it would so wonderful served along side my Smoky Paprika Lemon-Herb Chicken Under a Brick (pictured below).  Such a yummy combination for dinner.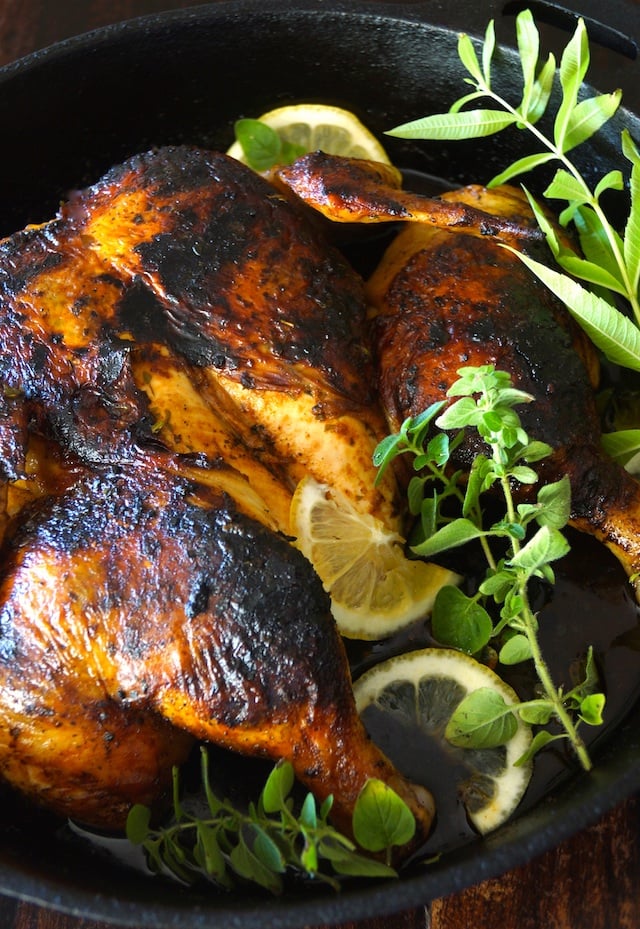 Let's move on to cooking this unique vegetable, shall we?
Enjoy!
Tangy Lemon-Dill White Asparagus Recipe
Ingredients
1-

pound

fresh white asparagus

1

tablespoon

freshly squeezed lemon juice

2

teaspoons

finely chopped

fresh dill

¾

teaspoon

granulated sugar

⅛

teaspoon

sea salt

1

tablespoon

extra virgin olive oil
Instructions
Place a medium-sized bowl of ice water on your work space.

Cut the bottom few inches (the tough portion), off of the asparagus and discard.

Rinse and peel from just below the floret to the bottom, using a vegetable peeler. (Be very gentle as white asparagus is very fragile. In my experience, more so than the green.)

Place a steamer in a pot with the water level just below it.  Over high heat, bring the water to a boil and then add the asparagus to the rack and cover. Reduce the heat to low and steam until tender, 6 to 8 minutes.

Immediately add the steamed asparagus to the bowl of ice water and let it sit for a couple of minutes. Then remove, dry, and add them to a medium-sized mixing bowl. Set aside.

In a very small bowl, whisk the lemon juice, dill, sugar, salt and oil together. Then drizzle it over the asparagus and carefully toss to be sure it's well coated.

Serve chilled or at room temperature as a side or over fresh greens as a salad.
Save
Save