Delicious, pretty, refreshing and incredibly fun!  This is quite possibly the best summer hors d'oeuvre your guests will have ever had!  (In my humble opinion, of course.)
If you choose to add the vodka, it's like a sweet, edible cocktail. So cool.
And if you're in the mood, and it's not summer — who cares!?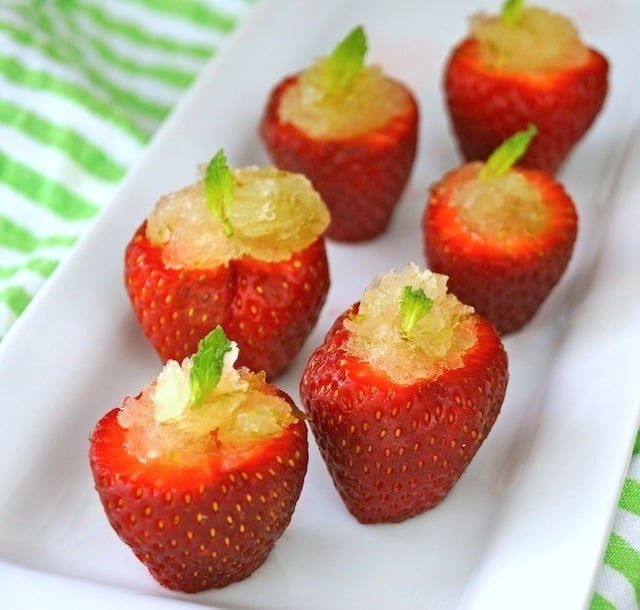 For those interested, if you skim the ingredients, you'll quickly note that this beautiful treat is naturally fat-free, practically calorie-free, vegan and gluten-free.
Enjoy!
Minty Lime Granita Strawberry Cups
about 2-dozen
Ingredients
½

cup

water

1

tablespoon

granulated sugar

About a dozen fresh

medium-sized mint leaves, plus about 2 dozen tiny leaves for garnish

¼

cup

freshly squeezed lime juice

from about 3 limes

3

tablespoons

vodka

optional

About 2-dozen medium-large strawberries

washed and dried
Instructions
Add the water, sugar and medium-large mint leaves to a small saucepan, place it over medium heat and cook just long enough to dissolve the sugar, about 3 minutes. Let this mixture cool to room temperature and then remove the mint leaves and discard them. Add the lime juice and vodka (if using), and stir to blend.

Pour the mixture into a shallow dish, cover it with plastic wrap and place it in the freezer until the edges are frozen, about 30 minutes. Scrape the ice from the edges with a fork, mixing it into the center. Repeat this scraping and mixing process every 20 minutes or so, until it has turned into tiny ice flakes. (You should almost be "chopping" as you move the ice around.) Keep this in the freezer until you're ready to use it.

Slice about ¼-inch from the top and bottom of each strawberry -- to remove the stem, create a flat top and a flat base.

Use a tiny melon baler, grapefruit spoon, or paring knife to scoop out ¼ to ½-inch circle from the top center of each strawberry -- this will serve as a "bowl" for the granita. (Be sure not to scoop all the way through, or too close to the edges!)

Place the prepared strawberries on their bases, on a serving plate or platter. Place in the refrigerator until you're ready to assemble.

Just before you're ready to serve, spoon about 1½ teaspoons of the granita into the center "bowl" you made in the top of each strawberry, and add a tiny mint leaf to them for garnish.

Serve immediately!
Save