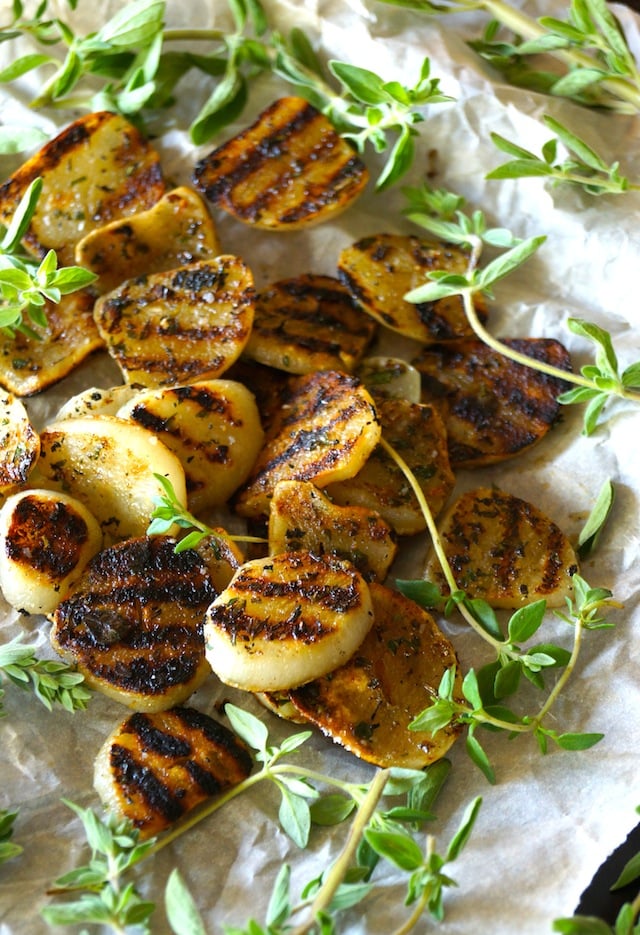 When my husband goes to the Farmer's Market, he inevitably comes home with a handful of produce that's never quite what he's expecting it to be.  It's hilarious.
I could give you some background on his comical produce identifying history, like the time he complimented the grilled peaches, that were in fact butternut squash — but, let's just get to what he does at the market, shall we?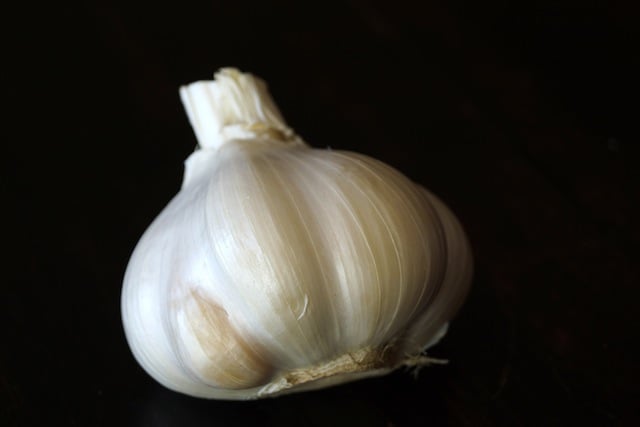 This past Sunday, after he got home from the market, I saw him looking rather curiously at a very large garlic clove.  After peeling it, he looked even more stumped. When I asked if he meant to get Elephant garlic, he said, "oh, is that what's going on here?"
After deciding it was too daunting for him to use, I took it over and made this awesomely, delicious recipe.
Grilled garlic is a super tasty, unique garnish or condiment for so many dishes. I love topping meat stews with it, and it's divine in salads, pastas and over steak or chicken.
Since the cloves are so big, it's easy to grill them, adding a wonderful smoky flavor.  And I love fresh herbs with garlic, so I grabbed the thyme, and a beautiful bundle of oregano — that my husband (of course) thought was sage.
Interestingly, Elephant garlic isn't really true garlic — it's actually a variety of leek.  The cloves are about four times as big as those in a typical head of garlic, and though more mild, the flavor is more similar to garlic than to a leek.
Enjoy!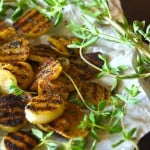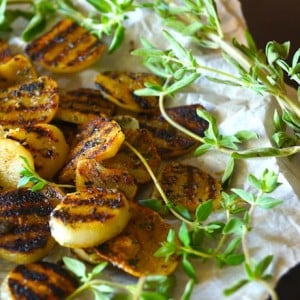 Herb-Grilled Elephant Garlic Recipe
Makes about ½ cup
Ingredients
1

head Elephant garlic

1½

tablespoons

olive oil

2

teaspoons

finely chopped

fresh thyme

1

teaspoon

finely chopped

fresh oregano

½

teaspoon

granulated sugar

Sea salt and freshly ground black pepper
Instructions
Cut the root end off each of the garlic cloves, and then peel them.


Lay each clove on its flattest side, and then use a very sharp knife to thinly cut them into approximately ⅛-inch thick slices.


Preheat a stove-top grill.

In a small bowl, toss the garlic slices with the oil, herbs and sugar. Then spread them out evenly on a large plate, and sprinkle both sides with salt and pepper.

Place the garlic slices on the grill once it's very hot. You should hear a sizzling sound — if you don't, it's not hot enough yet.  Wait for the sizzle!  Grill until just long enough to mark the bottom of the slices, about 2 minutes. (Don't let them to dark or they'll be bitter.) Carefully flip them over and grill the other side for about 2 more minutes -- again, just to mark them.

Remove the garlic from the grill and let it cool to room temperature. (Store in a tightly sealed container for up to 4 days until you're ready to use.)
Save
Save