With it's vibrant, stunning colors and fresh flavors, this Grape-Plum Salsa is delicious with chips and over grilled chicken, meat or fish!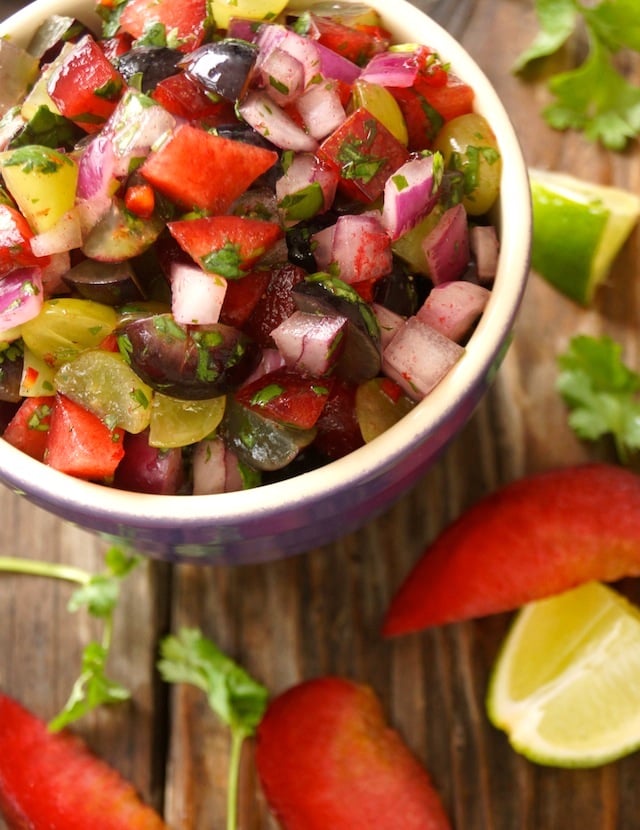 Do you have a signature dish?  Or a signature cookie or drink?
This recipe is my signature summer salsa.  I just decided this today.  Of course it doesn't make any sense because a "signature dish" is one that a person is well known for — and well, only two people have tried this — me and my husband.
I know what you're thinking . . . that we're totally biased.  I mean after all, I made it and my husband, well, he's my husband.
I'm very confident though, that everyone will love it as much as we do.  (If somebody tries this salsa and doesn't like it, I'd wonder if that person also doesn't think puppies are cute.)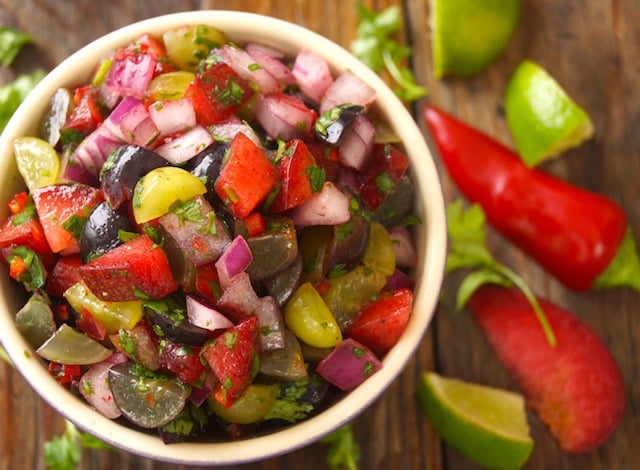 I'm hoping to serve this many times during the rest of the summer, and as long as I can get the seasonal ingredients — making calling it my signature summer salsa legit.  I do hope you'll try it too. 🙂
The colors of the fruits are what inspired the ingredient list — I think they're so beautiful (and delicious!) together.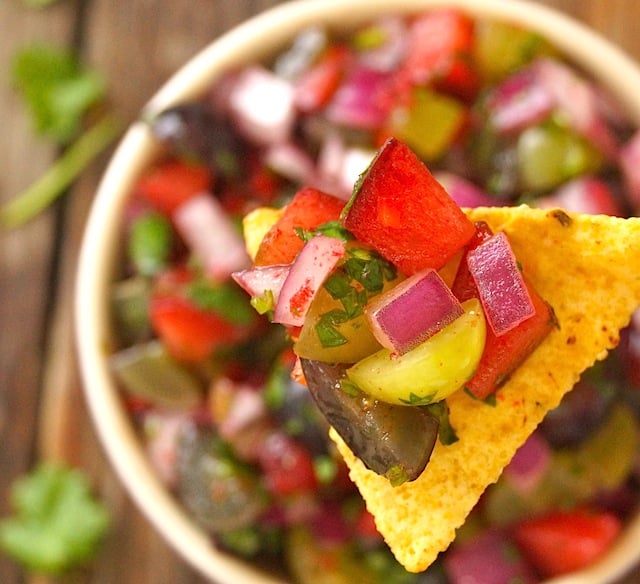 Enjoy!
And be a star and bring this to the next party you're invited to!
Melissa's Produce sent me samples of the grapes, and as always, all opinions are my own.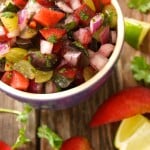 Grape-Plum Summer Salsa Recipe
Makes about 4 cups
Ingredients
1

cup

quartered black seedless grapes

I used Melissa's Produce Black Muscato grapes

1

cup

quartered green seedless grapes

I used Melissa's Produce Green Muscato grapes

1

cup

diced red plums

The size of the dice should closely match the size of the cut grapes. I used Dinosaur Eggs, which are actually Pluots.

¾

cup

finely chopped red onion

¼

cup

finely chopped cilantro

2

tablespoons

freshly squeezed lime juice

1

tablespoon

super finely chopped jalapeño pepper

red or green

Sea salt and freshly ground black pepper to taste

Here's How to Season to Taste.
Instructions
Add all of the ingredients except the salt and pepper, to a medium-sized mixing bowl and stir gently.
Save