This Peach Cobber will be your go-to, no-bake, quintessential summer dessert.  It's rich, creamy, super delicious and stunning!
I know, I know, it's a ridiculously long title — I just like to let you know what you're getting into.  
Beautiful, aromatic, scrumptious peaches were waiting for me at the front door.  They came in a pretty box with a lovely hand written card adorned with a watercolor of peaches.  You might have thought it was my birthday, but it was The Fruit Company just spreading some Oregon peach love my way.
The large peaches arrived fairly firm, and the card instructed me to leave them out at room temperature for a couple of days to ripen.
Sure enough within 3 days, they were perfectly juicy and sweet.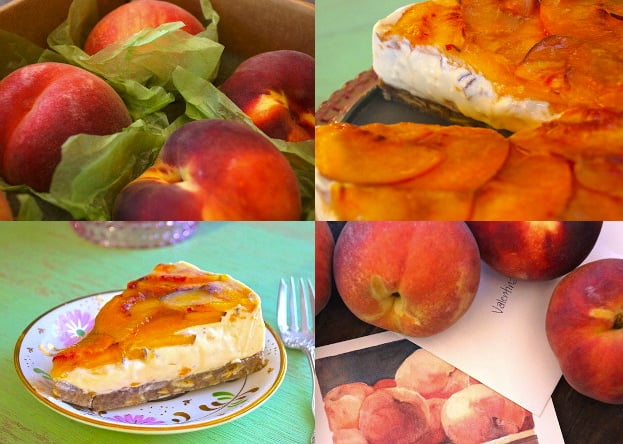 So what's a girl to do with a box of gorgeous peaches?
I made this cake, which is similar to cheesecake, but too soft to call it that.  It's rich, creamy and deliciously flavored inside and out with the Oregon peaches.  The deep golden flesh of the Oregon peaches is so stunning – I had to show it off.
I would have made a second recipe with them if I hadn't eaten every last one first.
The Fruit Company sent me Oregon peaches for sampling and recipe testing.  This is not a sponsored post — as always all opinions are my own and I only write about things I love.

No-Bake Peach Cobbler Cream Cake Recipe with Gluten-Free Almond Cookie Crust
Please note that the prep time does not include refrigeration (and a bit of freezing) time, which the cake will need to set. Refrigeration is at least 6 hours, and ideally overnight. (See instructions 4 & 6 below.)
Ingredients
For the crust
2½

cups

almond meal

½

cup

sliced almonds

toasted

½

cup

1 stick unsalted butter, melted

¾

teaspoon

sea salt
For the filling
28-

ounces

cream cheese

softened

1

cup

plus 1½ tablespoons sweetened condensed milk

1¾

teaspoons

pure vanilla extract

1

cup

peeled diced peaches

about ¼-inch dice
For the topping
about 2 cups super thinly sliced peaches

from about 3 large peaches- this might vary

1

cup

peeled finely chopped peaches

2

tablespoons

brown sugar

¼

teaspoon

cinnamon
Instructions
For the crust
In a large mixing bowl, combine the almond flour, sliced almonds, melted butter and salt. Stir until everything is evenly combined and all of the dry ingredients are held together by the butter. Add this mixture to an approximately

10-inch X 2½-inch springform pan

. Using your hands, gently press the mixture to evenly coat the bottom of the pan. Set aside.
For the filling
Add the softened cream cheese, sweetened condensed milk and vanilla to a large mixing bowl. (Be sure the cream cheese is very soft -- otherwise it will be lumpy, which is the opposite of what we're going for.) Use an electric mixer or hand whisk to blend until smooth, about 30 seconds or so.

Fold in the diced peaches very gently, trying to keep the pieces whole.

Pour the mixture into the pan with the crust and place the pan on a baking sheet. Cover the pan with plastic wrap (not touching the filling), and place in the refrigerator for at least 6 hours and ideally overnight.
For the topping.
Take the cake out of the refrigerator, remove the plastic wrap and arrange the peach slices on the top surface. (You can arrange them any way you'd like to -- I start along the edges, overlapping the slices and keep going until I've reached the center. The thinner the slices, the easier this will be.)

Place the cake in the freezer for about 1 hour. (This will make it much easier to slice.)

While the cake is in the freezer, add the finely chopped peaches, brown sugar and cinnamon to a small sauté pan and use a fork to mash the peaches until they are almost a purée. Turn the heat to low-medium and cook until the sugar has dissolved, about 4 minutes. Cool to room temperature.

Remove the cake from the freezer, drizzle the sauce to coat the peach slices.

Use a butter knife to go along the edges of the cake, inside the pan. Then loosen the spring on the pan and place the cake on a serving platter.

Slice and serve. (Show your guests how pretty it is first!)
Save
Save
Save