Smoky, sweet, and over-the-top delicious, these Strawberry-Chipotle Bacon Meatballs are an outstanding hors d'oeuvre or appetizer.  You're guests will flip for them!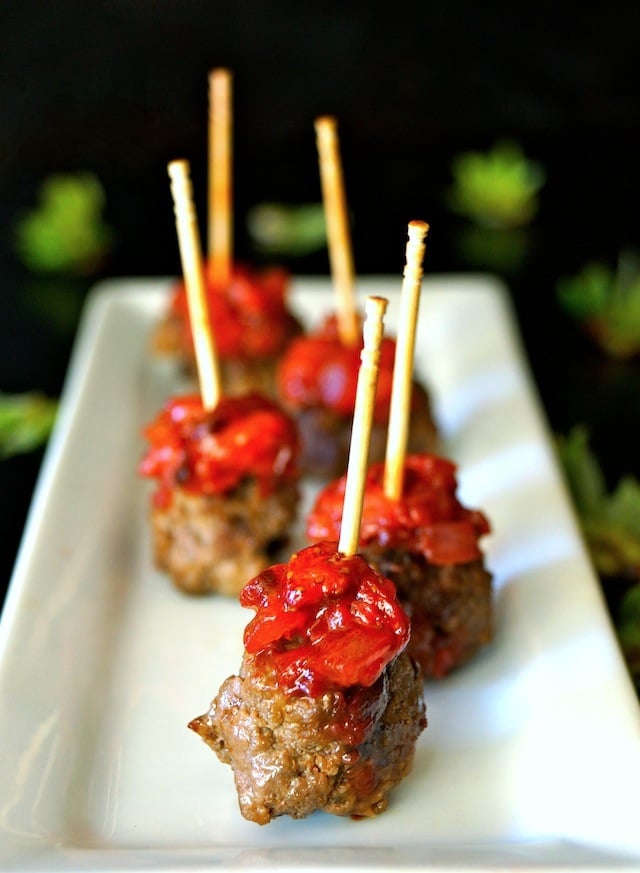 There is so much deliciousness going on here — it's almost out of control.  Somewhere between the sweet and spicy Strawberry-Chipotle Compote and the mouthwatering smoky Bacon-Meatballs, you might just loose your mind.  (Only for a moment — until the next bite, that is.)
Remember the other day, when I told you about the super tasty bite I had at the Pono Burger booth at The TASTE LA?
Well I was so inspired by the strawberry-chipolte compote on their burger that I rushed home and made my own version.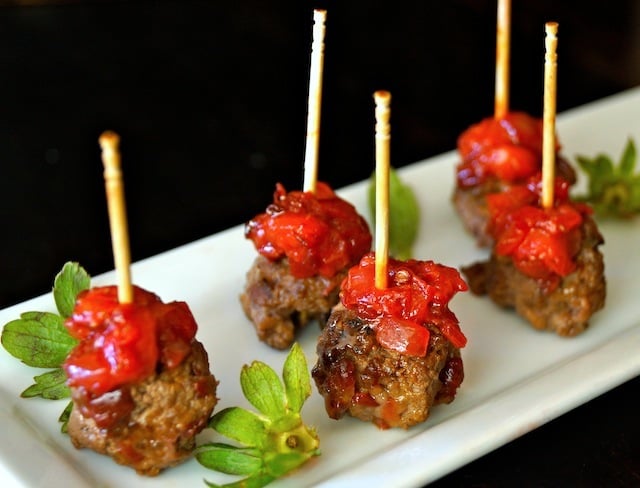 This is the perfect hors d'oeuvre — however, you can also make burgers instead of meatballs and make it dinner!
Enjoy!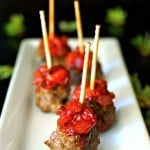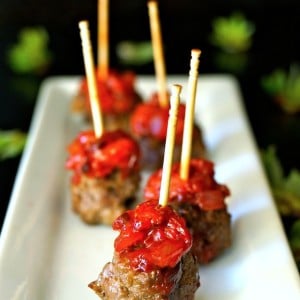 Smoky Strawberry-Chipotle Compote Bacon-Meatballs
Makes about 2-dozen
Ingredients
For the compote
grape seed oil for the pan

¾

cup

diced strawberries

⅓

cup

finely diced onion

2½

teaspoons

finely finely diced chipotle peppers in adobo sauce

1

teaspoon

brown sugar

see notes

salt to taste

Here's How to Season to Taste
For the meatballs
3

strips bacon

my favorite is Applewood Smoked Niman Ranch

½

pound

ground beef

preferable grass fed

¼ to ½

teaspoon

sea salt

freshly ground black pepper
Instructions
For the compote
Coat the bottom of a small saucepan or sauté´pan with a bit of grape seed oil. Add the strawberries, onions, and chipotles.


Place the pan over low heat and cook, stirring form time to time, until the mixture is soft and resembles preserves, about 15 minutes.
For the meatballs
Place a large sauté pan over medium heat and add the bacon and cook until it's crispy.

Remove the bacon from the pan and place it on a paper towel-lined plate to drain. (Do not remove any of the bacon grease from the pan.)

Crumble the bacon in tiny pieces and mix it with the ground beef, salt and a few turns of black pepper.

Shape the meat into balls that are approximately 1 -inch (bite-sized), placing them on a large plate as you go. (If you have a cookie scoop about this size, that's prefect.)

Turn the heat to medium-low heat under the same pan you used for the bacon (with the grease). Add the meatballs and cook for about 2 minutes to brown the bottoms. Then turn the meatballs over, cover the pan, and reduce the heat to low. Let them cook and steam for about 3 more minutes, just until they are cooked through.

Warm the compote and use a small spoon to add about ¾ teaspoon to the top of each meatball.

Place them on a serving platter or plate and stick a toothpick in each one.

Serve!
Recipe Notes
If it's the peak of strawberry season and they're especially sweet, you might want to omit the brown sugar, or use a bit less.
Save
Save