Bacon Basil Hasselback Dutch Yellow Potatoes are adorable hors d'oeuvres or appetizers.  The smoky bacon and fresh basil, combined with the creamy potato will knock your socks off!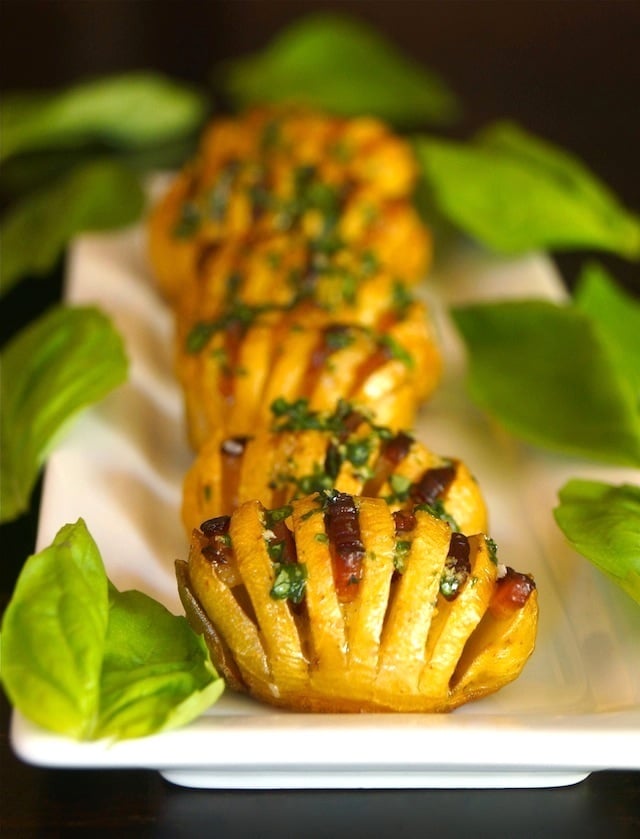 Can you just imagine the smoky, incredible flavor of bacon seeping into every nook and cranny of these potatoes as they roast.
I'm telling you, the whole potato takes on the flavor and is therefor one of the tastiest bites of potato you'll ever have.  Add to that, fresh basil-garlic deliciousness and it puts it over the top!
Not to mention how cute they are!  (Yes, food can be cute.)  You would be a culinary hero if you brought this hors d'oeuvre to a holiday party — or served them at home.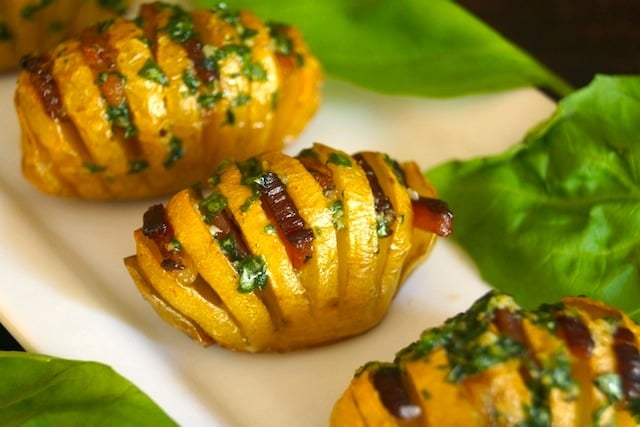 Dutch Yellow Potatoes have always been my favorite potatoes (well, tied with the Yukon Gold).
They're super creamy and their flavor is subtly nutty. I could eat them baked, smashed, mashed, with other ingredients, on their own . . . you get the idea.
And you know they're always best if they're grown in Idaho.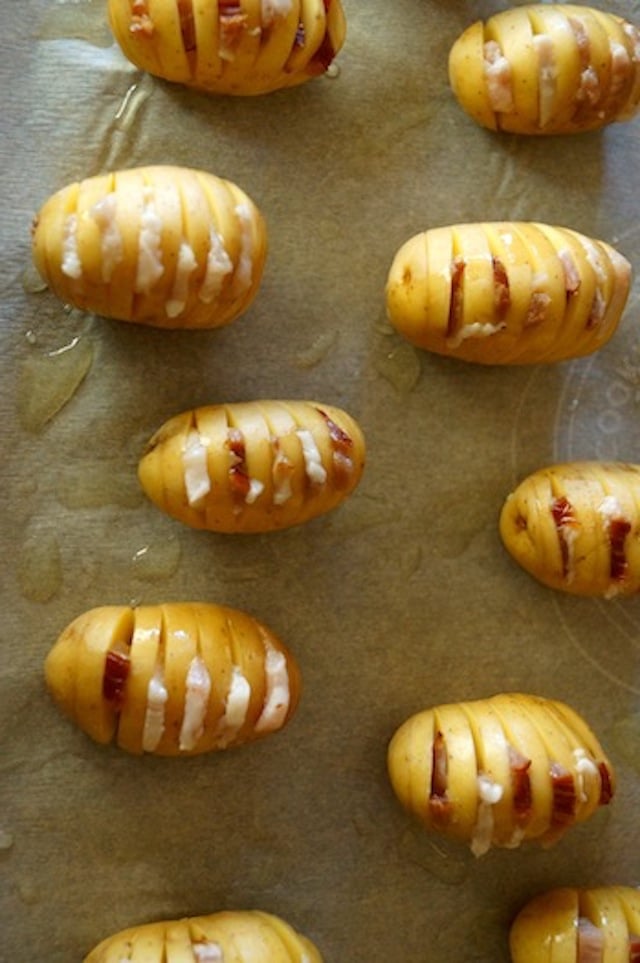 Fun fact: Dutch Yellow Potatoes are the #1 selling item of over 1,200 items from Melissa's Produce.  In fact, on November 7th their newest book, DYPs The Perfect Everyday Potato Cookbook is coming out.  (You can even pre-order one here.)
This is not a sponsored post, and as always all opinions are my own.  I love these potatoes and I think the book from Melissa's is fantastic for all potato lovers. 🙂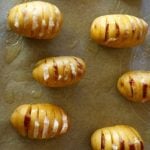 Bacon Basil Hasselback Dutch Yellow Potatoes
Makes 2 dozen
Ingredients
Olive oil for the baking sheet

2

dozen Peewee Dutch Yellow Potatoes

they should be as evenly sized as possible

2 to 3

strips bacon

I like using Applewood Smoked bacon

about 2 dozen very finely chopped basil leaves

2

small minced garlic cloves

¼

cup

extra virgin olive oil

Sea salt and freshly ground black pepper to taste

Here's How to Season to Taste.
Instructions
Preheat the oven to 425 degrees F, and adjust a rack to the center.

Line a baking sheet with parchment paper and drizzle it with olive oil. Set it aside.

Wash and dry the potatoes.

Use a very sharp knife to slice a sliver off of one of the sides of each potato to make a base. Then make slits approximately ⅛-inch apart, horizontally, along each potato.  (The slits should go about ¾ of the way down -- be careful not to cut all the way through!) Place them on the parchment-lined, baking sheet.

Cut the bacon into very small pieces that are about the width and a bit shorter than the height of the slits in the potatoes. Try to use the pieces with the least amount of fat, and try not to use those that are only fat. This is why I say 2 to 3 slices -- it depends on the bacon you're using. (Though it's not necessary, it's easier to cut the bacon if you freeze it first for about 15 minutes.)

Very carefully, add one bacon piece you've cut to each of the slits in the potatoes. If it seems too fragile, don't add bacon to the slits closest to the ends.

Drizzle a bit more olive oil over the potatoes. Just a bit! (We don't want to make them too greasy -- but, the olive oil will help them brown nicely.

Sprinkle with sea and pepper and roast them in the preheated 400 degree F oven until the potatoes are tender, about 30 minutes. (Check them after 20 minutes.)

While the potatoes are in the oven, add the basil, garlic and olive oil to a small bowl and mix to blend. Season to taste with salt and pepper. (

Here's How to Season to Taste

.)

Right after you remove the potatoes from the oven, use a pastry brush, or a small spoon to drizzle the basil mixture over each one. Be sure you see it seeping into the slits with the bacon -- a pastry brush will be the easiest tool to help you do so.

Place the potatoes on a large platter and serve!
Save
Save