Oh Yeah, these Brown Butter Blueberry-Bacon Waffles are sweet and smoky and buttery!  Perfection!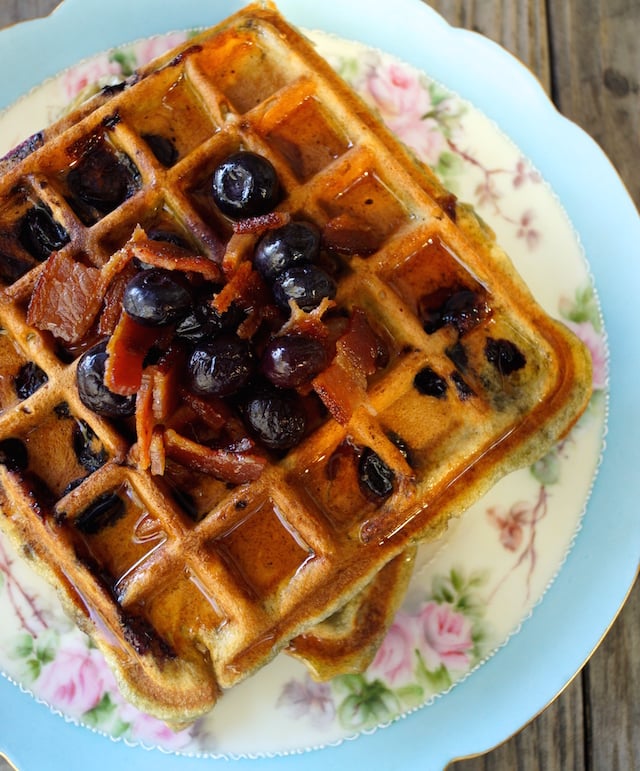 It's subtly smoky, super sweet, fruity and cake-like — it's the waffle of your dreams.
And now . . . .  it's a reality.
Anyone would be happy to wake up to the incredible aroma of the flavors in these waffles coming together.  Anyone would believe they're still dreaming as the aroma drifts beneath their bedroom door.  And they'll only come to when the bacon is flipped and sizzling on its second side.
Anyone will actually get out of bed when the butter begins to brown and the batter is mixed.
And when the top of the waffle iron closes down upon the blueberries and bacon hiding in the batter, anyone's heart will be racing as they're getting dressed to make a run for the kitchen.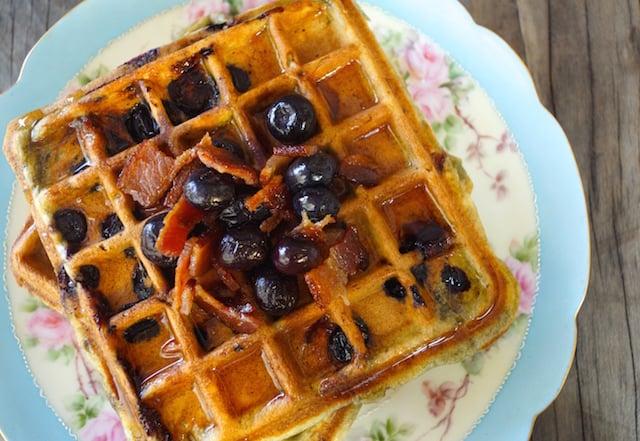 It won't be until a perfectly crisped waffle is before them with a fork, that they'll relax and accept that their dream has become a reality.
You'll have to make them to find out exactly what happens when the waffles are actually eaten.
Enjoy!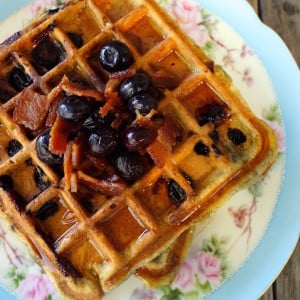 Brown Butter Blueberry-Bacon Waffle Recipe
Please note that the prep time does not include making the brown butter, which takes about 20 minutes. (
Here is How to Brown Butter
.) And yes, you can also use non-browned butter (though the brown butter will add an amazing nutty, rich flavor). Makes 8 to 10 waffles.
Ingredients
3

strips applewood smoked bacon

3

large eggs

1

cup

milk

I prefer whole or low-fat for this recipe, but non-fat will also work.

2

teaspoons

vanilla

3

tablespoons

granulated sugar

½

teaspoon

sea salt

1⅓

cups

all-purpose flour

or gluten-free all-purpose flour -- a brand that's 1-to-1, like Bob's Red Mill

1

tablespoon

baking power

⅓

cup

brown butter

melted (Here's How to Brown Butter)

1

cup

fresh or frozen blueberries

if frozen, thawed

1

tablespoon

unsalted butter for the waffle iron
Instructions
Add the bacon strips to a sauté pan and cook over medium heat until they are golden and crispy, a few minutes per side. Place them on a paper towel-lined plate to drain. Then crumble the strips into bite-sized pieces.

Preheat your waffle iron, and in a medium-sized mixing bowl, combine the eggs, milk, vanilla, sugar and salt. Whisk until smooth.

Add the flour and baking powder and whisk only enough to blend and make a smooth mixture.

Now fold in the blueberries and crumbled bacon.

Add the batter to your waffle iron, using it according to the manufacturers instructions. (If it's not a non-stick iron, use a pastry brush to add some of the unsalted butter to the iron to prevent sticking -- each time you add batter.)

Let the waffles cool on a cooling rack and then serve!
Save