A delicious, hearty, vegetarian dish to add to your feast for Passover, or to have absolutely anytime!
I know, I know — could there be a more confusing recipe title?  There's a lot going on here.  Let me (try) to explain . . .
Matzo Brei is a dish with Ashkenazi Jewish origins that's traditionally made with matzo and eggs.  (Think scrambled eggs meet French toast.)
It's commonly eaten during Passover when only unleavened bread is permitted, which matzo is.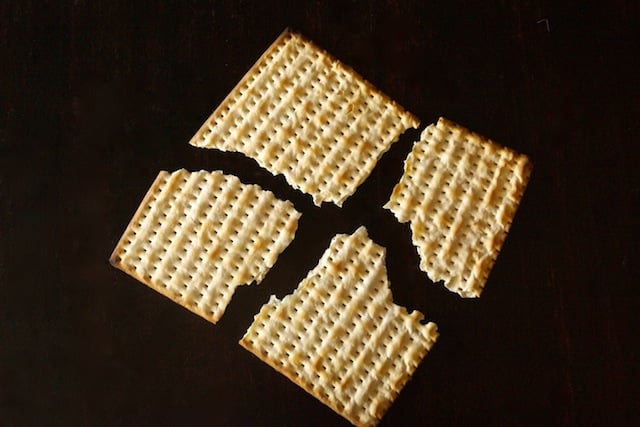 And the "à la Florentine," well that's pretty much an Italian way of saying there's spinach in the recipe.
My mom used to make a version of this with just the matzo and eggs.  I always found it delicious and comforting.
With Passover just days away, though super delicious, I felt I couldn't very well make you a typical Matzo Brei — it had to be extra special.
Hence the fresh spinach, sweet caramelized onions, and awesome crispy stacked matzo presentation.
So there you have it. Still find it confusing? I know, me too. 😉
Enjoy this for Passover — or, anytime!
Matzo Brei à la Florentine Recipe
Ingredients
olive oil for the pan

1

cup

thinly sliced red onion

1

teaspoon

minced garlic

4

cups

fresh spinach leaves

tightly packed

4

whole matzo crackers

4

eggs

1

teaspoon

smoked paprika

1

tablespoon

unsalted butter

sea salt and freshly ground black pepper
Instructions
Coat the bottom of a large sauté pan with olive oil and place it over medium heat. Add the onion and garlic and cook, stirring from time to time, until the onions are nicely browned, about 10 minutes.

Add the spinach and use kitchen tongs to mix it with the onions. Cook until it's completely wilted, about 3 minutes. Season to taste with salt and pepper. (

Here's How to Season to Taste

.) Add this to a bowl and set aside. Do not wash the pan.

Break each matzo cracker into 4 pieces -- as equally sized as possible. (They probably won't break exactly how you want them to -- no biggie.) Set aside.

In a small mixing bowl, whisk the eggs with the paprika and a generous sprinkle of salt and pepper.

Coat the bottom of the same sauté pan you used for the spinach, with a bit more oil and about half of the butter, and place it over high heat.

Once the pan is very hot, 2 at a time, dredge the matzo pieces through the egg mixture, coating them well. Immediately place them in the pan. Repeat this until you've done as many as will fit with at least a an inch or so between them. (This will likely be done in 2 batches -- add the remaining butter in the second batch.) Brown them well, about 30 seconds per side. Remove them from the pan and place them on a plate as you go.

Return the spinach to the pan with any of the remaining egg mixture and cook over medium heat, stirring often, just until the egg is cooked through, about 2 minutes. (This should look like spinach scrambled eggs -- more or less.)

Assemble by stacking 4 of the matzo pieces with the spinach-egg mixture between each one and on top, being sure to divide the ingredients as evenly as possible.

Serve!
Save
Save
Save
Save
Save