Have you ever compressed watermelon?  You won't believe what a difference it makes!  The flavor of the watermelon becomes sweeter and more intense, and in this recipe it's balanced perfectly with a bit of spice, fresh tomatoes and a tangy, creamy dressing.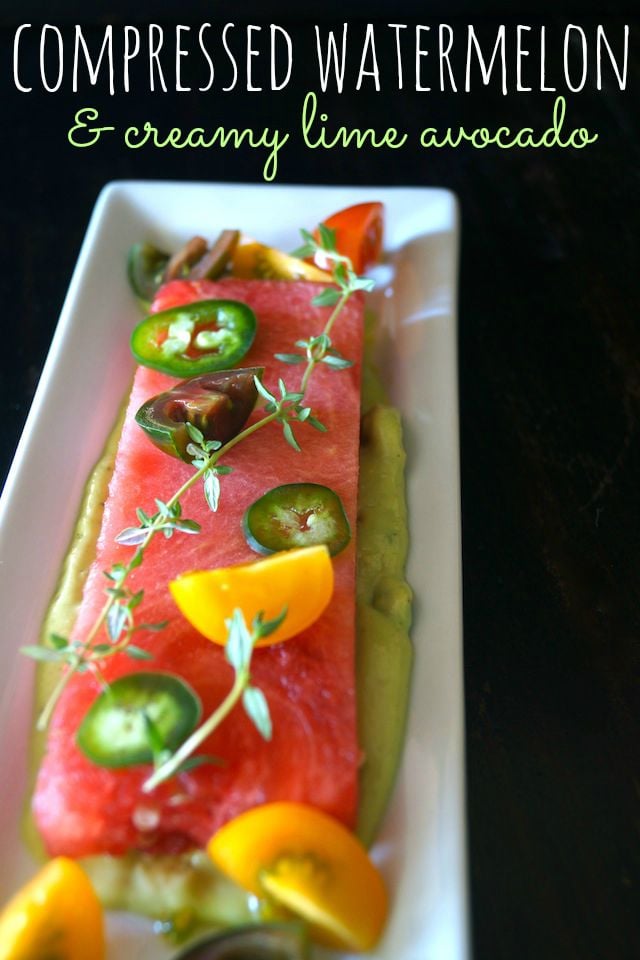 I have so much to talk about that I don't even know where to begin.
(If my husband were editing this, he would have just told me I've already told you more that you need to know.)
Since the editor is out, I'll carry on. 😉
The thing is, I have a lot on my mind — about this recipe, and otherwise.
First, "about this recipe" —
If you've never tried compressed watermelon, you must. Sometimes adding one more step, a detail, if you will, to a recipe, is all it takes to bring it from very good, to over the top.  And in this case, compressing the watermelon does it.
And guess what?  It's quite easy. (See recipe instructions below.) Compressing the watermelon intensifies the flavor and the texture becomes more dense and the color more vibrant.  (Here's why.)
This is a most delightful appetizer course, and would be lovely for a summer lunch.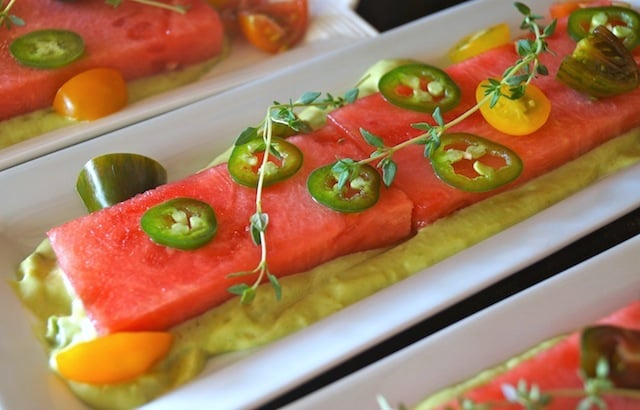 Now, for the "otherwise" —
Among other things (which my husband might edit out), tomorrow my boys, Mason and Zack, go back to school. They'll be in 4th and 6th grade, and for the first time they'll be at two different schools.  How did this even happen!?  How are they not still in preschool!?
How will I be able to take Mason to his new school and go the the new parent meeting and be able to meet Zack's new teacher at the same time?
Of course everyone will survive and be just fine — except for me, that is.  Survive, yes.  Be just fine, I'm not so sure.  I might just show up at the preschool with a box of tissues.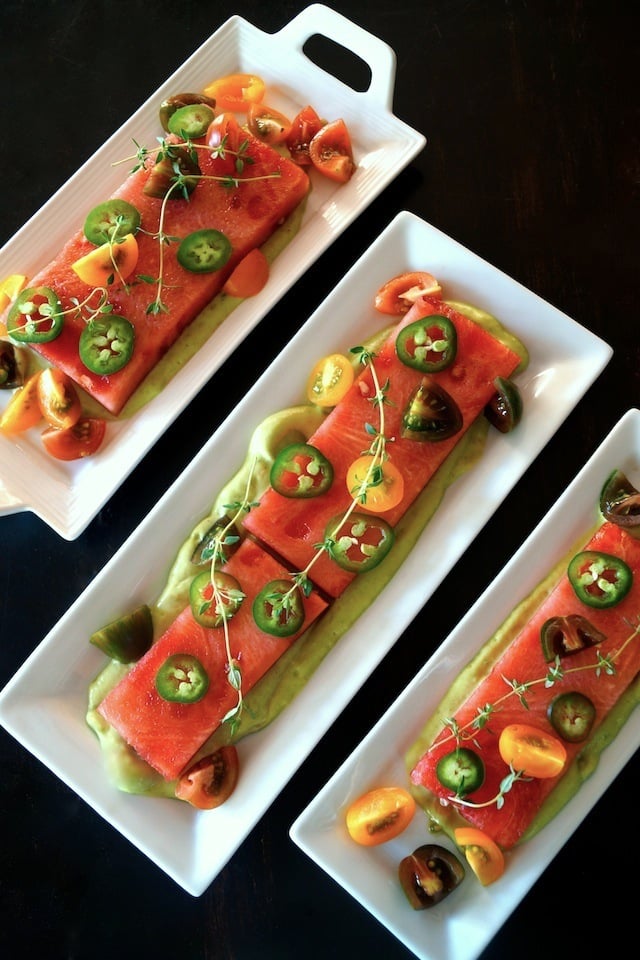 In the meantime, I'll be distracting myself with this this super delicious and utterly stunning food.
That will help, I'm sure. 🙂
Enjoy!
Compressed Watermelon Salad With Creamy Lemon-Lime Avocado
Ingredients
about ¼ of a large seedless watermelon

about ½ cup Creamy Lemon-Lime Avocado Dressing

1

cup

tiny

colorful heirloom tomatoes, sliced in half or quarters

1

small to medium-sized jalapeño pepper

super thinly sliced

a few sprigs of fresh thyme
Instructions
To compress the watermelon
Use a long slicing knife to cut the watermelon in half, horizontally. Place one half flat side down on a clean, dry surface. Then slice a portion off the round top and then each side, making it a square or rectangle.

Now decide on your serving plates. Cut the watermelon flesh to match the shape of the plate -- could be circular, square, rectangular, or into cubes if you'd like --- it's up to you! Whatever you choose, the slices should be about ½-thick, and you should have 4 of them, or 4 generous handful of the cubes.

Place the slices (or cubes) in a large, heavy-duty zip-lock bag -- be sure the watermelon pieces are laying flat and as close together as possible. Remove as much air possible form the bag as you seal it. You may need more than one, if not a few bags. Now lay the bags flat on a baking sheet or tray that will fit into your freezer. Place something flat on top -- I use another baking sheet, but if you that doesn't work for you, you can even use a piece of cardboard. Now place heavy items on top to weigh it down -- could be cans of food, packages of frozen meat or even ice packs. Whatever works. Leave it in the freezer for 2 hours.
Assembly
When you're ready to plate the watermelon, after the 2 hours, use the bottom of a spoon to thickly spread about 2 tablespoon of the

Creamy Lemon-Lime Avocado Dressing

on the plate -- mostly in the center. Add a watermelon slice on top and gently press it into the dressing so that it spreads beneath it.

Add about ¼ of the tomatoes to each plate, and a few slices of the jalapeño pepper (use as many as you'd like, depending on how much heat you want). Add a spring or two of thyme and serve!
Recipe Notes
Most recipes for compressed watermelon will call for vacuum sealed bags, but it seems this works just as well.
Save
Save
Save
Save