This is not a sponsored post. Melissa's Produce sent me their Steamed Red Kidney Beans for recipe testing. Precooked, with a super smooth texture, they're a delicious addition to this chili.  All opinions are my own, and as always, I only work with products I like and want to share with my readers.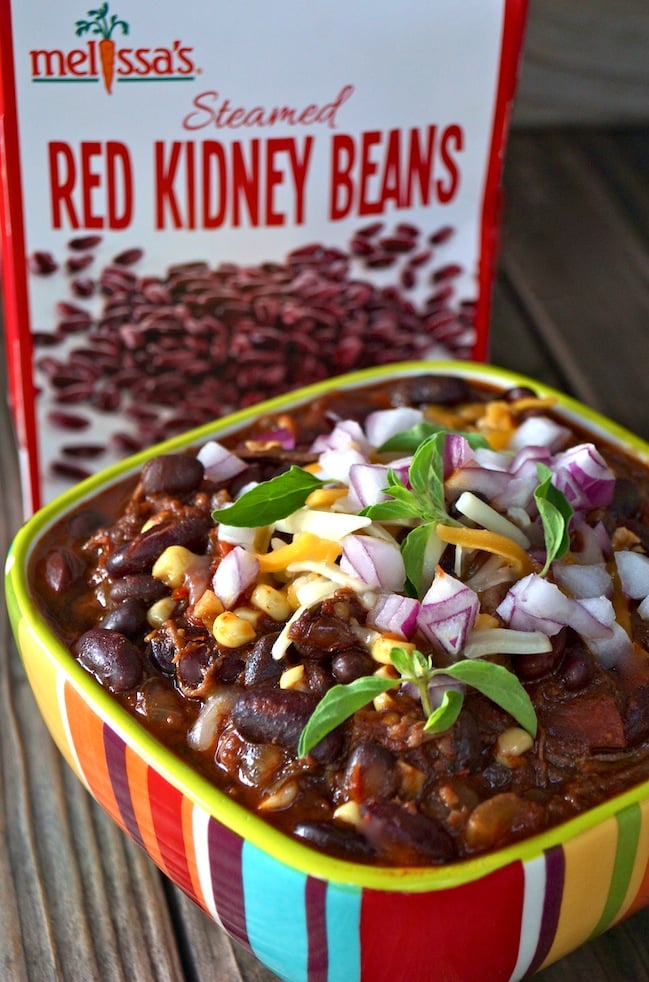 "When you're cooking, be sure to touch your ingredients, your equipment — everything — with feeling. With love. With heart and soul. You will taste this affection in the food. It's the difference between good and amazing."
This is one of the many things Roy Choi said today when I watched his cooking demo at the LA Times-The Taste. (In case you don't know him — and you'll want to — read about him here.)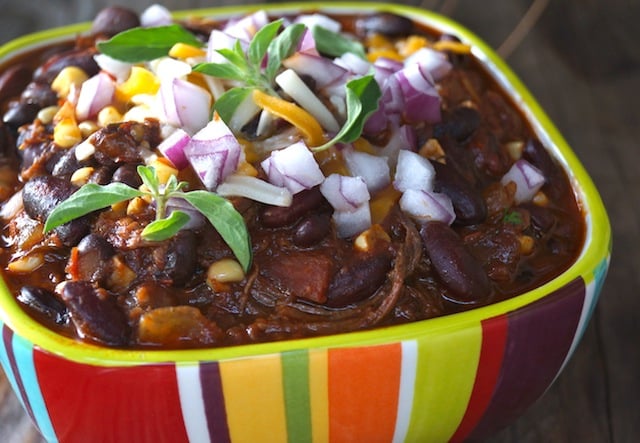 I love making recipes likes this chili — layers and layers of flavors, each one building upon the last. The flavors are deep and complex . . . and when they're combined, they are exquisite.
This is certainly one made with my love, heart and soul. It's for my family, after all. And you can taste it!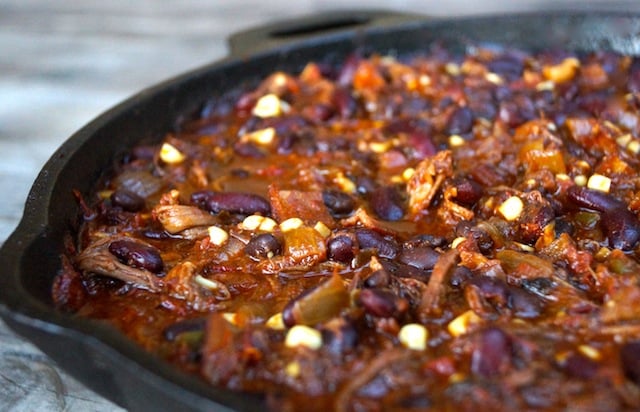 This is an an ideal fall and winter comfort food, so keep the recipe close as the days cool down. And make it with love! 🙂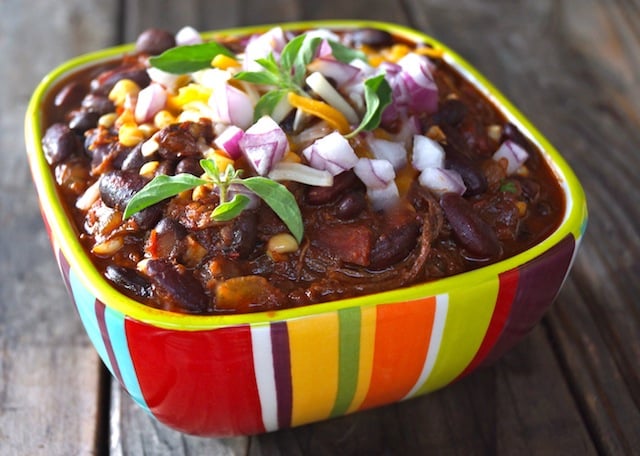 Enjoy!
Chipotle Bacon Brisket Chili Recipe
Please note that the active work time for this recipe is 45 minutes, the remainder of the time is for the brisket to slowly cook -- and this can be done a day ahead of time.
Ingredients
1

approximately 2-pound brisket

6

strips applewood smoked bacon

cut into bite-sized pieces

2

cups

small dice yellow/brown onion

2

tablespoons

crushed and roughly chopped fresh garlic

2

tablespoons

minced jalapeño pepper

2½

tablespoons

roughly chopped chipotle peppers in adobo sauce

¼

cup

finely chopped fresh oregano

1

teaspoon

dried oregano

1

tablespoon

each: ground cumin and chili powder

1

teaspoon

ground cinnamon

2¼-

pounds

vine-ripened tomatoes

½

cup

dry red wine

such as Merlot, Pinot Noir, Shiraz

3

ears fresh corn

3

9-ounce packages Melissa's Produce Steamed Red Kidney Beans

3

tablespoons

finely chopped bittersweet chocolate

Sea salt and freshly ground black pepper

Optional garnishes: sour cream

grated cheddar cheese, finely chopped red onion, and fresh oregano leaves
Instructions
To prepare the brisket: Preheat the oven to 225 degrees F, and lightly coat your largest oven safe skillet (cast iron is perfect) with olive oil. (See notes) Season both sides of the meat generously with salt and pepper, and then place it -- fat side up -- in the pan, and cover it with a fitted lid or heavy-duty foil. Place it in the preheated oven for 6 hours. Remove the brisket from the oven, and place it on a large plate. (Leave any grease and juices in the pan!) Let the brisket cool slightly, and then use the back of a knife or a spoon to gently scrape off the fat and discard it. Now either shred the meat with your fingers, or cut it into slices -- against the grain, and then into bite-sized pieces. (The bite-sized pieces will ultimately shred later in the recipe.) Set aside. * YOU CAN DO THIS ENTIRE STEP THE DAY BEFORE -- JUST DON'T WASH THE PAN IF YOU DO. COVER IT WITH FOIL, KEEPING IT AS IS.*

Place the unwashed pan over medium-high heat and add the bacon. Stirring occasionally, cook until golden and mostly crispy, about 5 minutes.

Add the onions, garlic and jalapeños, still stirring from time to time, cook until the onions are soft and beginning to caramelize, about 15 minutes.

Stir in the chipotle peppers in adobo sauce, fresh oregano, dried oregano, cumin, chili powder, and cinnamon. Cook until this is very aromatic, about 2 minutes. Season lightly with salt and then turn the heat to the lowest setting.

Either crush the tomatoes in a blender, or roughly chop them until they're a coarse purée. Add this to the pan, along with the wine, turn the heat back up to medium-high and bring to a boil. Then reduce the heat to low and let this simmer for at least 15 minutes -- the alcohol should be cooked off and the liquid should be beginning to thicken.

Cut the kernels off the ears of corn and add them to the pan with the kidney beans, and the prepared brisket.

Keeping the heat low, let all of the flavors marry for another 20 minutes or so.

Mix in the chocolate and let it melt. Then season to taste with salt and pepper, and serve with any of the desired garnishes. (Here's

How to Season to Taste

.)
Recipe Notes
My cast iron skillet is very large and I can make this entire recipe in it, from start to finish. If that's not the case for you, simply change to a larger pan when you need to -- ideally after the tomatoes and wine have simmered.
Save