Roasted Cauliflower Steak is juicy, crispy, hearty and unbelievably delicious — though a vegetable and not a steak in the true sense of the word.  The Orange-Basil Butter is sweet, aromatic and melts perfectly over the perfectly oven-roasted cauliflower.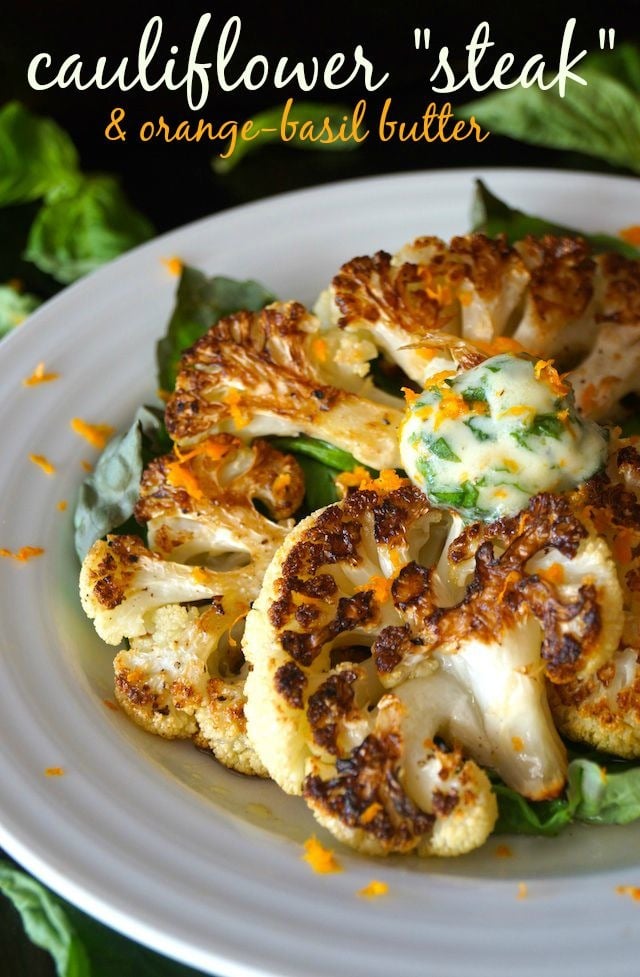 First, there was my Tofu "Sashimi" that didn't have a raw fish anywhere near it.
I then presented a Red Lentil Hummus that — while delicious — was without chickpeas, and therefore isn't a true hummus.
Today, it's this amazing (and I mean AMAZING!) Roasted Cauliflower Steak that, um, contains no meat at all.  The Orange-Basil Butter however, contains everything in its title! 😉
Have I totally lost my marbles here?  What's next — a chicken dish lacking in chicken!?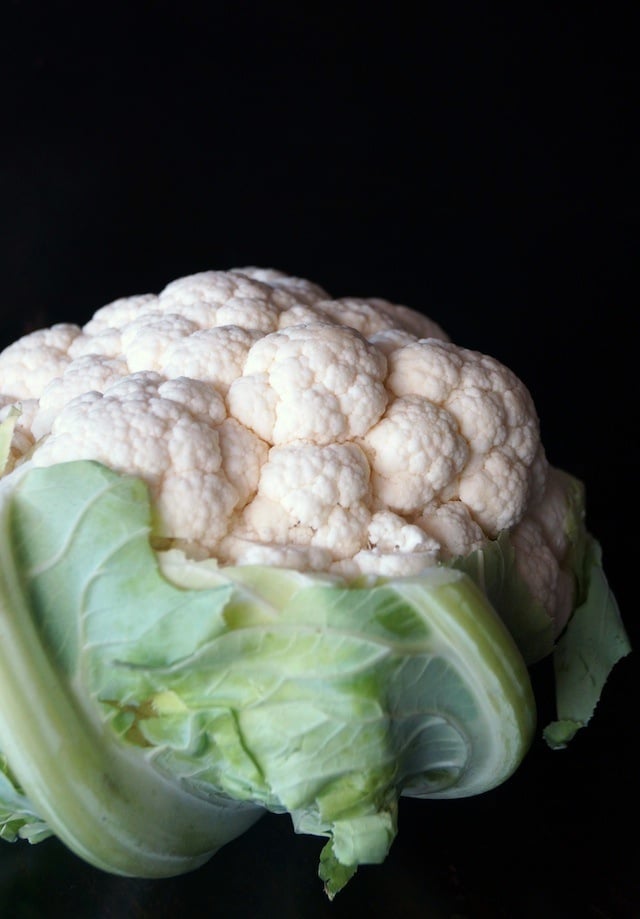 * Remember to pause and admire the beauty of your ingredients.*
Here's the deal, this cauliflower is steak-ish.  It's cut like a steak, it's juicy like a steak, and it's hearty like a steak. Steak-ish, I tell you!
Oh, and the super delicious Orange-Basil Butter melts over the cauliflower perfectly, just as it would on a "real" steak.  And it seeps into every crevice it possibly can, flavoring the dish beautifully. It's also fabulous spread over a slice of warm, rustic bread!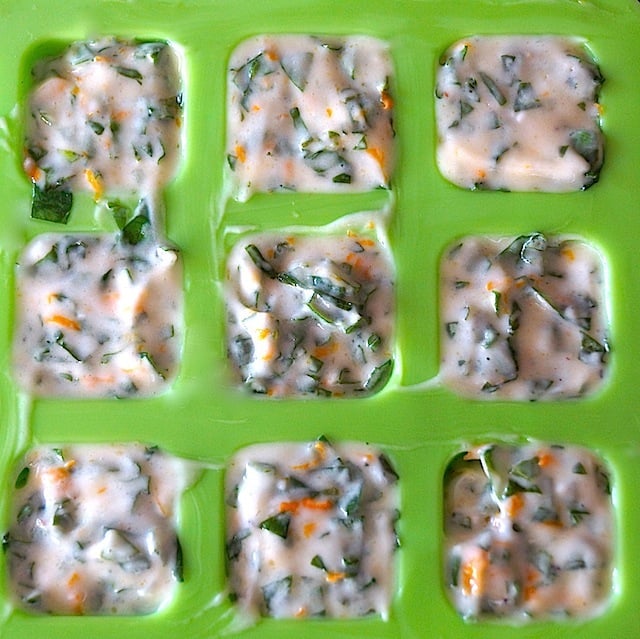 (As for the sashimi and the hummus, if you're so inclined, you can see what's going on for yourself here: Tofu "Sashimi" Recipe & Smoky Red Lentil "Hummus" Recipe)
I think you'll find them interesting and delicious, too.
The Roasted Cauliflower Steak With Orange-Basil Butter is a lovely side dish, but can also serve as a fantastic vegetarian main course.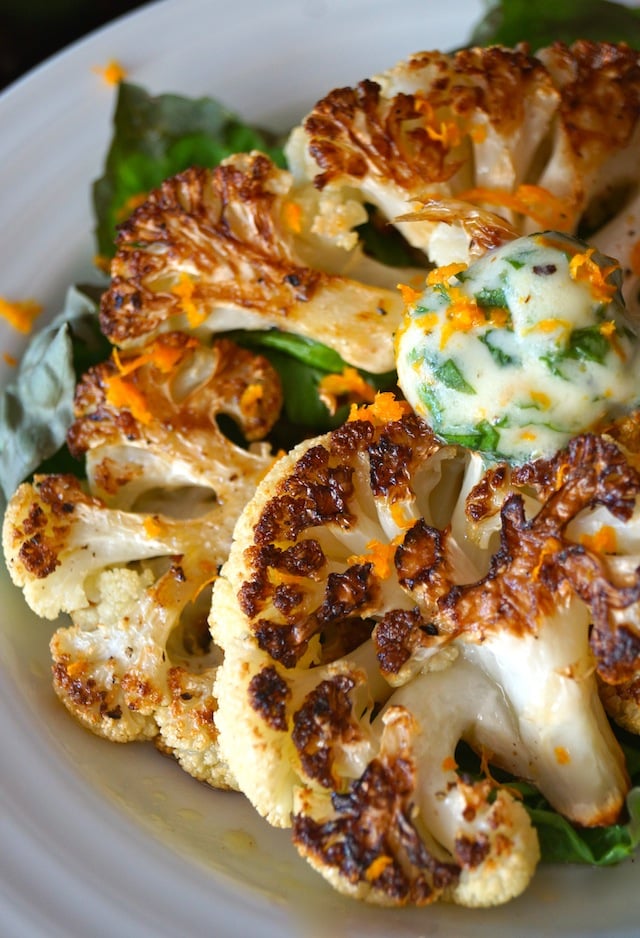 Enjoy every last, scrumptious bit of this mouth-watering Roasted Cauliflower Steak with Orange-Basil Butter!
Can't get enough cauliflower?  Here are a few more delicious recipes:
Roasted Cauliflower "Steak" with Orange-Basil Butter
Ingredients
For the butter
4

tablespoons

unsalted butter

softened to room temperature

2

generous tablespoons finely chopped basil

½

teaspoon

orange zest

1

teaspoon

fresh orange juice

⅛

teaspoon

sea salt

a couple turns of freshly ground black pepper
For the cauliflower
1

approximately 2¼-pound

whole cauliflower

olive oil for the baking sheet

sea salt and freshly ground black pepper
Instructions
Preheat the oven to 500 degrees F.

To make the butter, in a small bowl, mix the butter with the basil, zest, juice, salt and pepper. Either fill a couple of spaces in an empty ice cube try with the butter, or roll it into a log in plastic wrap. Place it in the refrigerator to firm up, about 30 minutes. (You can really refrigerate it in any form you'd like to -- it's just easier to slice so it's pretty, from the ice tray or log.)

Drizzle a thin layer of olive oil on a baking sheet (one with edges). Set aside.

Remove the outer green leaves from the cauliflower and cut just a tiny portion of the root off, keeping most of it intact. Cut the cauliflower into approximately 1-inch slices -- some might break apart, some will stay together -- both are okay.

Dredge both sides of each slice into the olive oil on the baking sheet. They should be well coated, so drizzle a bit more if necessary. Season both sides generously with salt and pepper and then place in the preheated 500 degree F oven.

Roast until it's deep golden brown, and it's tender all the way through, about 12 minutes per side. (Flip them over half way through the cooking process.)

While the cauliflower is still hot, add a dab of the butter to each portion and serve.
Save