Riced Cauliflower is the star of this rich and creamy, vegetarian, healthier "risotto."  Basil, sherry and mushrooms make this a wonderfully earthy-flavored dish that your whole family will love!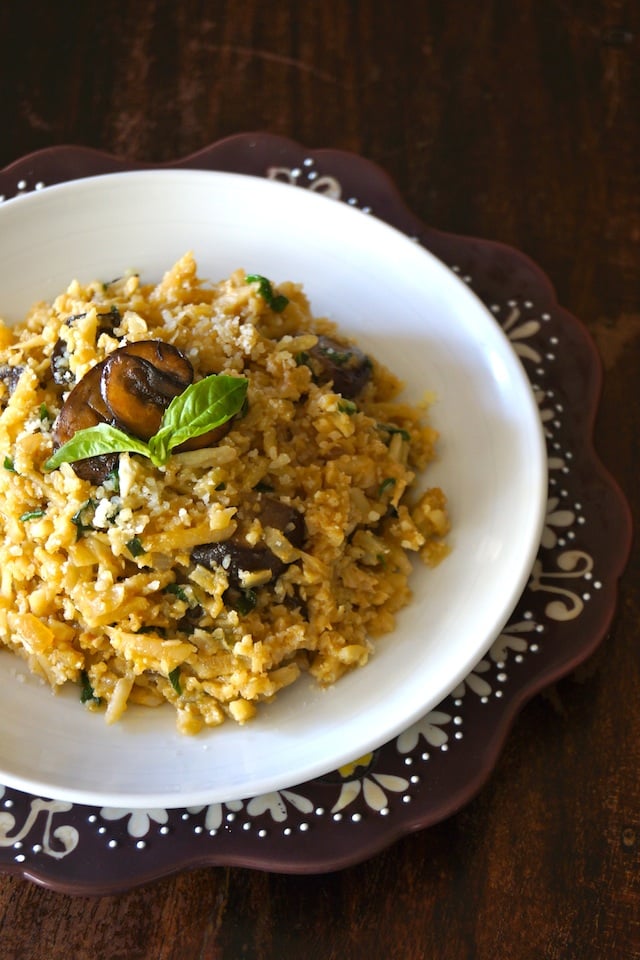 In Style Magazine tells me people are wearing skinny jeans, bell bottoms (yep, they're back . . . again), and open-knit sweaters. These fashions are hot right now.
If you're like me though, you're not too concerned about all that because you're more on top of what's cooking in everyone's kitchens.  Did you know that in the cooking world, Riced Cauliflower is all the rage?  All the rage, I tell you!
Riced cauliflower is super easy to make!  Whole, raw cauliflower is simply grated into tiny pieces, approximately the size of grains of rice.  (In the below recipe instructions, you'll see that there are a few ways to do this.) Once cooked, it becomes a fantastic alternative to rice for someone watching their carbs.  However, dietary purposes aside, it's simply a lovely way to eat the awesome, versatile cauliflower.
In this recipe I somewhat emulated the cooking technique used for Arborio rice to make risotto, letting the grains of "rice" soak up a flavored cooking liquid, to create a creamy consistency.
Since the starch content is loads less, cauliflower will not have the same creaminess as Arborio rice would — but, finished with a little Parmesan and butter, this dish has a similar vibe to risotto, and it's utterly delicious!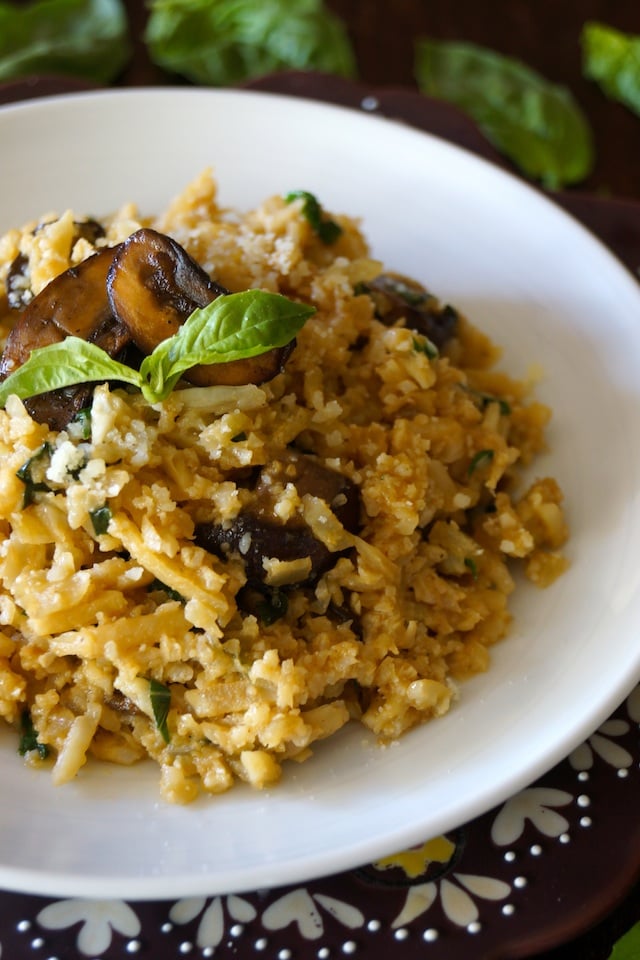 So if you want to be ultra hip, put on your skinny jeans or bell bottoms, an open-knit sweater and dish up a serving of this cauliflower deliciousness!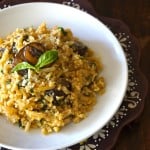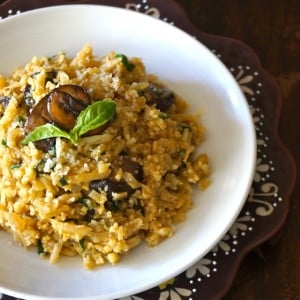 Sherry Mushroom Cauliflower "Risotto"
Serves about 4 as a main course, and about 6 as a first course
Ingredients
1

approximately 1 1/2-pound cauliflower, washed and dried -- see notes

Olive oil for the pan

2

cups

washed

dried, and roughly chopped Crimini mushrooms (about 1/2-pound)

3

tablespoons

unsalted butter

divided

3/4

cup

finely chopped yellow/brown onion

2

teaspoons

minced garlic

1

cup

vegetable stock

1/4

cup

cream sherry

1/2

cup

lightly packed, roughly chopped basil, washed and dried

1/3

cup

finely grated Parmesan cheese

salt and pepper to taste

here's How to Season to Taste
Instructions
Remove any out green leaves from the cauliflower and then cut it in half. Then cut out the tough portions of the stem.

Now we're going to grate or "rice" the cauliflower. You can do this a few different ways: If you have a food processor, you can use the grater attachment OR the blade attachment. If you use the blade attachment, be careful not to blend it too long -- turn the machine off as soon as the cauliflower is in tiny pieces (the size of rice grains or bread crumbs). You can also use a hand held grater -- this takes longer and more muscle, but will do the job. Set the grated cauliflower aside.

Coat the bottom of a large sauté pan with olive oil and place it over medium high heat. Add the mushrooms and cook, stirring often, until golden, about 8 minutes. Sprinkle with a bit of salt and pepper and spoon them into a bowl. Set aside.

Turn the heat to medium and add 2 tablespoons of the butter. Once it's melted, add the onion and garlic and cook, stirring often until they're soft, about 5 minutes.

Now add the grated cauliflower and mix to be sure it's well coated with the onions, garlic and butter. Sauté for a few minutes and then add the stock and sherry. Mix, bring to a boil, and then turn the heat to low-medium, just high enough to keep it simmering. After about 5 minutes, turn the heat up a bit and, stirring frequently, cook until all but a tablespoon or so of the liquid has been absorbed, about another 5 minutes.

Add the mushrooms back into the pan. Then add the basil, cheese and remaining tablespoon of butter. Stir to blend and season to taste with salt end pepper. (

Here's how

.)

Serve!
Recipe Notes
It's easy to do this at home, but if you're pressed for time, more and more markets are selling pre-grated cauliflower. It's typically labeled as
Riced Cauliflower
. I've seen it at Trader Joe's, and Green Giant sells it also.
Save