These bundles of lettuce are packed with superb spicy, savory flavors, and are perfect for a lighter meal to go alongside different salsas and guacamole!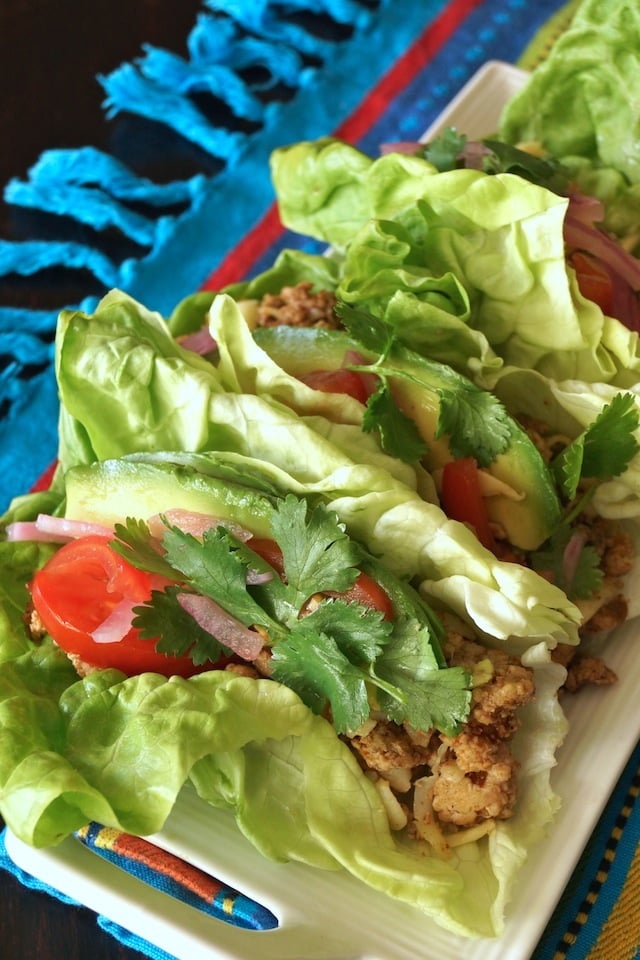 I love big flavors.
There are certainly times when "a hint" of, or "a splash" of an ingredient is perfect — however, for the most part, I say just go for it!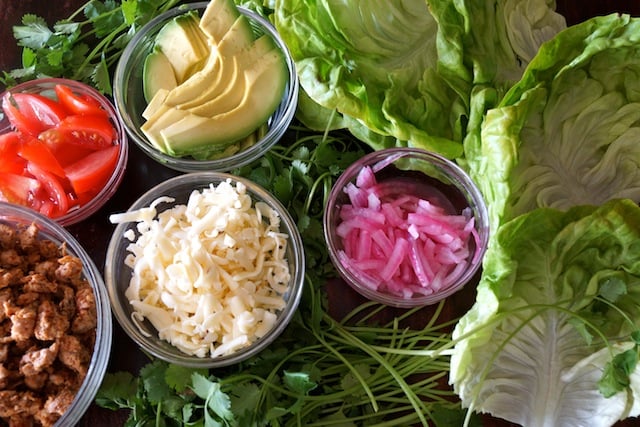 And that's exactly what I did in this recipe.
You can taste the heat from the Pepper Jack cheese, you can taste earthiness from the cumin and chili powder, and you can taste the zing from limes — I mean, really taste each and every ingredient.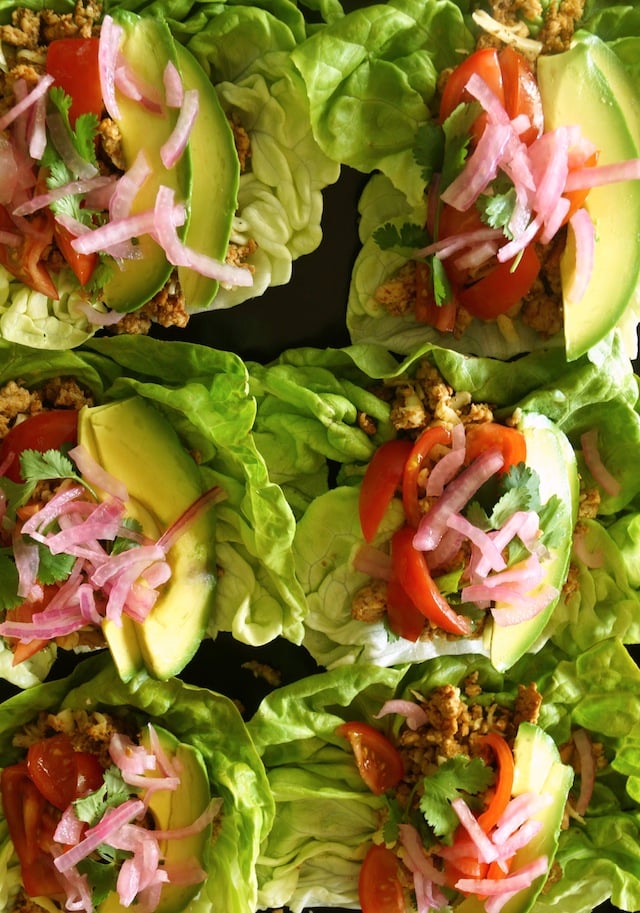 All of these flavors balance each other out so well — every bite, wrapped in the crisp lettuce, is an explosion of delicious flavors and textures!
Interestingly, these "tacos" are light and refreshing, while still being quite hearty and bold.  It's a beautiful thing when this happens.
Enjoy!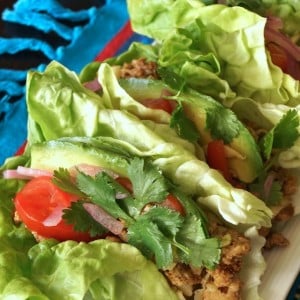 Pepper Jack Turkey-Pickled Onion Lettuce Tacos
Please note that the onions need to marinate in lime juice for at least 30 minutes. The longer they marinate, the better, so you can do this step well ahead of time if desired.
Ingredients
1/3

cup

very thinly sliced red onions

juice of 1 small lime

olive oil for the pan

1-

pound

ground turkey

2

teaspoons

minced garlic

1 1/2

teaspoons

ground cumin

1 1/2

teaspoons

salt

1

teaspoon

chili powder

1

teaspoon

onion powder

1

cup

grated Pepper Jack cheese

about 6 sprigs cilantro

washed and dried

12

thin slices avocado

from about 1/2 of a large avocado

6

large Butter lettuce leaves

washed and dried

1/2

cup

roughly chopped tomatoes
Instructions
Add the onions to a small glass bowl and pour the lime juice over them. Let them marinate for at least 30 minutes and ideally overnight. (The longer the better -- even a couple of days is great!)

Coat the bottom of a large sauté pan with olive oil and place it over medium heat. Add the turkey and break it up into bite-sized pieces. Stir in the garlic and sprinkle it with the cumin, salt, chili powder, and onion powder. Mix to blend and sauté just until it's cooked through, about 6 minutes. Set it aside to cool.

Once the turkey mixture has cooled to room temperature, add the cheese to it, and mix to blend.

Now divide the tomatoes evenly between them.

Drain the onions and save all of the excess juice. Distribute the onions over the tomatoes and then drizzle the leftover juice over all of the tacos.

Serve!
Save