Luscious and creamy, with a tropical fruity and nutty flavor, this no-churn ice cream is the perfect, easy and delicious summer treat!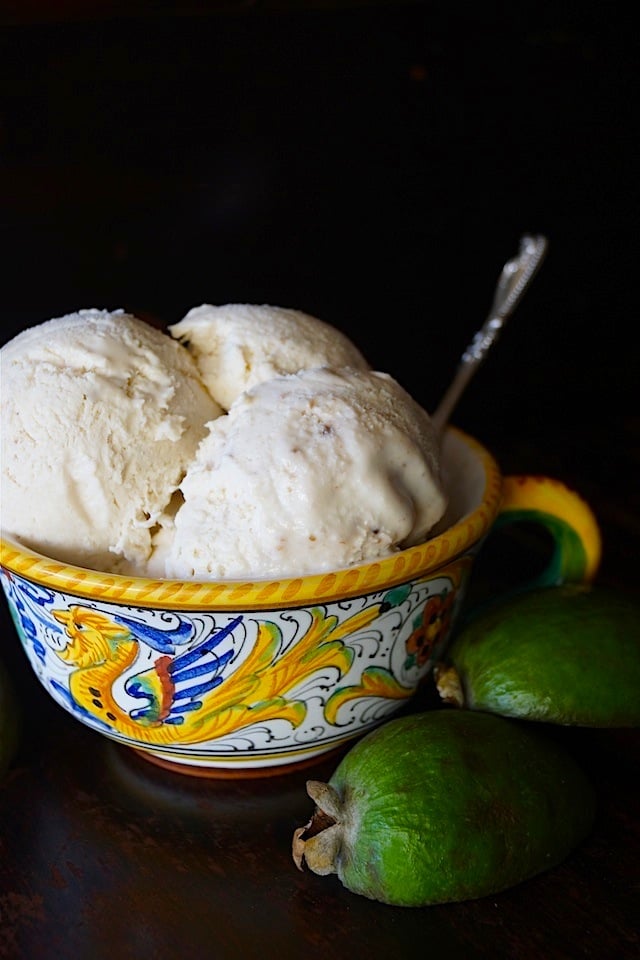 I'm wondering if the following has ever happened to you. . . .
You taste something and it's delicious, and you think you know what it is, but really, you have absolutely no idea — it's on the tip of your tongue.  (Literally.  And yes, pun intended.)
You just can't decipher the flavors.  Is it fruity?  Is it nutty?  Vanilla?  I know, it's apple!  No, it's something tropical.  Oh wait, I actually really have no idea.  I should know — I eat everything, I'm a food and flavor expert.  Sheesh, no idea!
Know what I mean?  (Or have I just confused you and given you a headache?)
I adore the flavor of guava, and it's also one of those mystery flavors for me.  If I'm not seeing it, I get as far thinking it's floral and tropical, before just accepting it's delicious and trying move past the not knowing.
If I know it's guava however, I'm like "oh yea guava, it's one of my favorite flavors!"
There are several guava varieties, these Pineapple Guavas (also know as Feijoas), came to me from my friends at Melissa's Produce.  When I opened the package the room was immediately perfumed with their intense, delectable fragrance.  That, and the site of them was all the inspiration I needed to make this recipe.
Good thing I created this recipe, or I be thinking racking my brain — but loving the ice cream all the while. 😉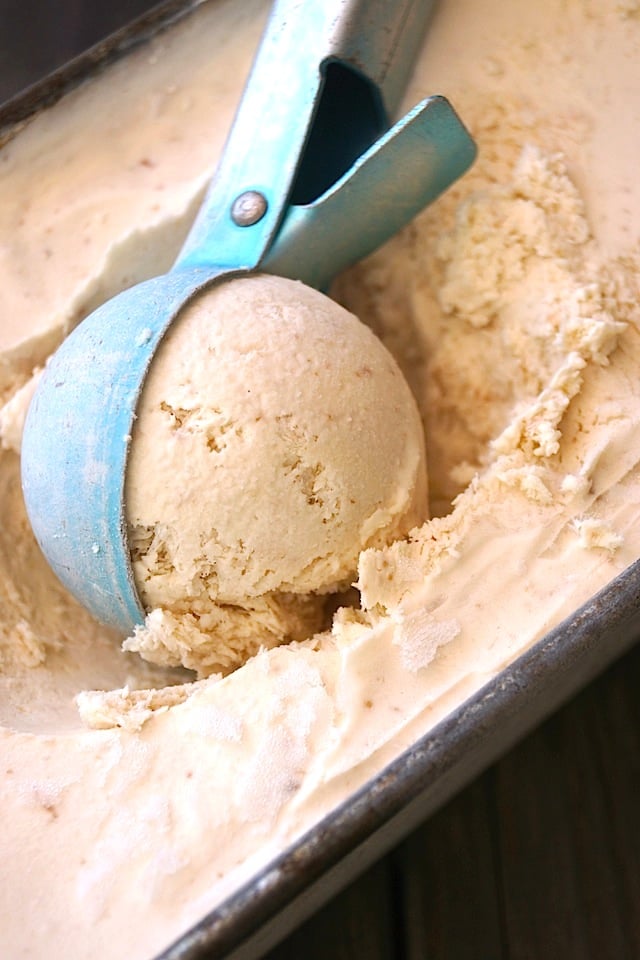 This is my first attempt at a no-churn ice cream, and I was really happy with how creamy and luscious it turned out.
Enjoy!
No-Churn Pineapple Guava Ice Cream Recipe
Please note 6 hours of the prep time is inactive, freezing time.
Ingredients
8

ripe Pineapple Guavas

1

can

14-ounces sweetened condensed milk

2

teaspoons

pure vanilla extract

1 1/2

tablespoons

apple brandy

2

cups

cold heavy cream
Instructions
Cut the guavas in half, and use a small spoon to scoop out the flesh.

Add the flesh to a blender with the condensed milk. Puree just until smooth, about 10 seconds. Pour this into a large mixing bowl, add the vanilla and apple brandy, and set aside.

Add the heavy cream to another large mixing bowl, and use an electric mixer to whip it on high until stiff peaks form, about 4 minutes.

Gently fold whipped cream into guava mixture. Once it's evenly blended, pour it into an airtight container and freeze for at least 6 hours, and ideally overnight.
Save