Nothing says summer more than juicy, cold watermelon!  This sorbet is a sweet, refreshing way to celebrate the warm weather, along with an array of other delightful and delicious watermelon dishes — from salads to cake!
Easiest Ever Three-Ingredient Watermelon Sorbet Recipe
This dessert is somewhere between ice cream and a slushy, and it's over-the-top yummy!
Compressed Watermelon Salad With Creamy Lemon-Lime Avocado
Compressing watermelon intensifies the flavor and the texture becomes more dense and the color more vibrant.  If you've never tried this, it's a must!
Watermelon-Avocado Chopped Salad Recipe
A unique, delightful summer salad with a combination of beautifully blended, vibrant flavors.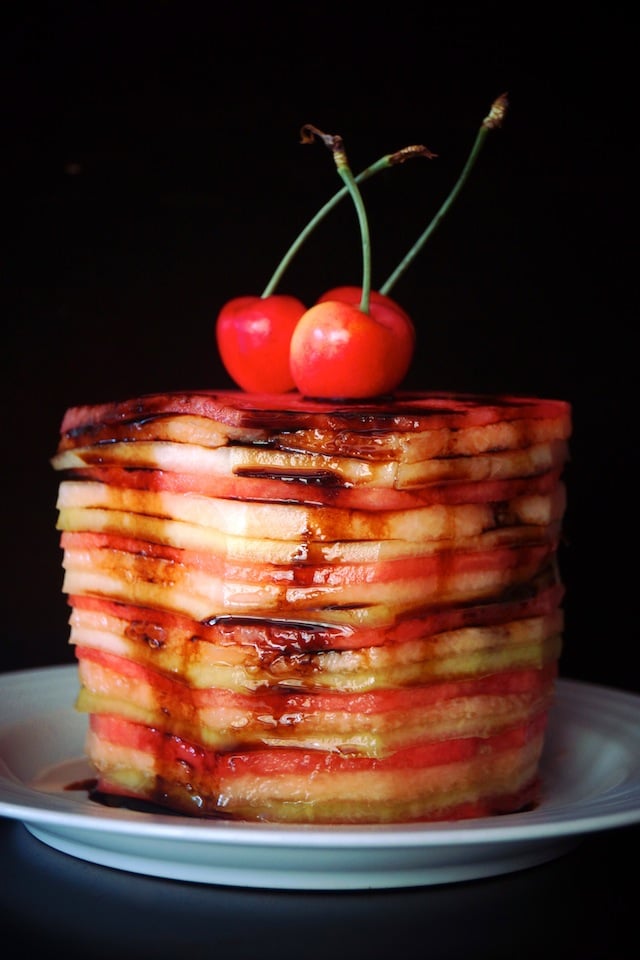 Balsamic Glazed Fresh Melon Cake Recipe
The most stunning and delicious fresh melon "cake" that everyone will love — and it's vegan, dairy-free and gluten-free!
Watermelon-Cucumber Salsa Recipe
This salsa is divine over fish, shellfish, chicken, rice, on a tortilla chip, or even as a light summer side dish!
Grilled Chile-Lime Watermelon Recipe
Add the tangy flavor of a lime, and the spicy flavor of a hot chile, to sweet, juicy watermelon and see what happens!
Enjoy all of these mouth-watering recipes all summer!
Save