Honey Spiced Banana Muffins are not only a lovely breakfast with coffee, but they double as dessert!  They're warmly spiced, honey-sweetened and, you guessed it — oh-so-delicious!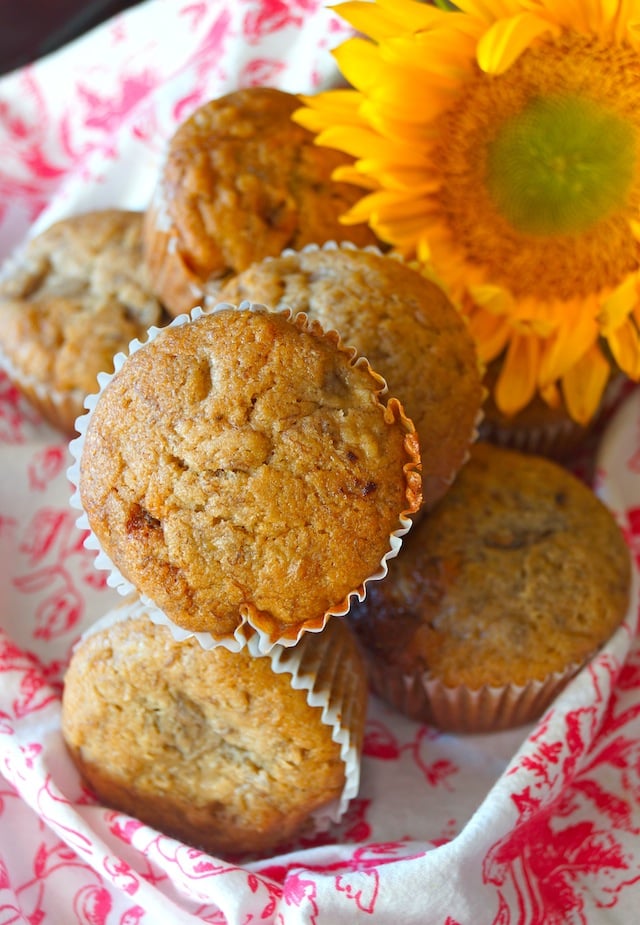 You must be starving!
I haven't fed you since last week, when we had Brownie Pretzel S'mores.  They were pretty over-the-top, right?
And now what do I do?
I serve you more sweets!
What has Cooking On The Weekends come to!?
Here's the deal, I've been cooking quite a bit, but I've also been running around with my family trying to soak up summer (and my boys), while I still can.
Our summer is short — only two more weeks and my boys are back in school.  I must squeeze every possible moment with them!  They're getting older and are becoming more independent.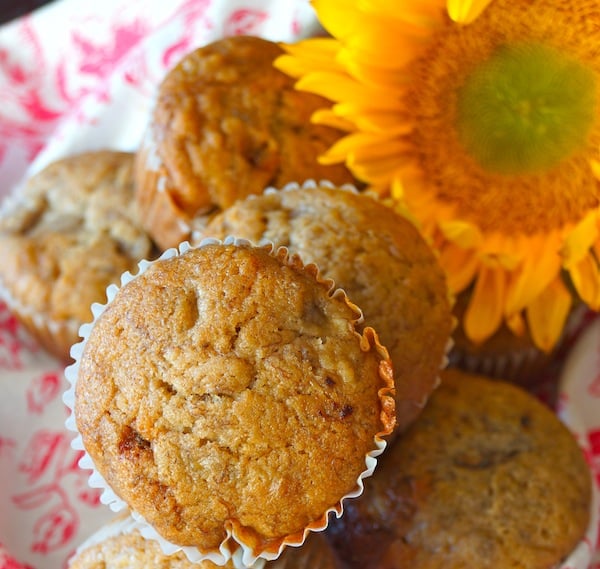 A good thing, of course — but, it also means they'll be doing more and more on their own . . . without me.  So yes, I'm getting every moment I can with them.
Now please enjoy a super delightful, delicately spiced, perfectly sweetened, banana muffin!  They're so good!
And stay tuned for Hatch Chile Season 2016!  It's just about here!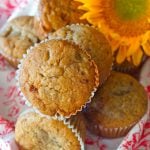 Honey Spiced Banana Muffins Recipe
Makes about 1 1/2 dozen muffins
Ingredients
2 1/4

cups

all-purpose flour

1

teaspoon

baking soda

1 1/2

teaspoons

ground cardamom

1

teaspoon

ground cinnamon

3/4

teaspoon

salt

1/2

teaspoon

ground nutmeg

3/4

cup

1 1/2 sticks unsalted butter, melted and cooled

1/2

cup

honey

1/4

cup

granulated sugar

1/4

cup

milk

1

tablespoon

pure vanilla extract

1 1/2

cups

mashed banana

from about 3 medium-sized bananas

2

large eggs

1

cup

thinly sliced bananas

from about 2 medium-sized bananas
Instructions
Preheat the oven to 350 degrees F, adjust 2 racks towards the center, and prepare muffin tins (1 1/2, 1 dozen cup tins) with 18 paper cups. Set aside.

In a medium-sized mixing bowl, combine the flour, baking soda, cardamom, cinnamon, salt and nutmeg. Mix to blend and set aside.

In a large mixing bowl, combine the melted, cooled butter with the honey, sugar, milk, vanilla and mashed banana. Mix until all of the ingredients are evenly blended. Then add the eggs and mix until they're fully incorporated, and the batter is as smooth as possible.

Add the flour mixture to the wet ingredients and mix until you no longer see any dry spots.

Fold in the sliced bananas.

Evenly divide the batter among the 18 paper cups (they should be about 3/4 full, as they will rise in the oven.)

Bake in the preheated 350 degree F oven until the muffins are golden and no longer jiggle, 20 to 25 minutes.

Let them cool and then remove from the muffin tins.

Serve!
Save
Save
Save