This is a carefully curated gift guide for cooks & foodies in your life, who you think have everything. If I don't have them, I want them!
Every year I curate a list of gifts for the cooks and foodies in your life who you think have everything. With a wide range of prices, this year's cooking and foodie gift guide is full of unique ideas.
Let's jump right in, shall we . . . .
Tagine & Cooking at the Kasbah
This is a GREAT gift set! Tagines are a unique cooking vessel that most people don't already own. And Cooking at the Kasbah is one of my favorite cookbooks with delicious Tagine recipes. (Tagine – $130 | Cooking at the Kasbah – $18)
Hand Carved Olive Wood Utensils: Set of Five – $40
Olive wood is gorgeous and it's my opinion that one who loves to cook can never have too many wooden deglazing utensils and spoons.
Large Thai Granite Mortar & Pestle – $50
This hand-carved granite mortar and pestle is beautiful and will last a lifetime! 
Pizza Baking Steel  & Baking with Steel: The New Revolutionay Approach to Perfect Pizza
Baking Steels are all the rage at the moment, and are said to create the perfect pizza crust, with more conductive cooking surface than a brick oven's stone! And how lovely to accompany it with a Baking with Steel Cookbook! Baking Steel – $69 | Baking with Steel Cookbook – $19.50
Jambar Coffee Mugs: Set of Two – $25
Here's a fun one! These mugs are bio-engineered for maximum comfort. I was sent one to test and they are indeed super comfortable to hold and drink from. Your friends who enjoy coffee as much as I do, might enjoy it even more in this mug. For real!
Central City Coffee – $12 to $13 per pound
This one is also fun and for a good cause. Central City Coffee is "a social enterprise employing Portland's homeless population and putting them to work producing delicious craft coffees. Their coffee beans are sourced specifically to enhance economic growth in coffee producing countries and then employs Portland's homeless population." I've tried the Holiday Blend and it's delicious!
Fermentation Container with Inner Vacuum Lid – $15.95
In this container, you can make kimchi, pickled vegetables, delicious sauerkraut and more.
Brazilian Soap Stone Stew Pot– $90
This beautiful pot is handcrafted from a single block of natural soap stone by artisans in Brazil. It cooks very evenly and retains heat for long periods of time.
Mud Pie Plate and Server – $39
I have several pie plates and I'd happily add this one to my collection. It's fun, pretty and unique! My Chocolate Peppermint Mud Pie would be perfect in this.
Mortar & Pestle with Non-Slip Detachable Base – $17
This is another, much more modern and sleek, take on the mortar and pestle. It can even go in the dishwasher!
GoWISE Air Fryer with Rotisserie & Dehydrator – $150
All you have to do is check this out, to see why I think this is so awesome.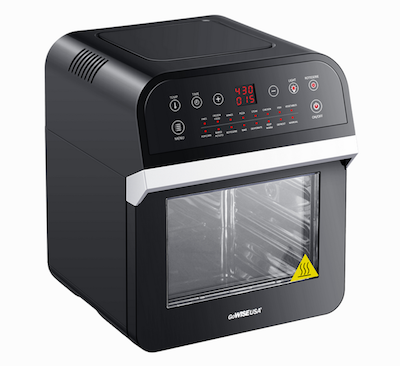 MaraNatha No-Stir Organic Creamy Peanut Butter: Two Jars – $12.50
Here's the deal, I just love this peanut butter. It might seem like an ordinary gift, but it's not — it's exceptional peanut butter.
Bonus: Here's a little smoothie recipe I use it for almost daily . . . 1 cup crushed ice, 1 banana, 1/2 cup milk, 2 teaspoons instant espresso powder & 1 heaping tablespoon of this peanut butter.
It's SO good. Hope you try it!
 And there you have it. So much fun stuff in this gift guide for cooks & foodies in your life!

Cooking On The Weekends is a participant in the Amazon Services LLC Associates Program, an affiliate advertising program designed to provide a means for sites to earn advertising fees by advertising and linking to Amazon.com.