Sesame Apple Chicken Salad is a perfect fall first course, lunch or snack. Made with Crimson Gold Apples, this recipe is scrumptious and oh-so-pretty.
These Crimson Gold Apples filled with Sesame Chicken Salad might just be as adorable as the Pumpkin Almond Cookies we made.
One savory and one sweet, both scream fall in a big way. And both are absolutely delicious.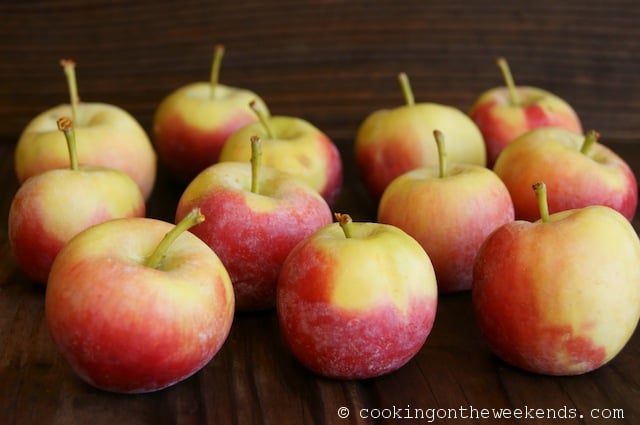 They're stunning right off the tree.
Inspiration for Sesame Apple Chicken Salad Recipe
It's the cute apples that inspired this recipe.
Thanks to Melissa's Produce and Cuyama Orchards, I was able to pick each of these organic Crimson Gold beauties myself.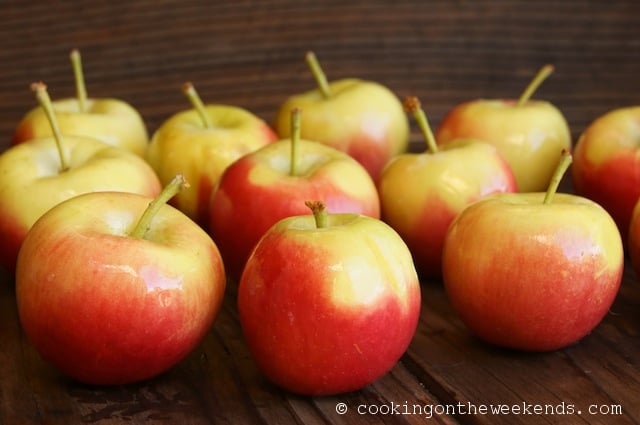 And look how beautifully they clean up!
What's in Sesame Apple Chicken Salad
The ingredients in this salad combine to make an explosion of delicious flavor!
chicken
thyme
apple juice
scallions
cilantro
plain yogurt
sesame oil
sesame seeds
Crimson Gold Apples
Are you hungry yet?
When to Serve it
These little bundles of tasty sesame-seasoned chicken and crunchy apple are a super cute appetizer for a dinner party.
You can eat these cuties with a fork and knife, or for a more casual gathering, they are divine out of hand.
Just remove the "lid," and bite right into the tart, sweet, crisp apple and you'll get all of the flavors at once.
These apples are tiny, my friends — maybe 3 bites each!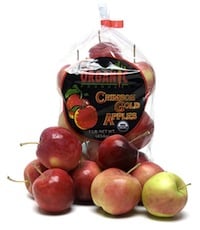 Recipe Tip
To save about 30 minutes, you can use store-bought roasted chicken. (Though if time permits, try to make your own — it'll be a bit more delicious!)
Crimson Gold Apples should be in stores in October. They are sold in 1-pound bags labeled, Melissa's Organic Crimson Gold Apples. They are carried at Gelson's Markets and Whole Foods.
This is not a sponsored post — I'm simply excited to share these apples with you! 🙂
Sesame Apple Sesame Chicken Salad
A perfect fall first course, lunch or snack, this Crimson Gold Apple Sesame Chicken Salad recipe is scrumptious and oh-so-pretty.Makes 2 1/2 dozen
Ingredients
2

chicken breasts,

skinless, bone-in (about 1-pound)

6

sprigs fresh thyme

1½

cups

apple juice

3

scallions,

finely chopped

1

tablespoon

cilantro,

finely chopped

3

tablespoons

apple juice cooking liquid

(saved from above -- see recipe instructions below)

2

tablespoons

low-fat, plain yogurt

1

tablespoon

sesame oil

1

tablespoon

sesame seeds,

toasted

½

teaspoon

salt

¼

teaspoon

Togarashi

or to taste

2½

dozen

Crimson Gold apples

about ¾

cup

finely chopped Crimson Gold apples,

saved from above 2-1/2 dozen -- see recipe instructions below

salt and freshly ground black pepper
Instructions
Add the chicken to the bottom of a medium-sized saucepan, and season both sides with salt and pepper.

Add the thyme sprigs to the pan and pour the apple juice on top. Turn the heat to high and bring to a boil. Immediately reduce the heat to low, cover the pot, and simmer just until the chicken is cooked through, 15 to 20 minutes.

Remove the chicken from the cooking liquid and place it on a plate to cool to room temperature. Discard the thyme, but do not throw out the cooking liquid -- simply set the pan aside.

Once the chicken is cool enough to touch, you can use your hands to shred it off of the bones. Then finely chop it and add it to a large mixing bowl.

Add 3 tablespoons of the cooking liquid that you set aside, cilantro, scallions, yogurt, sesame oil, salt and Togarashi. Mix to blend and set aside. (Now you can throw out the remainder of the cooking liquid.)

Gently wash and dry the apples, being careful not to tear any stems off.

Cut about 1/2-inch off of the top of each apple, and then use a melon scoop to carefully scoop out a circle that includes the seeds, from each apple. (Do not throw out the scoops of apple!)


To avoid browning, cover the apples with their tops as you continue to prepare them.

Then cut off any apple flesh from around the seeds of each apple scoop. Finely chop this, and add it to the chicken mixture.

Now add about 1 tablespoon or so of the chicken mixture to the inside of each hollowed out apple, covering the rim a bit.

Gently place the apple tops (lids!) over the chicken salad.
Notes
Togarashi

is the Japanese word for red chili peppers. It'll add some great heat!
Have you tried this recipe?
I'd love to see it on Instagram! Tag me at @cookingontheweekends or leave a comment & rating below.
Save
Save
Save
Save