Wanna know a crazy little secret about me?
As a kid, I hated avocados.  I mean take-them-out-of-the-salad-and-hide-them-in-my-napkin kind of hate.  Like I said, crazy!
I mention this embarrassing culinary fact about me simply because of the irony.
You see, today I absolutely, positively, without question, think avocados are one of the most delicious and beautiful foods in the world!I love creating recipes with avocados — I mean who doesn't love a superb guacamole? 
And oh my gosh, have you ever had Avocado Zucchini Bread?  Yum!
I told you when we learned How to Cut an Avocado that we'd be celebrating them all this week, and here we are!  Let's go!
A perfect avocado — meaning one that's in season and ripe — is unbelievably divine on its own.  It's so true that sometimes less is more.
Stay tuned for delicious avocado recipes all week!  You can have party this weekend with an avocado menu — and this is the appetizer!
Here are some of my other favorite avocado recipes:
Avocado Butter
Avocado Fries with Agave-Chipotle Yogurt Dip
Citrus Avocado Salsa with Cilantro Whitefish
Double Chocolate Avocado Cookies
Grapefruit Avocado Salad with Pistachios and Blue Cheese
Guacamole with Key Limes and Roasted Corn
Strawberry-Avocado Salsa
Zucchini-Avocado Bread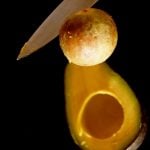 Avocado Carpaccio Recipe
Ingredients
1

medium-sized ripe

but firm, avocado

Juice of half of a medium-sized lemon
Instructions
Arrange the avocado between two salad plates. Use a flat-bottomed metal spatula to move the slices to the plate. And a paring knife will help you fan them.

Drizzle the avocado slices with lemon juice and sprinkle with the salt.

Serve immediately!
Save